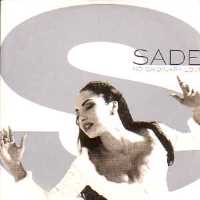 My first memory of Sade was seeing her at Live Aid in 1985. I knew Your Love Is King, When Am I Gonna Make A Living and Smooth Operator which had already been UK hits, but knew little else about her at the time. I had to say, I thought she was boring as a live act because she just stood on this enormous stage with her head down singing fairly down tempo songs. With hindsight, I guess it must have been daunting for a fledgling act to play to the whole world at the biggest ever global televised event, but that aside, her songs are infectious and have deep meaning.
No Ordinary Love deals with the oldest and most common subject to be sung about – love, whether thriving or failing, it's something that just about everyone can related to when its expressed in a way that hits the nerve. In a nutshell, this song encapsulates the immense sadness someone has to deal with when you are truly in love with someone and their feeling isn't mutual.
The picture is pretty clear from the outset that the protagonist gave him everything she had in her to give. The song explains, 'I gave you all that I have inside' and all he did was take, 'And you took my love'. A very one-sided love affair. The word 'love' in the title is the curveball. There is certainly nothing ordinary about it. She feels so deeply for him and he, seemingly, feels nothing in return.
Like Alice Cooper in the early days, Sade is a band, not a person but they took their name from part of their lead singer's real name, Helen Folasade Adu, who was born in Ibadan, Nigeria and raised by her father who was a Nigerian economics professor and her white mother, who was an English nurse. They met in England in the mid-fifties, married and then move to Nigeria. After four years of marriage her parents separated and her mother moved back to the UK bringing Helen and her brother Banji with her. For the first few years they lived with Helen's grandparents in Colchester and then moved to Holland-on-Sea near Clacton in 1970. Helen's lifelong dream was to work in the fashion industry and when she was 18, she left school and went to study fashion design at Saint Martin's School of Art in London.
After completing her three-year course, she was invited by an old school friend, Stuart Matthewman, to sing backing vocals in his newly-formed band Pride of which he was the guitarist and saxophonist. They struck up a song writing partnership and after briefly performing their own little set at Pride gigs, they left to formed their own band which included bass player Paul S. Denman and Andrew Hale on keyboards. Their debut appearance was at Ronnie Scott's Club in London in 1982 where they supported Pride.
When I saw her at Live Aid, as I mentioned earlier, it never occurred to me, then or now, that Helen was possibly nervous. "I used to get on stage with Pride, like, shaking. I was terrified," she said. "But I was determined to try my best, and I decided that if I was going to sing, I would sing the way I speak, because it's important to be yourself."
Her first album, Diamond Life sold well around the world making number one in Austria, France, Germany, the Netherlands, New Zealand and Switzerland, in the UK it peaked at number two but life wasn't so rosy. According to her website, she was living in a converted fire station in Finsbury Park with her then boyfriend, the style journalist, now BBC London broadcaster, Robert Elms. There was no heating, which meant that she had to get dressed in bed. The loo, which used to ice over in winter, was on the fire escape. The bath was in the kitchen: "We were freezing, basically".
No Ordinary Love was lifted as the first single from her fourth album Love Deluxe – which came four years after her third. The single entered the chart in October 1992 and peaked at number 26, but, eight months later it re-entered the chart following its inclusion in the film Indecent Proposal that starred Demi Moore and Robert Redford and did even better peaking at number 14. A year after that it was awarded a Grammy for Best R&B Performance by a Duo or a Group with Vocals.
The accompanying video begins with Helen, portrayed as a mermaid deep in the ocean singing away with no bubbles coming out of her mouth. Out of nowhere she begins making a wedding dress, dons it and then starts swimming towards the surface. As she clambers to dry land she makes her way to a bar where she's given a drink and bizarrely adds salt to it. She leaves the bar and is seen running through dirty streets, barefooted clearly looking for Mr Right. Eventually she makes her way back to a dockyard where she perches on the quayside drinking a large bottle of water. There are occasional flashbacks to her beneath the ocean embracing and kissing a sailor which may give a slight indication as to who this song was about, but it was probably all for show.
Having said that, maybe she had a premonition; after various relationships including a marriage to a Spanish film director in 1989 , she had a son with the Jamaican music producer Bob Morgan and then in 2007 she began a relationship with Ian Watts, a former Royal Marine. Maybe it was fate after all.