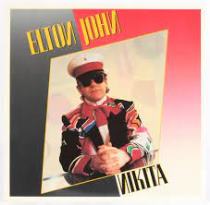 This week's suggestion came in from mummybear following a conversation as to whether Nikita was a man or a woman. She's heard it was sung about a man but the video shows a female. Nikita was actually a sequel to another Elton hit from the previous decade, so, mummybear let's clear this up.
In January 1973, Elton John released the album Don't Shoot Me I'm Only The Piano Player that contained the hit single Daniel which like most of Elton's hit were written by both Elton and his long-time writing partner Bernie Taupin. Daniel was inspired by an article Taupin had read in a magazine all about a wounded Vietnam War veteran who came back from war and was receiving a lot of unwanted attention, Nikita was effectively the sequel.
The video to Nikita is as well remembered as the song itself and Nikita is portrayed as a Soviet female love interest who the protagonist is unable to reach. We are so taken in by the visuals that we, in the west, don't stop to think that in Russia Nikita is a male name and Elton is singing to a man. In a number of interviews when Elton was challenged he did say, "I was aware that Nikita was a male name in Russian." At the time, Elton was married to the German recording engineer Renate Blauel which surprised many people, but it lasted four years with Elton eventually admitting later that realised he was gay before his marriage. Funny, many people knew before that.
The song made an interesting case against the Cold War, an historical event that led American president Ronald Regan, to dub Russia the 'Evil Empire'. Elton, back in 1979, was one of the first westerners to tour the Soviet Union and had found the Russians that he encountered to be warm and friendly people first-hand.
In the opening verse Elton sings on first spotting the lonely soldier, 'Oh, I saw you by the wall, 10 of your tin soldiers in a row' and thinking he would probably want to be anywhere else, singing, 'Just look towards the west and find a friend' in the hope of enticing him. It doesn't have a happy ending with Elton singing, 'Oh Nikita, you will never know, never know anything about my home.' The beautiful lady in the video was the 19 year old English actress, model and singer Anya Major. Anna will also be remembered for doing the dramatic hammer throwing in Apple's famous Apple Macintosh '1984' commercial. The ad had its only American daytime broadcast in January 1984 as part of the telecast of the third quarter of the Super Bowl XVIII.
The last line of the first verse Elton sings, 'With eyes that looked like ice on fire, the human heart, a captive in the snow', the words ice of fire create a strong image and became the album's title. Elton's voice on this album sees less of his 70's falsetto and led him to remark,  "I think I'm a better ballad singer, but I think I'm becoming a better singer, per se anyway."
Elton asked his friend George Michael to contribute backing vocals and the electric guitar part was provided by Nik Kershaw who had played guitar on Elton's previous hit Act of War, a duet with Millie Jackson. George had also added backing vocals to Elton's follow up hit Wrap Her Up.
Elton did encounter one set back and that was that he'd been accused of plagiarism. A South African songwriter called Guy Hobbs had written a song in 1982 called Natasha, a story about a Russian waitress working on a cruise liner who, apparently, was never allowed to leave. He copyrighted the song the following year and sent it to a music publisher but never heard back. Fast forward 18 years and Hobbs found a book with the lyrics to Nikita and noticed some similarities with his song. He made numerous attempts to contact Elton John without success so 11 years later decided to instigate legal proceedings. Clearly, he's not in a hurry. So with Hobbs claiming that Elton stole his lyrics, Elton retorted with, "I am a successful musician and would never lift lyrics from some no-name songwriter and also that the song's theme was too general to win copyright protection." Anyway, in October 2012 an Illinois federal judge found that the song did not infringe any copyright because the only similar elements were generic images and themes that are not protected under copyright law and found in Elton and Bernie's favour and dismissed the case.
Elton went on to win an Ivor Novello Award with the song, and, according to the Eltonjohnsonglist website, said he could knock out a song like this every day, though he would not want to, as he has to be in the mood.