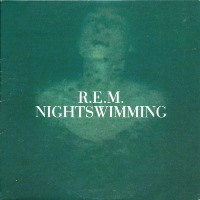 Like Lennon and McCartney and Queen, in their later years, R.E.M. had an agreement that all the writing credits on all their songs would be credited to all members of the band, but this week's suggestion of Nightswimming was actually written by the band's bass player Mike Mills and it's their only song where the lyrics were written before the music. Way before the music.
R.E.M. came to UK prominence with the first UK hit, The One I Love in 1989 but they had formed nine years previous and released their first single, Radio Free Europe the following year. The band who comprise lead singer Michael Stipe who was once in a punk covers band called 1066, guitarist Peter Buck, bass player Mike Mills and drummer Bill Berry. It all started after Stipe & Buck, who met in 1978 at a record shop where Buck worked.
In 1991, the band release the album Out Of Time and whilst that album was climbing the charts around the world, the band began production on their next album Automatic For The People. Drive, Man on the Moon and The Sidewinder Sleeps Tonite were the first three singles lifted from it all with an air of mystery about them and peaked at 11, 18 and 17 respectively in the UK. Their fourth single, the haunting Everybody Hurts reached number seven. That track was more piano and vocal led and arguably brought them a new audience. Perhaps realising this, a fifth single was released in the shape of Nightswimming which was even more vocal and piano led. It only featured Stipe and Mills but did include orchestral arrangements by Led Zeppelin's John Paul Jones.
Mills had written the lyrics in 1991 probably with the intention of the song appearing on Out of Time, but he couldn't get the right tune to go with it so it got shelved until Out of Time was released.
So let's find out how the music took shape; in the sleeve notes to the 2003 release In Time: The Best of R.E.M. 1988–2003, Peter Buck explained, "Being competitive bastards that we are, Mike and I started auditioning chord changes and tunes for Michael. The two tunes of mine that Michael rejected eventually became Drive and Try Not To Breathe. Mike had a piano instrumental that he played to Michael. He listened once, nodded his head to hear it again, and on the second pass he sang the lyrics. It was Nightswimming, exactly like the record we would record a year later. I was standing in the corner dumbfounded." Mills added in a different interview, "I never thought it would amount to much because it was just a circular thing that kept going round and round and round. But it inspired Michael." He also said he recorded the piano part on the same piano used by Derek and the Dominos on the recording of Layla which was done at Criteria Studios in Miami.
The song opens with the line, 'Nightswimming deserves a quiet night, the photograph on the dashboard, taken years ago turned around backwards so the windshield shows' confused? Stipe explained in the sleeve notes of the 2011 release Part Lies, Part Heart, Part Truth, Part Garbage 1982–2011, "That's exactly how I saw it, I'm pretty sure it was a pickup truck. Still confused? OK, In the second verse Stipe sings, 'I'm not sure all these people understand, it's not like years ago. The fear of getting caught, of recklessness and water, they cannot see me naked' well we may not have understood until we find out that all that is a real memory and a bit autobiographical of the band's illicit skinny dipping back in their home town of Athens, Georgia. Peter Buck explains the story, "We used to sneak out onto this guy's property in Athens and go swimming in this water hole. It'd be great: 30 of us all running around naked. It was before AIDS, and whatever happened happened." Maybe a little clearer now.
Unbelievably, there was a sixth single released from the album, talking about milking it! That track was Find the River, but it proved to be one too many because it peaked at number 54. Most people had the album by then as it sold over two million copies. The album title, by the way, came from a soul food diner in Athens that Stipe frequented because the waiters always used to answer with, "automatic" after customers made an order. Stipe once owned a vegetarian cafe and juice bar in his home town. He also owned the building that housed another veggie restaurant, The Grit but sold that building in 2004 and The Grit restaurant finally closed in October 2022.
Stipe and Kurt Cobain were once close friends back in the early 90s and Stipe is the godfather of his daughter Frances Bean Cobain.