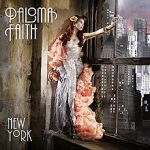 How many times have you heard a song only to find out it's not quite what you thought? A story with a twist is fantastic! Jim Stafford's My Girl Bill, Wink Martindale's Deck of Cards and Eminem's number one, Stan are three good examples. This week's subject has similar sentiments. What do you think Paloma Faith's New York is about?
Former magician's assistant and underwear saleswoman Paloma Faith finally found her calling in 2009 with the release of her debut album Do You Want the Truth or Something Beautiful? It generated two top 20 singles New York and Stone Cold Sober, and went platinum in the UK.
New York features a sweet gospel chorus by the London based Souls of Prophecy Gospel Choir and tells the story of a girl who loses her man to 'another lady.' However the rival for his affections is not actually a person, but a city – New York City, the Big Apple itself. Basically her lover has gone to New York and decided to stay, and so she laments that New York has poisoned her lover against her. She doesn't want to hear about his new friends and his new life. She even sings 'please don't make me go to New York' towards the end of the track. Can you really blame a place?
The song reached number 15 in the UK and did moderately well around the world by reaching number 54 in Germany, number 12 in Ireland, number 13 in Switzerland, position 29 in Denmark, number 28 in Sweden and best of all, number eight in Finland.
In the accompanying video we see Paloma with her fictitious a boyfriend called Tyrone having fun at a real London bowling alley. They are bowling partners who we initially see holding championship trophies that they won together. As Paloma sings we get a scene of Paloma in both New York City and the Bowling Alley crossed with each other, as Tyrone starts to lose interest in Paloma and having some doubts. Then we see Paloma use a bowling ball to pretend she was pregnant as she gets Tyrone to kiss the bowling ball, and then he tells her that he's leaving her for New York. She then lets her boyfriend leave as another shot of Paloma is shown crossed with the Brooklyn Bridge and Statue of Liberty in the background this time, with her boyfriend now in a new team as he bowls with them. The video was directed by Vaughan Arnell who was also responsible for Robbie Williams' song, Bodies.
She followed up her debut album with Fall to Grace which saw her working with producer Nellee Hooper and was much more upbeat. "People kept asking me, 'you seem so upbeat – why are your songs so miserable?' And I thought: 'You know what? They've got a point!'" recalled Paloma. "So this time I wanted to show another side. When you first write these sad songs they are therapy because you've got something off your chest."
Nellee Hooper made the album like a collection of short stories. Paloma liked the idea of that, "I'm very affected by what I watch and read. I read a lot of fiction and I go to the cinema constantly. I'm an avid film fan, so I tend to think in pictures." How did she come up with the title? "I'm a glass half-full kind of gal and I suppose the title is insinuating that. The normal turn of phrase is fall from grace but I wanted to turn it around. Taking tragic situations and falling away from them into something more hopeful."
One year after New York's original release, a re-mix featuring a guest vocal by Ghostface Killah was released in August 2010 but the way the charts work now, the sales of both were combined and it resulting in the song returning to the UK singles chart peaking at number 54 proving it doesn't always pay to add a rapper, although Empire State Of Mind went two places higher the same year with Jay-Z on it.