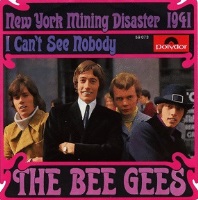 There is almost no restriction of what can inspire a song writer to come up with an interesting story for a song. The Bee Gees, collectively, wrote every one of their 38 UK hit singles but it was Barry and Robin who were together when the inspiration struck. They were at the ITC studios in London and were sitting on a dark and eerie staircase following a power cut when the echo of a moving lift from a neighbouring building led them to imagine what it would be like to be trapped in a mine. It wasn't the only inspiration because according to the notes in their 1990 box-set, Tales from the Brothers Gibb, a 1966 Aberfan mining disaster in Wales played a part.
The Aberfan tragedy occurred on 21st October 1966 caused by an avalanche of coal waste which had tumbled down a rain-sodden mountainside killing 144 people, 116 of which were children. It was widely covered in the press and, initially, the Queen didn't want to visit the scene. She asked Prince Philip to go instead. She did eventually pay a visit just over a week later and admitted in a 2002 that it was "her biggest regret not visiting immediately." The reason for placing the song in New York was as to not upset or offend those who were involved in the tragedy.
Bee Gees brother Robin Gibb claimed that there actually had also been a mining disaster in New York in 1939, but not in 1941. There is insufficient evidence of this as there were no coal mines in New York although its southern neighbouring State, Pennsylvania, is the third biggest coal mining State after West Virginia and Wyoming. So why they chose 1941 remains a mystery still.
The Bee Gees had been born in the Isle of Man moved to Greater Manchester in the mid-fifties and began singing together in harmony in 1957 where they formed their own band called The Rattlesnakes with two friends on drums and tea-chest bass. The two friends left the following year and the brothers, Barry, Robin and Maurice, as a trio, renamed themselves Wee Johnny Hayes and the Blue Cats. Later that same year, the whole family including their sister Lesley and baby brother Andy emigrated to Australia. They began singing again for pocket money when a motor racing promoter, Bill Goode, spotted them and hired them to sing to the crowds before the races. He then introduced them to his friend, Bill Gates – not the Microsoft magnate – but the radio DJ in Brisbane who gave them their name The BGs because Gates and Barry shared the same initials. It was later changed to the Bee Gees.
They recorded a few songs and had signed a contract with Festival records. Their first hit was Spicks and Specks which peaked at number four in Australia and number one in New Zealand. The brothers' father, Hugh, who was planning a return to the UK, sent a demo tapes of his sons to the Beatles' manager, Brian Epstein who, because he was too heavily involved with the Beatles, passed the tapes onto another producer and label owner Robert Stigwood. They return to the UK and New York Mining Disaster 1941 became their debut hit peaking at number 12.
"The opening chord doesn't sound like a conventional A minor," Maurice told Mojo magazine in 2001. "Barry was using the open D tuning he'd been taught when he was nine, and I was playing it in conventional tuning. It gives an unusual blend. People went crazy trying to figure out why they couldn't copy it. There's a lot of weird sounds on this song like the Jew's harp, the string quartet, and of course the special way that Barry plays that guitar chord." Barry added, "It's Hawaiian tuning, there they play the same way I do. I got a guitar for my ninth birthday and the guy who lived across the road from us just came back from Hawaii and he was the one who taught me that tuning, that's how it started and I never changed."
Robin took the main lead vocal as he did on the majority of their early songs with Barry providing the lower harmonies. Barry didn't showcase his falsetto vocals until the 1970s on Nights on Broadway.
It is believed the song inspired David Bowie when writing his first hit Space Oddity in 1969. They have a similar arrangement and both talk about a wife and the same sentiment of a man who is trapped and facing imminent death and both telling the story to a third party. The jazz guitarist John Hutchinson who was a friend of Bowie's and had played with him between 1966 and 1973 said, "David knew it, and he said so at the time, the way he sang it, it's a Bee Gees thing."
There are a few cover versions including versions by Ashton, Gardner & Dyke, Nashville Teens, Elvis Costello, David Essex and Chumbawumba on their WYSIWYG album in 2000.
The Bee Gees family is just Barry and sister Lesley now as Andy passed away in 1988 from myocarditis caused by years of cocaine abuse, Maurice died in 2003 following an operation to rectify a twisted intestine and Robin died in 2012 from liver and kidney failure. Their mother, Barbara, tragically had to bury three of her sons because she lived to 95 and died in 2016.