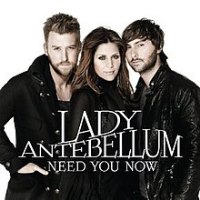 Country music in the UK has never been a big thing, of course there was Johnny Cash and Jim Reeves who led the way in the 60s and even the big names like Dolly Parton, Tammy Wynette, Kenny Rogers and Billie Jo Spears only managed a small handful of hits and gradually over the subsequent years there seemed to be less and less country artists coming through. But every once in a while, and unknown name came along, usually with one hit that stood up, Charlie Daniels' Band with the Devil  Went Down To Georgia in the 70s, Randy Travis' Forever and Ever, Amen from the 80s and Achy Breaky Heart from the 90s and Faith Hill's There You'll Be from the 2000s are good examples and this week's suggestion, which had seven separate chart runs between 2010 and 2013, is now a favouite, so let's find out about the band now known as Lady A.
The band, who comprised vocalists Hillary Scott, Charles Kelley (guitar) and Dave Haywood (guitar, piano and mandolin), were formed in Nashville, Tennessee in 2006. Scott's mother is a country singer Linda Davis and Charles' brother is the country singer Josh Kelley.
The 'Antebellum' part of the band's name comes from an area in the Southern States called The Antebellum South and between the end of the 1812 War and the start of the American Civil War in 1861, this period was known as the Antebellum Period that became synonymous with slavery. In June 2020, during the George Floyd protests, the band decided to shorten their name to Lady A in order to divert attention and its associations with slavery. At the time, there was a blues singer called Anita White who was actually black and had been using the pseudonym Lady A for over 20 years. Being America, the trio tried to sue Anita White asking for legal documentation verifying her rights to the name, essentially asking to share the Lady A name with White. The singer disagreed and countersued, asking the court to dismiss the trio's own suit. The court denied the request and that was the end of the dispute. The court order said, 'all claims against all parties are dismissed and each party was to bear its own attorney's fees, costs and expenses.' Seemingly, both carried on being Lady A.
Need You Now tells of the feeling of loneliness and wanting some company. Hillary Scott said: "All three of us know what it's like to get to that point where you feel lonely enough that you make a late night phone call that you very well could regret the next day." The song was written by all three members as well as the country song writer Josh Kear who came to prominence four years earlier when he penned American Idol winner Carrie Underwood's hit Before He Cheats which spent 33 weeks at the top of the Billboard Country chart.
Like many good songs, it came together very quickly as Kear explained, "It was the first day I'd ever spent with them and it was the second song we wrote that day. We were only together for two-and-a-half hours. We finished the first one in the first 45 minutes." Charles continued in an interview with The Boot, "I'd been fooling around with this little guitar melody at home and had that first line, 'Picture perfect memories scattered all around the floor.' But I didn't have a chorus melody. I played what I had for Josh, and everybody liked it, so we just started writing. Everybody brought in a little piece of that song after I started playing some of the basic chords. But I'm not that great a guitar player, so I put the guitar back in Dave's hands. And with his expert knowledge, he just took it to the next level. That's the beautiful thing about co-writing." Charles Kelley, who penned the line, 'It's a quarter after one, I'm a little drunk and I need you now' explained in the same interview that the band's record label initially had concerns regarding the lyrics 'I'm a little drunk', but he managed to convince them to leave the line in.
That writing session nearly didn't happen because, as Charles explained, "I had a writing appointment with Josh Kear, Dave and Hillary, but my wife didn't want me to write that day, because it was her birthday. She was so upset that I was going to keep my writing appointment." He did keep the appointment and after the session, "They went their separate ways: Charles went back to his wife as it was her birthday, I went home to my wife. Next thing you know it, it's on the record, title track, first single and here we are," Josh explained.
The wrote writing session happened in the middle of a tour, "They were here for a pitstop. They should have been washing their clothes, and spending time with the people they needed to see. But man, they were so hungry," Josh continued, "they wanted it so badly. They were writing all over the walls, all over the floor, all over themselves. They were just writing as much as they could. So for whatever reason they showed up in my office that day. I had been told through Carla Wallace, my publisher, that they were looking for (an) up-tempo, fun first single off their next record, they were getting ready to really start that next album cycle. So after Carla told me that, I spent some time on my own, trying to start exactly what I thought they needed. And I had a verse and a chorus of a song.
"A lot of times you'll be mumbling things when you're writing, and something like that first line will come out… and then you'll immediately put yourself in that place," Kelley told Marianne Horner. "You may not be going through that in the moment, but you're able to put yourself in one of those times you were going through something like that. That's kind of how the three of us write together. We'll sit there and come up with some melodies, and Hillary and myself will be mumbling words over it and then something will happen. We'll say something, and we'll start writing a song around it."
The accompanying video, which, as of December 2022, had been viewed over 490 million times, and directed by David McClister starts in a hallway of a hotel where Kelley is sitting against a wall and Scott is in her room, while Haywood plays the piano. They are seen drinking from flasks until they are ultimately united with a lover. The whole thing was filmed at the King Edward Hotel in Toronto, Ontario.
Need You Now spent five weeks at number one on the Billboard Hot Country Songs chart and took 30 weeks to reached its number two peak on the Billboard Hot 100 Singles chart making it the slowest climb to number two. In 2011, it became the most downloaded country song ever, dethroning Taylor Swift's Love Story.
There are numerous cover versions notably by Adele and Darius Rucker who performed it as the CMT Artists of the Year awards and in 2012, Gary Barlow and Cheryl Cole performed a duet at the Queen's Diamond Jubilee concert in London thus sending the Lady A version back into the UK top 40. There was yet another cover in 2014 by the unlikely pairing of Engelbert Humperdinck and Lulu. Shane Filan from Westlife covered the song on his own in 2017 and appeared on his album Love Always.
All three members of the band claim they enjoy watching YouTube videos of fans performing Need you Now. Kelley admitted to Marianne Horner, "It's my guilty pleasure. My wife thinks I'm a narcissist, but I just think it's hilarious going on YouTube and seeing these covers. There are so many of them – literally hundreds! It's flattering."