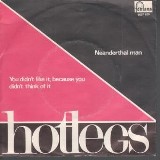 This week's choice is a one-hit wonder from 1970, by a house session band that went on to greater success, but for this hit they were called Hotlegs.
Three accomplished musicians, Kevin Godley, Eric Stewart and Lol Creme made up the band. Eric had been a member of the 60s group The Mindbenders and sang lead vocals on A Groovy Kind of Love but they disbanded at the end of 1968. Lol and Kevin had met at Art College in Manchester and through a mutual friend – Graham Gouldman – they were introduced to Eric. Kevin recalled, "Eric, more than anything else wanted to be a producer and engineer and very smartly he partnered with a guy in the local music shop and, very laboriously, set up what was to become Strawberry Studios." Lol remembered, "He found this old building in the middle of Stockport in Cheshire and started to turn it into a studio." Eric added, "We started with a little control desk and two stereo machines and so, in 1969, Strawberry studio's opened and we started getting work, and almost overnight I went from being a Mindbender to an engineer at Strawberry."
Eric asked Kevin and Lol to come and help him test the first version of the studio and just started experimenting to understand the capabilities of the new equipment. "I needed someone who would bang drums endlessly for hours on end," said Eric, "while I fiddled and finessed the noise to get a good drum sound." Lol remembered, "even Kevin was beginning to fade, so I went in and I sat on the floor with an acoustic guitar and I sat in front of the bass drum and I started strumming any old stuff just to keep Kevin buoyant really so they could keep banging and Eric kept saying 'just a bit more just a bit more' and to keep me occupied I kept singing this old nursery rhyme that came spontaneously," the words being 'I'm a Neanderthal man. You're a Neanderthal girl. Let's make Neanderthal love, in this Neanderthal world,' which are the entire lyrics of the song repeated several times.
Kevin said, "It was simply a test but a music publisher guy called Dick Leahy swanned by and heard what we were doing and said, 'It's a smash' because people said things like that back in those days. We promptly wiped it by mistake, completely erased it and we had to start again from scratch." Eric added, "We got it slightly better because we sort of knew what we were doing by now and that's how the song was made."
They needed a name for the group before sending it to Dick Leahy for publishing on his Fontana record label and so they chose the name Hotlegs in honour of the secretary, at the studio.
After the song had been a hit the studio got busier and more professional, "We were being booked all the time," Eric said, "Graham had been working in America and when he heard that we were working together with other musicians he came over and joined our backing group team." Kevin added, "We ended up becoming the regular four-piece house band for the various acts that came through the door at Strawberry Studios. There were some very weird acts; we backed some football teams and even record producer's girlfriends."
One of the biggest artists they backed was Neil Sedaka whose hits had dried up in the UK by the mid-sixties and he heard about Strawberry Studios and came to the UK. Graham said, "Neil was trying to launch a comeback and had all the material and I think the original idea was that he would come over and try out two or three songs, but it worked out so well that he recorded the whole album." They ended up recording two albums and five hit singles including Our Last Song Together and Laughter in the Rain.
In 1972 the boys changed their name, with a little help from Jonathan King, to 10cc and Jonathan signed them to his own UK record label for two years before switching to Mercury. In 1977 Kevin and Lol departed for a successful joint venture initially as Godley and Creme and then moving big time into video production. Graham and Eric kept 10cc going as a duo until 1982 when they split completely.
Kevin and Lol are still in video production and in the 2000s have worked with Boyzone, The Corrs, Shayne Ward, Katie Melua and Bryan Adams, Eric continued in production working with Sad Cafe and Abba's Agnetha Fältskog and in the 2000s bought a house and studio in France which, in between visiting, occasionally works on a solo singing career. Since 1999 Graham Gouldman regularly tours and in 2014 Graham was inducted into the Songwriters Hall of Fame.