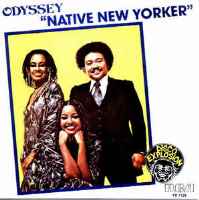 How disheartening must it be for a songwriter to write a song they really believe in and love then to be told it's not very good and have to move on? I can't imagine not being a song writer myself, but I've heard a similar story many times and this week is one of them. The lyrics to Native New Yorker were written by Sandy Linzer but if Sandy had listened to other people we may never have heard this song.
The song's co-writer was Denny Randell and both of them have written a number of well-known songs including A Lover's Concerto by the Toys, The Four Seasons' songs Working My Way Back to You, Let's Hang on and Opus 17 (Don't You Worry 'Bout Me), The Bandwagon's Breaking Down the Walls of Heartache and Wigan's Ovation's Skiing in The Snow. Linzer has also written other hits with and without other songwriters.
Native New Yorker was first recorded by Frankie Valli – presumably through Linzer's Four Seasons connection – for his 1977 solo album Lady Put the Light Out, but it was made famous by Odyssey with Lillian Lopez from the group, telling us of the life of a clued-up city lady who's is well known in her home town; 'There you are, lost in the shadows, searching for someone to set you free from New York City,' but the twist is not how good New York is, but what a pain it was for her and her longing to escape even for a short while. It was made for effective when sung by a woman, 'No one opens the door for a native New Yorker,' she sighs, having explained that she's young and pretty.
The song was Linzer's first real foray into disco but how did he make the switch? "It's just a normal transition that a lot of songwriter go through," he explained. "You just go with the flow and the key elements so I can adapt any kind of music because I like all kinds, so I never had a problem changing direction."
Linzer was born in New Jersey, so what inspired him to sing about New York? "That came from an album I had produced about a year before by Dr Buzzard's Original Savannah Band and while I was working on that eponymous album the title just came to me. I didn't know what to do with it at the time. When it came to the follow-up album, the band wanted to do it alone and head off to Los Angeles and didn't think much was going to come of it and I moved on and found Odyssey. That's when I caught up with Denny and suggested we write together again. I mentioned the idea of Native New Yorker to him which I had started writing on the piano at first but I wasn't crazy about the direction I was going and I told him I wanted to do something like Papa Was A Rolling Stone. After a few days he tried a few things but nothing came of it. We wrote some other tracks for the first Odyssey album and then Denny played a riff on the piano. I said, 'what is that'? he said, 'nothing, it's just a riff and I said, 'I like that – that's Native New Yorker'. As soon as I heard that I immediately had the lyrics and the melody in my head so I wrote them down and then the second verse came easily too. Within an hour I said I think it's done, let's take it from the top, I want to sing the whole thing and when I finished we both were both rolling on the floor hysterical, we knew we had a monster."
They tried to produce the album for Odyssey but Linzer felt is wasn't working so told Randell that he was going to produce it with Charlie Calello who was my mentor and he's had over 100 hits on Billboard including being the arranger on my Four Seasons hits. He was so good, he hired the best musicians including Richard Tee piano and Freddy Becker who plays the distinctive saxophone.
The finished album was then sent over to Tommy Mottola at RCA and a few weeks later I got a call from the head of A&R at the label and Tommy said, 'You just got nominated for a Grammy for the album which is fabulous, but there's one song on there you should take off I swear to God it's an embarrassment,' I said, 'what song'? he said, 'Native New Yorker'. I said, really? You don't like Native New Yorker, he said, 'Nobody likes Native New Yorker.' I thought they were crazy."
As for Odyssey, well none of them were from New York. The sisters Lillian and Louise Lopez were both born in the Virgin Islands but raised in Stamford, Connecticut. The male member, Tony Reynolds was a Filipino but he joined soon after Native New Yorker was recorded and left after the first album.
The song, which was featured in the 1978 film The Eyes of Laura Mars, was Odyssey's debut hit on both side of the Atlantic reaching number 21 Stateside and number five on these shores.
Odyssey's biggest UK hit was the 1980 chart-topper Use It Up, Wear It Out, a cover of Lamont Dozier's Going Back to My Roots reached number four in 1981 and their final top 10 hit was Inside Out which peaked at number three the following year. A cover of Native New Yorker by Black Box charted in 1997, but missed the top 40.
Although the band are still going, it's not the sound it once was as Lillian passed away in September 2015 at the age of 77 (she was 42 when Native New Yorker charted) and her sister Louise died in January 2015 aged almost 82. The group are now led by Lillian's son Steven Collazo and supported by KayJay Sutherland and Michelle John.