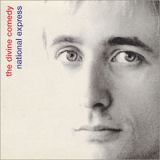 Mike Skinner did it, Abel Tesfaye does it and so does Neil Hannon to name just three. Do what you're thinking? One person performing under a group name, Skinner as The Streets, Tesfaye as The Weeknd and Hannon as The Divine Comedy.
Neil was born Edward Neil Anthony Hannon in Derry, Northern Ireland on 7th November 1970. He attended school at Royal Portora in County Fermanagh, which boasted Oscar Wilde and Samuel Beckett among its elite, the former is mentioned in the Divine Comedy's 2004 top 40 hit Absent Friends. Neil began piano lessons at the age of seven, but he was quite indifferent to it, he recalled, "I only ever got to grade two I think. The report card from my teacher started out with, 'Neil is very good, has good musical talent'. There was a steady decline over time! 'Neil has potential but must work harder'. 'Neil isn't working as hard as he can'. 'Please take Neil away from me'!"
He began making music, under the name The Divine Comedy in 1990 and released the albums Fanfare for the Comic Muse (1990), Liberation (1993) and Promenade (1994) which all went relatively unnoticed. In 1996 his fourth album, Casanova got noticed after Chris Evans discovered it and played the opening track, Something For The Weekend, on his Radio One breakfast show. It was released as a single and reached number 14. The parent album peaked at number 48.
Over the next couple of years he released half a dozen singles most of which made the top 30, but his biggest hit arrived in February 1999 when National Express, the third single from the album Fin de Siècle, reached number eight.
The song is based on Neil's light hearted observations of life from the window of a National Express coach and was a magnificent pop moment that far exceeded his usual reach. As Neil's older brother Des remembered, "National Express is one of their most recognisable songs and was inspired by his frequent visits on the bus down to Tiverton from London to get fed by myself and my wife."
Ironically, the accompanying video shows Neil as a psychiatric hospital patient awaiting treatment and being pushed around in a wheelchair by a porter that had trouble controlling his behaviour. It sort of takes the Mickey out of the National Health Service, but Hannon has always denied this.
Neil has used various musicians for different albums and when asked in an interview if they will ever be permanent, he swiftly retorted with, "No! The Divine Comedy will always be my band because… I thought of it first! I'll always write the bulk of the songs, but the idea now is really to give everyone total freedom in the band – and to hell with orchestras. We've done it. Every time we've done an album there've been a few more musicians until there were over one hundred on the last album (Fin de Siècle), so we had to hone that down. There's no point in bringing it back and having a few – we might as well just get rid of them all."
Neil has written two Channel 4 television theme tunes, firstly, and more famously, Father Ted in 1995 and then The IT Crowd, a comedy set in the London offices of the fictional Reynholm Industries which first aired in 2006. Later that same year he contributed two songs, Love Don't Roam and Song for Ten to the Doctor Who soundtrack. In 2010 he recorded songs to a musical version of Swallows and Amazons which premiered at the Old Vic in Bristol.
Hannon continues to make music and last month saw the release of his latest album Foreverland which contains 12 new tracks and became his highest charting album to date when it peaked at number seven.
He's back on tour in 2016 and his sets now include some cover versions of songs in which he puts an inimitable spin by changing some of the lyrics. Two that have been highlighted by his devoted fan base are Prince's Raspberry Beret and Nelly Furtado's Maneater.