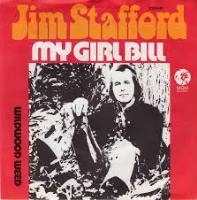 People who write TV shows like Jonathan Creek and films like The Sixth Sense have my utter admiration. To able to produce a piece of work that have the viewer/listener confused and keeping them fooled and in suspense throughout is the work of a genius. I've given TV and film examples and in the music world there equally songs that do the same;  Escape (The Pina Colada Song), I'm The Urban Spaceman and Gilbert O'Sullivan's Clair are just three of the many that spring to mind. Songs with a twist and this week's suggestion fits the bill (no pun intended) perfectly.
Jim Stafford was born in Florida in 1944 and is a musician who is self-taught on violin, piano, guitar and harmonica. He is also a comedian, which most people in the UK would not have known and seemingly the Yanks may have overlooked when it came to the song My Girl, Bill. He was a huge talent who also had his own Theatre in Branson, Missouri which he co-owned with his wife, Ann Britt-Stafford and he headlined for 30 years from 1990 to 2020. Incidentally, in the late seventies he was briefly married to the sing/songwriter Bobbie Gentry.
When a man sings a song that opens with the lyrics, 'Bill walked me to my door last night and he said, before I go there's something about our love affair, that I have a right to know' you pretty much jump to the conclusion that it's going to be the story of a gay relationship. This song was written 1974 and seemingly quite daring because the public acceptance of gay relationships was in its very early stages.
By the time the narrator gets to the second verse which tells us, 'And I could see we both felt the same and when his eyes met mine' followed by, 'Let's just sit here on the couch and face this, man to man'. We were all taken in.
It's only in the final verse, that we discover the truth as Jim states, 'Bill, you know we just left her place and we both know what she said, she doesn't want to see your face and she wishes you were dead! Now, I know we both love her and I guess we always will but you're gonna have to find another 'cause she's my girl, Bill!'  We finally realise that both Jim and Bill have a mutual love interest and Jim is explaining to Bill that she no longer wants you, she wants me, so she's my girl Bill.
Had the title been written on the label as My Girl, Bill (with the comma) we might have had an early clue, but clearly it was purposely left out.
Stafford explained that the Covid pandemic closed his theatre but in 2021 it was announced that the theatre was to be demolished. Stafford, however, still tours at the age of 78.