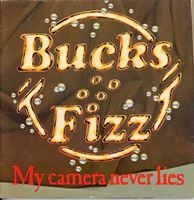 Bucks Fizz, despite their 20 UK hits singles, will forever be remembered as our third Eurovision winner and even more so for the skirt-snatching routine at the contest. They made some fantastic tracks and had three UK chart-toppers, but Making Your Mind Up will be their best known mainly because virtually no radio station will play any song of theirs apart from that one. The man who runs Retrochart Radio is a big fan and plays all their top 40 hits on his station. Anyway, exactly one year on from their victory came their third and final number one, My Camera Never Lies, but what was that song all about?
Well, simply, the song tells the story of a frustrated man, who suspects his lady is having an affair and has her followed. The song's writer, Andy Hill, penned 12 of their 20 hits and produced 19 of them, but for this one, he wrote the music, but asked his wife, Nichola, to write the lyrics.
The music is catchier than most of their songs because it includes power chords and some neat guitar work as well as a couple of musical direction changes, but the story is dark as you get the impression the protagonist has been following his other half around taking pictures of her indiscretions and therefore maybe a bit creepy. On the other hand, however, the lyrics never actually state whether it was him or her that was being unfaithful, but if it was him and she was taking the photo's it would generally be more accepted. That was obviously left for us, the listener, to work out.
The song, which the band members have gone on record as saying is their best song, opens with the blatant line, 'I've been checking you up, I've been tracking you down, Funny all the things that I've found', which, if you only read the lyrics you wouldn't know if it was he or she that had been caught red-handed and captured on film. Listen to the song or watch the video and you realise it's the guys who sings those lines and that confirms the answer. What we don't find out is if one dumps the other of if they stay together and all is forgiven, which is a nicer thing to leave to the imagination.
The parent album Are You Ready? was their only Top 10 album and also contained the number eight acapella follow-up Now Those Days Are Gone.
On 11 December 1984, just five minutes after leaving a gig in Newcastle, the band's coach collided with an articulated lorry. All the members suffered varying degrees of injury with Mike Nolan the worst affected – he was in a coma for four days after being thrown backwards through the windscreen. Bobby G seemed to be fine at first, but the knock on his head brought on a brain haemorrhage. Both made a full recovery and later the same year, Bobby wrote the incidental music and recorded the theme to the TV series Big Deal.
Bucks Fizz sales were diminishing by the mid-eighties and in 1986 Jay Aston left in a blaze of publicity. According to newspaper reports, she attempted suicide and had an affair with the group's songwriter, Andy Hill. The remaining members auditioned 2000 girls, of which Shelley Preston was chosen as her replacement and she fitted in nicely. Cheryl Baker recalled, "I never got on with Jay, we were never friends. I was so happy when Shelley joined, at last I had a girlfriend in the band." Preston then left in 1989 and the group continued as a trio. Four years later Cheryl left to concentrate on a career as a television presenter. Bobby and Mike wanted to carry on, so they recruited Heidi Manton and Amanda Szwarc. Bobby later married Heidi. By 1996 Nolan had had enough and left. He was replaced by former Dollar star, David Van Day. Nolan was not happy with his replacement and promptly formed his own touring rival group, also called Bucks Fizz. Van Day also wasn't happy and left in 1997 and after spending thousands of pounds on cocaine which he said was "like stuffing it down a manhole,' ended up in Brighton where he made a living selling hamburgers, doughnuts and ice creams. Most of his money had gone and admitted, "I know it's not as glamorous and people probably see it as sad, but I can't do anything about that. "
In 2004, Sony issued all the group's back catalogue on CD which  gave them a renewed interest and, tying in nicely time wise, as the BBC had launched a poll by asking their viewers to vote on their favourite and most memorable Eurovision moment and, clearly, the skirt-ripping saga was still present in their memories because they won the vote. That same year, three of the original members, Cheryl Baker, Jay Aston and Mike Nolan reformed as The Fizz, a nickname that was coined by fans in the 1980s, which then included Shelley Preston and Bobby McVay who had been member of the 1983 UK Eurovision entrant, Sweet Dreams. By 2018, the latter two had left and the others continue to this day as a trio and in 2022, they were supported on their latest tour by Baker's twin daughters, Kyla and Natalie. But unfortunately, it hasn't translated into album sales because their 2017 set The F-Z Of Pop and their 2020 offering, Smoke & Mirrors both spent just one week in the album chart, whereas their 2022 album Everything Under the Sun failed to chart at all.
In January 2018 during a routine dental appointment, Jay Aston's dentist noticed a previous problem had got worse. The lichen planus had begun to spread from the front to the back of her tongue and advised her to get it looked at again. Three months later she had a biopsy that revealed there were precancerous cells in her tongue and she would need some of it removed. She then endured a gruelling seven-hour operation to remove a section of her tongue and then had it rebuilt using part of her thigh. Now on the road to recovery, Aston told The Mirror, "It's incredible what they can do and the surgeons have been amazing."