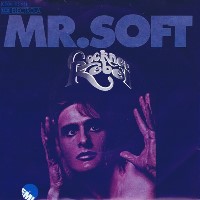 This week's suggestion came in from Mick who is very obviously a Steve Harley fan because his last request back in November 2015 was for Make Me Smile (Come Up And See Me) and now is looking for the story of Mr Soft. I can just imagine what you're thinking, but it's not that! It does make it harder (not pun intended) when the artist who wrote and recorded the song gives different interpretations at different times, but let's find out exactly what Steve Harley said about it.
In 1972, former music journalist, Steve Harley (born Steve Nice) formed the Cockney Rebel with guitarist John Crocker, bassist Paul Jeffreys, guitarist Nick Jones and drummer Stuart Elliott and with Harley writing the majority of their songs, they first hit the chart in May 1974 with Judy Teen. It was credited to just Cockney Rebel as was the follow up, Mr Soft, until Harley was promoted to lead credit.
Steve has cited both Bob Dylan and Leonard Cohen as his singer/songwriter heroes and has said, "The words and lyrics need to taste good in your mouth and you need to feel them in your bones and body," so given that why does he not remember what some of his songs are about? In an interview with Johnnie Walker he said, "Oh I don't remember what the stories are behind those early songs. They're all so mysterious to me too but when that song was first released on The Psychomodo then-plugger Dave Most, who was Mickie Most's brother and my then-manager both came to me going, 'who's that all about, it's it about me?' make of what you will." In another interview with Victoria Pearson in 2019, Harley said of it, "No idea I can't say. Things that you have created forty-five years ago, it's gone. Now the question is does it have legs? When we go on stage does it stand the test of time? Or does it sound dated? That's what matters. I make sure Mr Soft doesn't sound dated because we play it with quite a different swing to the original we play it a little bit like a 'Be-Bop' instead of 'Fmoff Fmoff Fmoff.' That plodding. It's now 'Inchakaka Inchakaka Inchakaka' which is much more exciting and people dance to it. So no one seems to mind me changing it slightly. Sorry I can't be more specific."
He did go on to say, "Those first two albums I did were just so full of characters and mystery and surrealism and I can never really pin it down myself."
The song opens with the line, 'Mr. Soft turn it on and force the world and watch the things you're going through. Oh Mr. Soft believe ev'rything they tell you and be damned if they'll thank you' and so it carries on. David Bowie once said that he used to cut up bit of paper with words on and throw them in the air, as they came down that could be the start of a song. One wonders if Mr Harley did something similar.
A couple of their songs have been used in TV adverts; their biggest hit, Make Me Smile (Come Up And See Me) was used in a 1995 by Carling and was back in the top 40 briefly. Mr Soft was used in 1988 for a TV ad for Trebor Softmints but not the Steve Harley version. It also has re-written lyrics to suit the product but it was done in a fairly convincing Harley style. What was Steve's thoughts on this? "If it's been used it's because I have allowed it to be used. I have the veto on these things it's quite clear on my contract that they can't let it go anywhere without running it by me. So I know about every use that it gets. We turned down quite a lot of offers especially about Make Me Smile if we think it doesn't quite fit in with my own beliefs."
Make Me Smile was also used for a Marks & Spencer ad in 2005 as well as appearing in the 1997 film The Full Monty and the following year in Velvet Goldmine albeit only over the end credits.