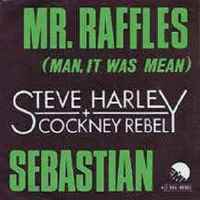 Whenever I hear the name Steve Harley, it always brings a smile to my face because it reminds me of a situation that could not have been timed any better. It was back in 2004 when I was mid-way through writing the 1000 UK Number One Hits book and I was with a friend having lunch and were talking about number one hits and he mentioned Make Me Smile by Steve Harley and at the same moment my phone rang and it was Steve Harley. Unbelievable! My friend almost fell off his seat. I had left a message for him to arrange an interview to talk about the aforementioned song and he'd rung me back. We arranged the interview and he told me a good story. Anyway, today's choice is for a different Harley song. GeneralBlee emailed to ask, "I hadn't heard Mr Raffles (Man It Was Mean) for years and listening to it the lyrics are quite disturbing and I am interested in finding out what it all relates to." Well General, let's find out.
Steve Nice, as he was born on 27th February 1951, grew up in south-east London, sharing a bedroom with two of his four brothers and sisters. His father was a milkman and semi-professional footballer while his mother gave up a career as a Jazz singer to look after all her children. When Steve was three, he contracted polio and spent a total of four years, on and off, in hospital. "I was always reading and writing. I wrote poetry from the age of 12," Harley remembered, "I don't recall the pain of polio but I do remember being with my grandmother and breaking down in floods of tears when I was 15 after my second round of major surgery. I let it all out."
From the age of nine, her learned violin and the following year took up guitar. When he left school, he was determined to fulfil his ambition of becoming a journalist, so realising he had to start somewhere, his first job was as a trainee accountant with the Daily Express. He worked at various newspapers, mostly local ones, but by the time he was 20 he'd lost interest and took up music.
He formed the original Cockney Rebel as his backing group and they comprised violinist Jean-Paul Crocker, bassist Paul Jeffreys, guitarist Nick Jones and drummer Stuart Elliott. Jones was soon replaced by Pete Newnham and they added keyboard player Milton Reame-James. In 1972, they signed a three-album deal with EMI records.
Judy Teen became their first hit in 1974 followed by Mr. Soft later the same year and then the following year they hit the top spot with the aforementioned Make Me Smile (Come Up and See Me). This week's suggestion was their next hit, Mr. Raffles (Man It Was Mean) and was the second release from the parent album The Best Years of Our Lives.
"Raffles was a master thief. He was a con artist too," Harley explained to Fred Dellar. "The titular character refers to a fictional thief created by author E.W. Hornung. I use his name to invoke a religious allegory, yes. We see religion and its leaders in our own ways: Sham: 'Man, it was mean to be seen in the robes you wore for Lent, you must've known that it was Easter.' Then in the third verse: The Devil within: 'Then in Amsterdam you were perfect fun. You never let on you had a gun and then you shot that Spanish Dancer.' I always think these references and allusions are obvious to listeners, and it feels a little pretentious to explain. It's not T.S. Eliot, I know, but I was a serious young man!"
Harley's diction in places is interesting and very pronounced for example, in the first verse the white says, 'There for a while in your smile I could see Mexico blood say'. If you only know the radio edit where verses three and four had been blasphemously edited out, then you won't have heard the line, 'And then you shot that Spanish dancer' which he sings with conviction.
One year went by until they had their final big hit with a cover of the Beatles' Here Comes the Sun which reached number 10. They had two further hits that both failed to reach the top 40.
In 1977, Harley jettisoned the band, moved to Los Angeles and began work on his debut solo album. Soon afterward he decided to leave Britain and set up home in Los Angeles. The album was called Hobo with a Grin (note the US terminology for a tramp) and the second track, Amerika the Brave featured Marc Bolan making his last ever studio performance just weeks before he died.
Steve still tours the UK and Europe under the banner 'Acoustic Trio' with fellow musicians James Lascelles and Barry Wickens. Earlier this year he released his sixth solo album which was called Uncovered and BBC 6Music, at least, gave a good airing to the first single I've Just Seen a Face.
Steve has kept his youthful looks, in facts just a few weeks ago he appeared as a guess on the TV show Celebrity Pointless and at 69 years of age, he could easily pass as a man in his late fifties.