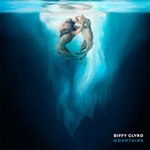 Twin brothers in bands are not too common, the most successful arguably being the Bee Gees, but Biffy Clyro, who so far have racked up 20 UK hit singles, are fast catching up.
The band, who were formed in Kilmarnock in 1995 and originally called Screwfish, comprise lead singer and guitarist Simon Neil and the Johnston Brothers, James on bass and Ben on drums. They've been asked over the years where the name come from and they've remained tight lipped about it, but Simon, in a recently rare interview with a friend of mine did reveal, "There's a British musician called Cliff Richard and when me and Ben were 13 and bored in our little Scottish town of Ayr, we'd think up imaginary Cliff Richard merchandise products. We thought of things like Cliff Richard coat hangers and Cliff Richard Jesus dolls – he's a big Christian singer. Also, in the UK there's a cheap kind of pen called a Biro pen and we thought about making Cliff Richard Biro pens. We'd call them Cliffy Biros. Somehow that turned into Biffy Clyro. Bizarrely, we weren't high at the time. There's just not a lot to do in Ayr. The weather is terrible!" However, he went on to say that he does not think the group's name is as bad as several others, adding Arctic Monkeys is pretty atrocious, but I'm a fan of the band."
Like the Bee Gees they write every one of their own songs and first hit the UK chart with the song 57 which fell four places short of what the title suggested and petered out at number 61. The follow-up, The Ideal Height fared better at number 46. Their debut album, Infinity Land was a disaster spending just one week on the chart at number 47.
Seven of their next eight hits all made the Top 30 and in May 2007 they began working with producer Garth Richardson who is credited as Gggarth which is his nickname because he has a stammer. The following year they really made it when, arguably their best track, Mountains made the top five. Simon explained the sad story behind that song, "That song was originally entitled Teeth or Mountains and we first played it live at the Electric Festival in Spain and its influence was my mother who'd died at the tragically early age of 52, while we were recording our latest album Puzzle. It's really about life after Puzzle, and trying to build things up after going through a rough time. Out of the worst times I could ever possibly have in my life came the most amazing time with the band. And it made me realise I wanted to marry my girlfriend."
The song's video was filmed in a Masonic temple, near Liverpool Street Station which was chosen because of the black and white marble check floor.
It picked up airplay in Australia after the song was used for the credits for XXXX Gold Beach Cricket. Additionally it was included on Colin McRae: DiRT 2 in a video tribute to the late Scottish rally driver Colin McRae as well as appearing on the video car racing game Shift 2: Unleashed.
In 2009 they toured in support slots for Muse, the Who, the Red Hot Chili Peppers and Bon Jovi thus their next album, Only Revolutions, became their most successful to date spending 79 weeks on the UK album chart.
The next single, That Golden Rule also went top ten which further enhanced the album. The follow-up was called Many of Horror which made the top 10 and brilliantly showcased Neil's balladry skills. That song also had a curious ignominious afterlife when it was retitled When Worlds Collide and covered by Matt Cardle, the X-Factor winner in 2010 and it topped the Christmas chart that year. Simon explained how he found out about it. "We were on tour in Australia, when it happened, and thought it was weird enough to be funny. It was only when we got home that we worried if it was a terrible thing. But it felt nice to infiltrate things our way. We haven't gone begging to any fucker ever. People have always come round to our way of thinking. And I have to say my mum would have been over the moon about a Christmas No 1!"
Recently they said they won't write songs for other artists. Simon told the Daily Star, "We got asked to have a writing session with Leona Lewis and I was asked to play a guitar solo on a Robbie Williams record, but I don't think Robbie needs our help. Bizarrely, I think Slash ended up playing it, which makes the whole thing cooler."
Writing for others is something I'd love to do once we slow down as a band. But if you write a song that you think is one of the best ever, and it's not for our band, I don't know if I'd be happy giving it away.
They did also revealed that they would love to write the next James Bond theme tune. "We'd love to follow in the footsteps of Adele, who won an Oscar for Best Original Song for Skyfall in 2013, by penning a track for the next movie. I think we've got a couple of songs in our back catalogue that could have suited but that is most songwriters' dream, isn't it, to write for Bond?