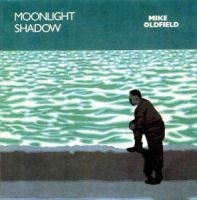 This week's suggestion came in from General Blee who emailed to say, "Just thought I would add another song for the single of the week list. I heard Moonlight Shadow by Mike Oldfield last week on the radio, and the song always brings back memories of a pub we used to virtually live in many years ago. The then Guvnor's son, loved this song and so it was played an awful lot on the juke box. I still think it's a great song and worthy of being added to the list. The guitar work is really outstanding and overall just a great song." Well General, I remember a lot of rumours at the time of what inspired the song, but found out a few years later that what I'd heard wasn't true. So, here's the truth.
The story I heard and it almost became folklore was the song was tribute to John Lennon who was murdered shortly before Mike Oldfield began writing the song and you can understand why when you analyse the similarities. It's a very cheery song on the face of it, but Mike later revealed the it was a 1953 movie which was the inspiration.
The song tells of a girl and her utter shock after witnessing the death of her boyfriend who was shot to death during a fight. The guest vocalist, Maggie Reilly sings, 'He was shot six times by a man on the run.' – Mark Chapman shot the Beatle four times and he wasn't on the run. She also sings, 'Lost in a riddle that Saturday night' whereas John was killed on a Monday. All these things are relatively minor given a lot of songwriters change some details to suit the song and the way it flows. As the song comes to a climax you can hear Maggie's vocals crescendo-ing as if it's a personal experience and gets irate as realisation dawns that he's gone in tragic circumstances.
"I actually arrived in New York that awful evening when he (John Lennon) was shot," Mike explained to the journalist Gareth Randell in 1995, "Some people suggested it may have had something to do with John Lennon – I never meant there to be. I was staying at the Virgin Records house in Perry Street, which was just a few blocks down the road from the Dakota Building where it happened, so it probably sank into my subconscious. It was originally inspired by a film I loved – Houdini starring Tony Curtis which was about attempts to contact Houdini after he'd died, through spiritualism, it was originally a song influenced by that, but a lot of other things must have crept in there without me realising it."
The version of the song we know was quite different from how it started out; "A lot of the lyrics happened by accident as one word would rhyme with another, then a gun got in there somewhere and then got a bit West Side Story-ish," he wrote in his 2007 autobiography, Changeling. In there he also explained that he had attempted an earlier version with different words and with Hazel O'Connor singing. He wasn't happy with it and stayed up late with a bottle of wine and tried again.
"Moonlight Shadow was very different from everything else on the album," explained the album's producer Simon Phillips in an interview with Ed Power. "I was surprised to be asked to co-produce with Oldfield but it was a tune very close to his heart. He always wanted a lot of control over it."
The song's closing verse, 'Far away on the other side, caught in the middle of a hundred and five, the night was heavy and the air was alive' left the majority of listeners confused as to its meaning, so in 1995, Oldfield, via his website, explained, "Well, it was a hundred and five people, just signifying a large amount of people, and presumably it was a hundred and five rather than a hundred and four or whatever because 'five' rhymed with the next line!" Personally, I was still a little confused until someone said check out the extended version, so I did only to find a few extra lines, one of which was 'The crowd gathered just to leave him' which might explain where the large amount of people fit into the song.
Oldfield famously 'launched' Richard Branson's Virgin record label, but the pair had an interesting relationship. They had very different ideas about the title and sleeve of the album that the label was initially famous for, Tubular Bells. Mike Oldfield remembered sitting in Branson's office and Richard saying he wanted the album title to be called Breakfast in Bed. "He also had a photo of a boiled egg with blood dripping out, which he thought would look good as a cover, I hated it," revealed Oldfield, "but when I said Tubular Bells, he said he still preferred Breakfast in Bed. I almost had to beg."
By the 1980s, Oldfield was still determined to push himself artistically. He recorded Five Miles Out which gave him a top 10 hit in 1982 and followed it the following year with Crisis which he recorded at Tilehouse Studios – a purpose-built luxury studio he had attached to his house in Denham, Buckinghamshire. It was a mixed album in as much as the opening title track was very synth-heavy and featured a rare vocal performance by Oldfield and ran to nearly 21 minutes. The third track was called In High Places and featured Yes' Jon Anderson on vocals, but sandwiched in between the two was Moonlight Shadow. The closing track Shadow on the Wall featured a guest vocal from Family's Roger Chapman. In a promotional statement at the time, Oldfield said, "One side is very commercial, full of singles, while the other is more the material I want to do for personal satisfaction. It's a case of keeping everybody happy."
Mike Oldfield wasn't the only person to have a run-in with Richard Branson, producer Simon Phillips, who also played drums on the album, did too as he recalled in an interview with the Daily Telegraph, "I was about to fly to America for some recording sessions and Branson called demanding I work with Oldfield on his album Five Miles Out. Richard was not taking 'no' for an answer, he never does, so I said, 'Richard I'm leaving on a plane tomorrow. This was before Virgin Airlines – he couldn't just put me on another flight. I said, I'm really sorry Richard. He just slammed the phone down."