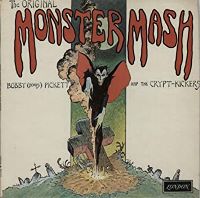 The BBC have banned or 'restricted' so many songs over the years for so many different reasons and some of them quite ridiculous. This week's choice was one of them back in 1962 for being, yes, you've guessed it, 'being too morbid'. Who the hell are they to decide? This might explain why it failed to chart in the UK first time round. American radio stations didn't ban it and it went to number one on Billboard. In the UK, it was re-issued in 1973 by which time the BBC had decided it was no longer too morbid and thus played it and it made the top three. Since streaming has been a factor in chart compiling it pops back most years at Halloween but has only made the top 40 once and that was in 2022. What made Bobby 'Boris' Pickett record the song?
Robert George Pickett was born in Somerville, Massachusetts in February 1938 and grew up with a childhood fascination for horror movies once explaining, "I would sit there and watch horror films two or three times a day and became fascinated with the horror genre and I loved Boris Karloff." He began trying to impersonate Karloff's voice which he eventually perfected, "I began entering  these talent contests in local bars and clubs," he recalled, "I did this schtick about Boris which last four or five minutes and I'd always win." During the act he used to sing Little Darlin' which was a 1957 hit for The Diamonds. That song had a narrative which Pickett adapted in the Karloff voice.
He got hooked and later became a nightclub entertainer and was regularly performing with a band called The Cordials. His friend Lenny Capizzi was a horror movie fan too and together they wrote Monster Mash. Capizzi was a piano player and they began performing the song. For the story itself, the words are based on the 1818 Mary Shelley novel about Dr. Frankenstein who attempted to create a creature but turned out to be a monster. The book has, over the years, spawned numerous film and TV adaptations with Karloff in the lead role. The original idea was to call it the Monster Twist as that had been the big dance craze of the previous two years but it was going out of fashion and the mashed potato was just beginning so the they came up with the idea of the monster launching his own dance craze that became a 'graveyard smash' which rhymed well.
The song tells us that a party was being planned where 'The ghouls all came from their humble abodes to get a jolt from my electrodes'. The guests included Wolfman, Dracula and his son and the impending arrival of the coffin-bangers with their vocal group, The Crypt-Kicker Five.
So were the Crypt-Kicker Five real? Well, after Pickett and Capizzi had written the song which they claim took about two hours, they did a demo which they took to Gary Paxton who was the lead singer of The Hollywood Argyles who'd had a hit with Alley Oop and had just moved into production. They recorded the song with Paxton's studio musicians who were Leon Russell, Rickie Page and Johnny McCrae and Paxton, who also produced the song, adding various sound effects and they were credited at the Crypt-Kickers.
Paxton's sound effects were made as follows, The bubbling sounds in the intro came from blowing through a straw in a glass of water, the coffin opening was the sound of an old rusty nail being pull out of a bit of wood with a hammer and the chains were real chains being dropped onto the wooden studio floor.
Paxton took the finished product to numerous record labels who all turned it down claiming it was too ridiculous and would never get any radio play. He then told Pickett and Capizzi, never mind, I'll start my own label and release it. So Garpax records formed and Paxton pressed 1000 copies and then drove the length and breadth of California from L.A. to San Francisco dropping copies off to every radio station he could. By the time he returned to L.A the song had been played numerous times and demand for it was increasing.
Sticking to a winning formula, Pickett followed it up with the Monster Holiday and then the Monster Swim but they didn't have a same impact. As late as the mid-80s he was still attempting to cash in by recording Monster Rap where we heard Pickett attempting to teach the monster to rap. One further attempt came in 1993 when he recorded It's Alive seen as a sequel but that failed too. It was rumoured that Pickett became a part-time cab driver in New York but clearly had a steady income from his one hit as it has been used in the films Halloween III: Season Of The Witch (1982), Sweet Hearts Dance (1988), Monster Mash: The Movie (1995) which starred Pickett as Dr. Frankenstein and Monster Mash (2000). It was also made appearances in numerous TV shows including Happy Days, Cheers, Magnum P.I. and The Simpsons.
Pickett died from leukemia in April 2007 aged 69. Interestingly, Boris Karloff himself loved the song and once performed it on a Halloween special edition of the American TV show Shindig!
'