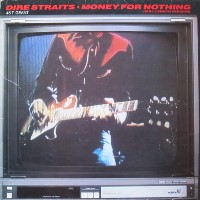 When you know the story behind Money For Nothing, which, if you don't already, you will shortly, you'll realise how this song came to be written so quickly and included a backing singer, who just happened to be there, and he had the easiest job in the world; all he had to do was sing one of his old songs and job done. How many people noticed at the time? It earned them a Grammy Award for Best Rock Performance by a Duo or Group with Vocal and MTV VMAs Video of the Year, but what is Money for Nothing all about?
The original line up of Dire Straits were singer/songwriter & guitarist Mark Knopfler, bassist John Illsley who are the only two with the band from start to finish. Mark's brother David who played rhythm guitar and left in 1980, drummer Pick Withers who left in 1982 and keyboard player Alan Clark who joined in 1980 and remained until the split in 1995. Money For Nothing was written by Mark and peaked at number four in the UK and remains the band's second biggest hit after their two number two's Private Investigations and Walk of Life. In America is was, by far, their biggest hit when it topped the Billboard Hot 100 for three weeks. Only right considering the lyrical inspiration began in the States.
Musically, the song was quite different to start with, Clark explained in an interview with Mojo magazine, "In the beginning, Money For Nothing sounded more like a Stones track and it didn't have the iconic guitar riff. Mark developed that messing around to a click track on his own on Montserrat." Mark explained where the lyrical inspiration came from, "I was in New York and I was in a kitchen appliance store, like you are! It had a kitchen display in the window which included a row of microwave ovens and then at the back of the store there was a big wall of televisions that were all tuned to MTV. There was some bonehead who worked for the store, a big macho-type guy with a check shirt and a pair of boots and he'd been delivering stuff at the back and he was watching MTV and he kept saying all these great lines like, 'that ain't workin" and 'what's that Hawaiian noises' and I just thought it was so classic that I went and asked for a pen and paper and started writing the lines down and that's how it came about."
A few years later, Mark pointed out, that the song was written from the viewpoint of a stupid character who thinks musicians make their 'money for nothing,' and this guy's stupidity is what leads him to make ignorant statements. One word that crops up in the lyrics is 'faggot', quite controversial now, but a lot less so back in the eighties, no one minded when they heard Fairytale of New York until a very small handful of people complained to Radio Two when they aired the track and then, in typically BBC fashion, they tried to edit the word out which caused even more uproar from the millions who didn't have a problem with it and Radio Two promptly reinstated it. Anyway, a few did complain and Mark talked about it in a 1985 Rolling Stone magazine interview, "I got an objection from the editor of a gay newspaper in London – he actually said it was below the belt. Apart from the fact that there are stupid gay people as well as stupid other people, it suggests that maybe you can't let it have so many meanings – you have to be direct. In fact, I'm still in two minds as to whether it's a good idea to write songs that aren't in the first person, to take on other characters. The singer in Money for Nothing is a real ignoramus, hard hat mentality – somebody who sees everything in financial terms. I mean, this guy has a grudging respect for rock stars. He sees it in terms of, well, that's not working and yet the guy's rich: that's a good scam. He isn't sneering." Interestingly, no one complained about them getting their chicks for free. In more recent times, Mark has occasionally changed the lyrics when performing the song live.
The song was recorded at AIR studios on the small eastern Caribbean island of Montserrat. In 1977, the Beatles' producer George Martin visited the island and fell in love with it and decided to build a studio and to be completely away from everything for some peace and quiet. Elton John, Duran Duran and the Police are among many acts who have recorded there including one of the biggest-selling singles of all-time, Every Breath You Take. It was when Dire Straits were recording, Sting, who was on holiday there, popped in and heard the demo. He was instantly impressed and Mark asked him if there was anything he could or wanted to add, Sting then contributed the line 'I want my MTV' which he sang to the tune of the Police's 1980 number one Don't Stand So Close To Me. Naturally he got a writing credit, but only on his record company's insistence as Sting originally didn't want one. See, I told you it was the easiest job.
Four years earlier, MTV had launched and every act were trying to make the most impressive videos so they could secure a slot on the then-fledgling station. One act that made their mark was ZZ Top, a number of their hits got heavy rotation and Mark was inspired by that especially Billy Gibbons' trademark guitar sound and even contacted Gibbons for a little advice. The following year, Gibbons revealed, "He didn't do a half-bad job, considering that I didn't tell him a thing!"
In the official video for Money for Nothing, the store characters are performed by lego-type figures who even mime the opening line complete with dungarees and cigar in mouth. Other aspects of the video include part-animated sections. During the chorus the figures are seen carrying various items of equipment off to be delivered, all with Dire Straits appearing on one of the TVs in the background. The whole thing was directed by Steve Barron whose other famous 80s videos include A-ha's Take On Me and Thomas Dolby's She Blinded Me With Science.
On 1st August 1987, exactly six years to the day, that the original MTV launched, MTV Europe went on air and Money for Nothing was the first video featured. Three years later the song was parodied by 'Weird Al' Yankovic and when he sought permission from Knopfler to cover it, he agreed on the condition he would play guitar on it.