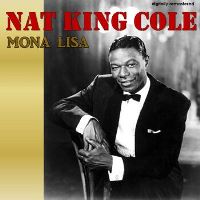 An email came in from David Robinson who said, "Hi Jon, a few weeks ago on your online quiz you asked a question about who had a hit in the 50s with Mona Lisa. I put Nat King Cole and then found out it was the wrong answer because he never charted with it. Sneaky! After looking it up, I found the answer was Conway Twitty (whoever he was) but it's quite a good version. How about the story about Conway Twitty and Mona Lisa presumably originally by Nat King Cole?" Well David, why not. Read on you'll probably be in for a surprise.
The Mona Lisa or Gioconda as it's known in Italian is arguably the most famous painting in the world as created by Leonard Da Vinci in the very early 1500s. It also holds the record, as verified by Guinness World Records for the highest-known painting insurance valuation at just under $900m. Wouldn't fancy paying that premium or even the excess!
The song was made famous by Nat King Cole, the man with the velvet voice in 1950, but he did not do it originally. It was written in in 1949 by the New York-born lyricist Ray Evans and the Los Angeles-born composer Jay Livingston for a movie originally called OSS In an interview with American Songwriter Magazine in 1988, Jay Livingston explained how it all came about, "There was a picture called OSS, which took place during World War II, and Alan Ladd was in a little Italian town where the clandestine radio was, and they needed a song to warn them that the German patrol was coming. There was this blind accordion player who wasn't actually blind playing on the street and every time he saw the Germans coming he would play a certain melody, so we wrote Mona Lisa and they said that it sounded Italian and they liked it. Then they called us and said they had changed the title from OSS to After Midnight and we had to write a song with that title. They loved title songs because it sold their picture. So we threw away the lyrics of Mona Lisa and wrote After Midnight. A month later we picked up Variety and read that Alan Ladd's new picture was going to be called Captain Carey, USA. We went back to the studio and asked for Mona Lisa back, and then pitched it to Nat King Cole and he liked it and recorded it on the reverse side [of Nat's latest single] The Greatest Inventor Of Them All. So we went on a junket for Paramount about that time, and we took the records with us and we must have been on 25 or 30 radio shows, and when we got back the song was a hit. But the original ads for the record didn't even mention Mona Lisa, just The Greatest Inventor. I think us pushing it really made the difference in that song being a hit."
The version in the film was performed by Sergio de Karlo who was a street busker playing guitar and when he saw the Germans coming began playing Mona Lisa which was a warning to all the residents of an impending invasion. The full version in the film was by Charlie Spivak & His Orchestra with vocals by Tommy Lynn and released on a 78rpm disc in January 1950. Nat loved the song and cut his version two months later. His version won an Academy Award for Best Original Song and the song was inducted into the Grammy Hall of Fame in 1992.
Livingstone and Evans wrote many more songs together most notably Whatever Will Be Will Be (Que Sera Sera) which was a chart-topper for Doris Day and featured in the Alfred Hitchcock movie The Man Who Knew Too Much. They wrote Tammy, a number two hit for Debbie Reynolds, which featured in the film Tammy And The Bachelor and also As I Love You, a number one hit in 1959 for Shirley Bassey and appeared in the film The Big Beat. They also composed the theme to the TV series' Bonanza and Mr Ed.
Nat's version went to number one on Billboard and stayed there for eight weeks. In 1987, it was used as the theme for the movie of the same name. Nat's daughter, Natalie, originally included this song in her live sets but pulled it when it became too emotional for her. In 1991, thanks to the wonders of technology, she recorded a version of her father's song Unforgettable as a duet with him which went to number 19.
The only version of Mona Lisa to chart in the UK was Conway Twitty who took his  uptempo version to number five. His real name was Harold Lloyd Jenkins and claimed he took his name after looking at maps and spotted Conway in Arkansas and Twitty in Texas. Twitty was primarily a country singer although did dabble in rock 'n' roll and rockabilly in his early days when he was signed by Sam Phillips to his Sun record label. In the US  he scored 40 number one on the Hot Country Songs chart. His biggest hit in the UK was the 1958 Christmas number one, It's Only Make Believe.
Mona Lisa has been recorded by many acts including Bing Crosby (1956), Sam Cooke (1960), Johnny Burnette (1961), Marvin Gaye (1965), James Brown (1967), Donny Osmond (1974),  Willie Nelson (1981), Shakin' Stevens (1988), Julio Iglesias (1990), Natalie Cole (1991), Harry Connick Jr. (2009) and Gregory Porter (2017).
Mona Lisa, the only song in the film Captain Carey, USA. won Best Song Oscar and was the first to do so from a non-musical movie.
Jay Livingston died in 2001 aged 86, Ray Evans died in 2007 aged 92 and Twitty died in 1993.