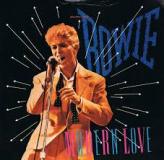 So many of David Bowie's song are catchy and memorable, but in 1983 David, always the leader and innovator and never one to be jumping on any bandwagon caught on to the disco era, and did it in style. When it came to recording the Let's Dance album, he brought in some of the finest musicians which included, not only guitarist Stevie Ray Vaughan, but Chic's guitarist Nile Rodgers and drummer Tony Thompson and made some of the infectious music of his career.
Apart from Under Pressure, the super collaboration with Queen, 1981 and 1982 was a fairly dark period for Bowie music. Up the Hill Backwards, the final track from Scary Monsters (and Super Creeps) failed to make the top 30, Wild Is the Wind a cover of a song Johnny Mathis first recorded back in 1957 stalled at no.24, Baal's Hymn was not Berthold Brecht's finest vision either. David was offered and played the title role in the 1982 TV movie Baal and the record company wanted a soundtrack which would have been David's next LP, but he didn't want to record more than a handful of tracks so it was released as an EP. Baal was a young rebellious genius who could write but his life which was full of debauchery, betrayal and violence led him to cut himself off from the world and meet his doom. Next came Cat People (Putting out Fire) the title track from the movie which starred Nastassja Kinski and Malcolm McDowell. Then, to close 1982, David teamed up with Bing Crosby, one of the most unlikely duos of all time for a duet medley of Peace on Earth and Little Drummer Boy, David said, "I really enjoyed it, even though I'm not sure Bing new who the hell I was."
Come 1983 and it's a gear shift and change of label. David had now signed a $17 million contract with EMI America and the new album and its title track, Let's Dance, both flew to the top of the UK album and singles chart respectively. It was claimed at the time that the EMI advance was paid back within 12 months and it was EMI's fasting selling album since Sgt Pepper's Lonely Heart's Club Band in 1967. The follow up single, China Girl, was a cover of a song David had co-written with Iggy Pop and first recorded by Iggy on his album The Idiot in 1977. That album was produced by Bowie. The next single was the even pacier Modern Love, a song with a call-and-response vocal arrangement, which David said, "it all comes from Little Richard." It happened when his dad came home from work one day with a copy of Tutti Frutti. Was Chic drummer Tony Thompson a Little Richard fan too? Just have a listen to the drumming on Richard's Keep A Knockin' and see if you spot a resemblance.
Modern Love opens with Nile Rodgers' strutting guitar in 6/8 time but once the beat kicks in it becomes reminiscent of Elton John's I'm Still Standing which had charted a couple of months earlier. It's not the first time there has been a similarity between the two superstars, remember their hits about space travel and the fact they both made reference to a wife they didn't have? Modern Love is about the struggle to find solace in love and religion. David was never one to openly admins too much about his songs, but the title is a phrase occasionally used in gay circles about homosexual love. His spoken opening line, "I know when to go out, and when to stay in," indicating that he knows when it's acceptable to admit that I'm bisexual or gay or not because later he sings, 'never gonna fall for Modern Love'.
Long before same-sex marriages were made legal in this country, David was probably thinking about gay marriage and heterosexual marriage, after all, he'd done one of them before. The lyrics, 'modern Love gets me to the church on time, church on time terrifies me, church on time makes me party' show both sides of the coin but then tries to put his trust in religion ('God and man!') and there is no comfort there hence, 'God and man no confessions, God and man no religion, God and man don't believe in modern Love'.
The single version had about 45 seconds sliced off the album version and the accompanying video features footage from a Philadelphia concert in July 1983 which formed part of David's 'Serious Moonlight' tour. It became a favourite as an encore song and regularly saw David waving and walking off to the line 'But I never wave bye-bye', although when I saw him at Live Aid in 1985 this was the penultimate song as he decided to finish that set with Heroes.