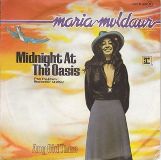 I recently saw a jazz compilation CD in a London shop and noticed it included Midnight at the Oasis by Maria Muldaur who is generally classed as a folk or blues singer. If you know the song, you can understand why it was included, but what genre exactly does Maria fit into? The answer is, all of the above. I guess it's similar to the question; is Jerry Lee Lewis and rock 'N' roll singer or a country singer and again the answer is both.
Maria was born Maria Grazia Rosa Domenica D'Amato in the Greenwich Village area of downtown Manhattan, New York. Unlike the rest of Manhattan, the area is made up of street names rather than numbers and is the home of New York University. In the sixties it was home to the folk and blues music scene as well as a stack of quality record shops.
One of her earlier influences was country music, "I could tune into a little country music station from Newark, New Jersey," Maria remembered. "Aunt Katie used to listen to this station all the time, so I was listening to Kitty Wells, Hank Williams, Hank Snow, Hank Thompson and Ernest Tubb. The first song I remember singing was It Wasn't God Who Made Honky Tonk Angels, at age five. I didn't have a major plan to become a singer; I just started being a singer. I was listening as I came up through my childhood."
By the mid-fifties, doo-wop played its part too, "I did have a couple of girl doo-wop groups, influenced by that whole period in high school. One was called The Cameos, with three Puerto Rican girls in junior high. My high school was in a different neighbourhood, and I hooked up with three Jewish girls from the Bronx and formed The Cashmeres. We wrote songs, and actually did get a record contract, which my mother would not let me sign. I was very disappointed."
She shortened her name to Maria D'Amato and began working with future Lovin' Spoonful frontman John Sebastian and then teamed up with David Grisman and Stefan Grossman to become the Even Dozen Jug Band. They recorded just one self-titled album before splitting up. The following year she was invited to join Jim Kweskin & His Jug Band as a featured vocalist. The band comprised Fritz Richmond, Geoff Muldaur, Bob Siggins and Bruno Wolfe. Geoff Muldaur was the guitarist whom Maria later married and took his surname for her professional name.
Her marriage to Geoff ended in 1972 but she retained his surname and thus begun her solo career. She recalled the early days and the making of her first album, Waitress in a Donut Shop in an interview with Song Facts, "I was making my first solo album for Warner Brothers in 1973, and I had just recently separated from my then-husband, Geoff Muldaur, who not only was my partner, but also my musical partner, and sort of the mastermind of, musically, whatever we did together. So being a solo artist was completely strange and alien and rather scary territory for me."
The album was recorded in California but initially sparked little interest. Later the same year she met a songwriter called David Nichtern, who later became a teacher of Shambhala Buddhism, and he contributed a handful of songs to her eponymous second album. "I actually produced the demo (in Woodstock) that got Maria her Warner Bros individual artist deal," recalled Nichtern, "so I was on the map already with them to that extent. On that demo was a song I wrote called I Never Did Sing You a Lovesong which made it onto the album but was re-recorded." He also contributed Midnight at the Oasis and Three Dollar Bill, the latter of which was co-written with Dr John.
Nichtern explained, "I wrote the song before I started working with Maria, the details are a little bit intimate, but let's just say there was a girl, a waterbed, feta cheese and grape leaves. I played Midnight at the Oasis for (president of Warner Brothers) Lenny Waronker and he liked it and wanted to include it on the record.
Maria, who was a little insecure following the breakdown of her marriage explained a bit more of what it was like for her, "I was out in California finding myself in the studio with all the top guns: Dr. John, Ry Cooder, David Lindley; I mean, all the fabulous guys that played on my first album. David Nichtern was very encouraging and told me, 'You can do this.' I was just sobbing and I was a mess. We had a little talk and he would say, 'Look, people still know you from the Jug Band, and if I can get work in these little coffee houses, you can, too.' And so we put together a few tunes, and he got us some gigs. This was real low-profile stuff. I'd be crying all the way up to the gig, and he'd say, 'Okay, dry your eyes and wash your face we're on in half an hour.' And he was just a very supportive little brother to me."
The song reached number 21 in the UK but number six in America. Her follow-up single, a remake of I Am woman failed to chart in the UK thus consigning Maria into the one-hit-wonder category. In the States, that follow-up made number 12 but no further chart success over there puts her in the two-hit wonder category. The song had a second chance when it was covered in 1994 by the Brand New Heavies and reached number 13 in the UK.
Maria has since released over 30 albums and her 2005 album, Sweet Lovin' Ol' Soul, was nominated for both a Blues Music Award and a Grammy in the Traditional Blues Category.
She continues to tour and performs now in the country, jazz, blues and gospel categories, but clearly she'll always be thankful to her one and only hit. "It's so weird to me," she said, "not a gig goes by that several people don't come up and tell me exactly where they were when they first heard that. I guess a happy memory for a lot of people. People tell me they lost their virginity to that song, they got proposed to, they conceived babies, so it was God's way of blessing me, and I'm grateful to that song every day, because it was totally unexpected. That was just the song that happened to click with everybody. So, thank you, God."