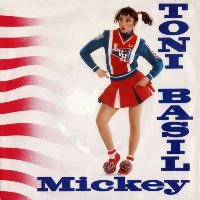 When this week's song came out in 1982, there was a lot of speculation as to who it was written about. The artist's age was also a mystery too, but all has been revealed as time has gone on and so it can be here too.
Toni Basil was born Antonia Christina Basilotta in Philadelphia, Pennsylvania and her parents were American but her grandparents were Italian immigrants, with Sicilian roots. Her father was Luigi Basilotta and was an orchestra leader who conducted orchestras at the Chicago Theatre, at the Sahara Hotel and Casino in Las Vegas and her mother was Jacqueline Anderson who was a vaudeville acrobatic comedian and part of her family's act Billy Wells and The Four Fays. She was born in Dunedin, New Zealand, and had Scottish ancestry.
You'll probably be able to tell that because her mother was around in the vaudeville era, Toni was somewhat a little older that most people would have expected a pop star to be in the early 80s, but she wasn't new to the business. For the record Toni was born September 1943 and was 39 when she first charted. Her career, however, began almost 20 years before that when her talents as a choreographer were realised where she worked on the television show called Shindig! in 1964.
Her family moved to Las Vegas and whilst attending school there Toni became a cheerleader for the Las Vegas High School Wildcats and later incorporated that dance routine into various acts most notably on her big hit Mickey. She had worked on the films Village of the Giants in 1965, The Cool Ones in 1967 and the following year on Head, which starred The Monkees where, in one scene, she danced with Davy Jones on the track Daddy's Song. Later films she choreographed were American Graffiti (1973), The Rose (1979), Peggy Sue Got Married (1986), My Best Friend's Wedding (1997) and Legally Blonde (2001). Her choreography career took her into the pop work where she worked with David Bowie on his 1974 Diamond Dogs tour and the music video for the Talking Heads' hit Once in A Lifetime in 1981.
Mickey didn't start life under that title. The song was written by Nicky Chinn and Mike Chapman the two successful songwriters behind over 60 UK hits for the likes of The Sweet, New World, Mud, Suzi Quatro, Smokie, Exile and Racey. In the 80s, they also wrote hits for Tina Turner, Pat Benatar, Kim Wilde and Black Lace.
Mickey was written as Kitty and appeared on Racey's 1979 album Smash and Grab, the same album that contains their big hits Lay Your Love On Me and Some Girls. Basil heard the song and changed the title and lyric from Kitty to Mickey and the gender to male from female. It was speculated for years that she did that because she had a crush on Mickey Dolenz from the Head days. Some dirty minded people have assumed the lyrics, 'So come on and give it to me / Any way you can / Any way you want to do it / I'll take it like a man' have led to speculation that Basil wanted it served to her like a man' from a later verse which was deemed to be about anal sex.
In many an interview Basil has said, "There's nothing dirty about the song – it's just a chipper tune about a girl who really digs a guy." She explained in an interview with Adrienne Day, "Some guy decided that it would be funny to put that in my Wikipedia entry. He was adamant that Mickey was about Micky Dolenz. I choreographed the Head movie but I didn't really know Micky at all. I knew Davy Jones much better. We finally got it off Wikipedia." Unfortunately, because anyone can edit the online encyclopaedia it reappears from time to time.
In 1979, a new record label called Radial Choice was launched by Simon Lait. He had seen some of Basil's work and invited her to make a song video collection the label was thinking of releasing. Lait said, "She was clearly a star waiting to be discovered"
The video to Mickey was choreographed, produced and directed by Basil herself and the first person to do this on their own video. The cheerleaders in the video were from the championship squad from Carson High School in Los Angeles.
The song peaked at number two in the UK behind Tight Fit's The Lion Sleeps Tonight whilst in the States it went to number one until it was dethroned by Lionel Richie's Truly. It was covered in the UK in 1999 by the highly unmemorable Lolly who somehow got as high as number four. The song's memorable intro, 'Oh Mickey, you're so fine you're so fine, you blow my mind Hey Mickey, hey Mickey' was not party of Kitty. It was invented by Basil but because she never thought it would be used on the recording assuming it was going to be edited out never sought any writing credits. When she found out that it stayed she complained to Chinn and Chapman who told her that it was only a minor alteration and couldn't be credited on the song. So, she ended up with no publishing rights at all. She estimated that she had earned somewhere in the region of $1500 in royalties commenting, "It changed my life, but it hasn't changed my bank account."