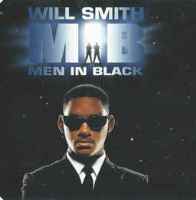 There's a certain poignancy that Men in Black should be number one in the UK on a day when millions of people around the world might have been wearing black to mourn the death of Diana, Princess of Wales.
At the end of 1996, Will, having had hits as one-half of DJ Jazzy Jeff & The Fresh Prince, dropped his rap moniker, quit The Fresh Prince of Bel-Air after six years and became a Hollywood movie star. He loved recording and the following year released his first album Big Willie Style, under his own name. He had finished filming his seventh movie, Men in Black, the title song of which appeared on the album. The song became his first UK number one as a solo artist.
Will was born Willard Carroll Smith Jr. in September 1968 in Philadelphia, Pennsylvania. He had no intention of going to college but wanted to become a singer and actor. His first film role was as Ta Cake Walters in the 1993 film Made in America and then as Paul in Six Degrees of Separation later the same year. By 1997, he was landing major movie roles and that year he was chosen to star opposite Tommy Lee in Men in Black. The story focused on two NYPD agents Jay (Will) and Kay (Tommy) who alongside a pathologist, Laura Weaver, are asked to track down and wipe out an alien called Edgar who is out to assassinate two ambassadors. It was the executive producer, Steven Spielberg who brought in Will. He said, "He's funny and he's serious, all rolled into one. And he's a totally honest actor." Tommy Lee said of Will, "He is double cool. I just hoped I could keep up with him in the cool department."
15 months before Men in Black topped the chart, George Michael had a number one with Fastlove, both songs sampled Patrice Rushen's 1982 number eight hit Forget Me Nots. The original line in Patrice's hit was 'To help you to remember' but was changed to 'They won't let you remember' in Men in Black to fit in with the theme of the film. The female singer on this version was Cheryl Clemons, former vocalist with SWV.
Will also became the king of sampling because over the following five years he had top three hits with: Getting' Jiggy Wit It (sampling Sister Sledge's He's The Greatest Dancer), Miami (using The Whispers' And The Beat Goes On), Wild Wild West from the film of the same name (using Stevie Wonder's I Wish) and Will 2K (which sampled The Clash's Rock The Casbah).
Despite spending four weeks atop the UK singles chart it was not released as a single in the US, which, because then-chart rules disqualified it from the Billboard hot 100 Singles chart, but because of heavy rotation on the radio it spent four weeks at the summit of the Billboard airplay chart. Possibly a clever move by the record company as it boosted sales of the soundtrack album instead. It did go on to win a Grammy for Best Rap Solo Performance.
The song was produced by Jean Claude Olivier & Samuel Barnes who use the moniker Poke & Tone. They had already produced hits by Soul For Real, Nas and Foxy Brown but Men in Black gave them their first number one. They have since worked on over 25 UK hit by acts including Jay-Z, LL Cool J, Destiny's Child and Rihanna.
On New Year's Eve 1997, Will married the actress Jada Pinkett. He has since gone on to star in the films, Enemy Of The State (1998), The Legend Of Bagger Vance (2000) and the sequel to Men In Black, Men In Black II (2002), The Pursuit of Happyness (2006), Men in Black 3 (2012), Suicide Squad (2016) and Gemini Man which is released this month. His 2002 hit, Black Suit's Comin' (Nod Ya Head) was lifted from the Men In Black II soundtrack and reached number three. His last two hits to date were Switch and Party Starter in 2005.