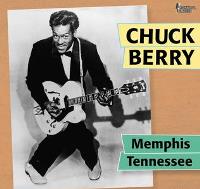 A few years ago, I did a connection round at my Start of Year quiz which included the songs, I'm The Urban Spaceman, Clair, Always the Last to Know, A Boy Named Sue and Save Your Kisses for Me among others. Any ideas as to the connection? Well, the answer is that they all have a twist in the tale. One song I didn't think of at the time was this week's suggestion.
Chuck Berry was one of the original and most important figures in the history of rock and roll. John Lennon, who was a big fan, once said, "If you tried to give rock and roll another name, you might call it Chuck Berry." He burst onto the scene in 1955 with Maybelline and despite his chequered history, his music was ground-breaking and original although he did stick to a winning formula.
Charles Edward Anderson 'Chuck' Berry was born on 18 October 1926 and grew up in St. Louis, Missouri where he showed an interested in rhythm and blues. He admired the blues guitarist T-Bone Walker and his flamboyant guitar style and went on to perform with a trio which was led by the pianist Johnnie Johnson. In 1955, he met Muddy Waters who suggested he contact Leonard Chess, the owner of Chess records. Chuck did so, Leonard signed him and thus his career began.
In September 1958, in his home town, he recorded the song Memphis Tennessee. He invited his long-time friend Johnnie Johnson to play piano and brought in Fred Below on drums and Willie Dixon on upright bass and like many of Chuck's classic, it contains a simple but memorable guitar line. The song tells the story of the protagonist asking a long-distance telephone operator (or international operator as we knew it in the UK) to find a phone number for Marie which we are led to believe was an ex-girlfriend who had run off and the story-teller wants back. He even tries to describe to the operator where she lives, 'Her home is on the south side, high up on a ridge, just a half a mile from the Mississippi Bridge' as if that was going to help. We're further led to believe that the break-up was because the girl's mother didn't approve of the relationship, 'Only that I miss her and all the fun we had, but we were pulled apart because her mom did not agree.' In the final verse, Chuck reveals that Marie is only six years old and you realise, in a clever twist, that Marie is his daughter who is now living with her mum in Memphis.
Memphis Tennessee was never released as a single in the States, a cover by Pat Boone was released but never charted. The Beatles regularly performed it and Elvis Presley recorded a version in 1963. That same year, Decca records recording artist Dave Berry recorded a version and was his only UK hit credited as Dave Berry & The Cruisers. Chuck's version was rush-released in the UK on the Pye International presumably after they heard about the impending un-related Dave Berry version but Chuck charted three weeks after Dave's version. Chuck vs Dave, who won? Chuck reached number six whereas Dave stalled at number 19. Pye International cleverly coupled Chuck's version with Let It Rock billed as a double A-side – just in case one failed!
Many have covered the song over the years, Rolling Stones (1963), The Hollies and Del Shannon (1964) The Animals and Tom Jones (1965), Dave Clark Five (1969), The Faces (1971), a new wave version by The Silicon Teens (1979), George Thorogood & The Destroyers (1985), Status Quo (2000), James Taylor (2009), Cliff Richard (2016) and George Benson (2019).
What you may not have known is that there was a sequel to this song called Little Marie which opens with the line, 'Yes, oh yes, long distance, I'll accept the charge, I'll pay' indicating they have got in touch but the protagonist is unsure who it is, saying, 'Which love one is calling me, I did not hear you say. Both are deep within my heart, her Mom and my Marie.' We learn at the end of the song that it was Marie's mum when we hear 'Then she spoke and asked me to come back and see Marie and live together in our home in Memphis, Tennessee.' Aw, a happy ending.
Chuck, who is ranked fifth on the Rolling Stone list of 100 Greatest Artists of All Time, was an inductee at the inaugural Rock and Roll Hall of Fame in 1983. He was in good company as other inductees that year included, Elvis Presley, Ray Charles, James Brown, Fats Domino, Everly Brothers, Sam Cooke, Buddy Holly and Jerry Lee Lewis. Chuck was induced by the Rolling Stones' guitarist and song writer Keith Richards who, because Chuck stuck to a winning formula, commented, "Chuck continued to release effectively the same song over and over again. It's true that Chuck Berry's biggest hits contain many re-cycled elements. But heck, Chuck invented this stuff – why not stay true to a proven formula?"
Berry passed away on 18 March 2017 at the age of 90.