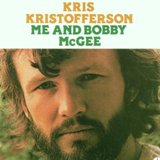 There are quite a number of country singers in America who have had phenomenal success over there but are virtually unknown in the UK. Alan Jackson, Tim McGraw, Loretta Lynn, Kitty Wells, Reba McIntyre, Brad Paisley, George Strait and Kris Krisofferson are just some of the many. The latter of that list has, however, written some well-known songs that have charted for other people, namely Help Me Make It Through the Night, For the Good Times and the 1979 Lena Martell chart-topper One Day at a Time. In America his biggest hit, as a writer, was Janis Joplin's 1971 number one Me and Bobby McGee.
Kristoffer Kristofferson, as he was christened, was born in Texas and will turn 80 later this year. He came from a military background and in the late fifties he was pressured by his family to follow rank and joined the U.S. Army where he would rise to the rank of Captain, he also gained a pilot's licence and served as a helicopter pilot too. He left the force in 1965 and moved to Nashville.
His first job was sweeping floors at Columbia Recording Studios in Nashville, whilst there he met June Carter and asked her to give her husband, Johnny, a tape with some songs he'd written. Cash eventually recorded one of the songs called Sunday Mornin' Comin' Down" and that year Kris was rewarded with an award for songwriter of the year at the Country Music Awards.
So who was Bobby McGee? Let's find out. The founder of Kristofferson's record label, Fred Foster, rang Kris just as he was about to leave Nashville on a helicopter job. He said that he had a song title in mind called It's Me and Bobby McKee. "I thought he said McGee," Kris recalled in an interview with Mojo magazine in 2008. "Bobby McKee was the secretary of the songwriter Boudleaux Bryant, who was in the same building with Fred. He said, 'You could make this thing about them traveling around, the hook is that he turns out to be a she.' I said, I'll try to write it, but I've never written a song on assignment. So it took me a while to think about."
Kris was not sure at first, "I hid from Fred for a while but I was trying to write that song all the time I was flying around Baton Rouge and New Orleans," he remembered. "I had the rhythm of a Mickey Newbury song called Why You Been Gone So Long, going on in the back of my mind and I developed this story of these guys who went around the country kind of like Anthony Quinn and Giuletta Masina in the 1954 film La Strada. At one point, like he did, he drove off and left her there. Later in the film Quinn hears a woman hanging out her clothes, singing the melody Masina used to play on the trombone, and she told him, 'Oh, she died.' So he goes out, gets drunk, gets into a fight in a bar and ends up on the beach, howling at the stars. And that was where the line 'Freedom's just another word for nothing left to lose' came from, because he was free from her, and I guess he would have traded all his tomorrows for another day with her."
Kris began writing the song in 1969 and before it was finished Roger Miller heard it and wanted to record it first. It wasn't a great version. Kris finished it and co-credited it to Fred Foster, because as Kris said, "Fred gave it to me as a challenge and without the challenge there would be no song." Johnny Cash later commented to him that he would regret it.
Other versions followed Roger's, next came a version by American Eagle also in 1969, then Ramblin' Jack Elliott in 1970 and finally Kris' own version was released. Gordon Lightfoot also covered it in 1970 and later the same year one of Kris' former flames, Janis Joplin, arguably made the song famous.
Janis was a hard-drinking, swearing Texas girl who savaged her vocals chords by, not so much singing, but screeching the blues. She revealed in David Dalton's biography, Piece of my Heart, "I had a lot of hurts and confusions. It's hard when you're a kid to be different." She explained in an interview with Rolling Stone magazine, "I was always outrageous. I got treated really badly in Texas, they don't treat beatniks like me too good in Texas."
Janis had begun recording the album Pearl but on 4th October 1970, she'd died of a heroin overdose before completing it. Her death came less than three weeks after the world had learned of the death of Jimi Hendrix – both were 27.
When Joplin hit the top spot in America, she became the second singer to have a posthumous number one, the first being Otis Redding's (Sittin' On) the Dock of the Bay exactly three years earlier.
In 2013, Joplin was honoured with a star on the Hollywood Walk of Fame and Kristofferson attended and performed an acoustic version of the song. He remembered hearing Joplin's rendition on the day of her death and said, "Her producer gave me the record and it was pretty hard to listen to. I was listening to it at my publisher's office where we used to hang out, there was nobody there and I was playing it over and over again just so I could hear it without breaking up."