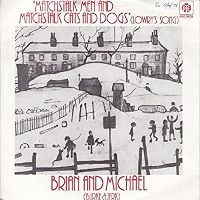 Artists, of the painting type, are not an obvious subject to sing about but Matt Monro praises Michelangelo in Portrait of My Love, Don McLean sang about Vincent van Gogh, Paul McCartney sang about Picasso's Last Words on the 1973 album Band on the Run, Peter Sarstedt, in his 1969 chart-topper, Where Do You Go to My Lovely and Donna Summer, in her 1987 hit Dinner with Gershwin, both give a mention to Picasso. Kanye West namechecks Dali in his 2013 hit Mercy and this week's subject throws the spotlight on Lancashire's finest.
The Stretford-born artist Laurence Stephen Lowry had a full-time job as a rent collector, and this inspired bleak, industrial landscapes of northern England in which everyone is depicted as tiny matchstalk figures hurrying about their business. Many art critics dismissed his work as naïve and he certainly lacked the reputation of Francis Bacon or David Hockney. However, the public at large knew his distinctive style and it was front-page news when he died in 1976.
His obituary which was read by, among many others, Michael Coleman and it inspired him to write a song about him. "It was a simple song about someone we loved," Mick explained in an interview with Louise Cohen. "I've always loved Lowry and his paintings. It was an affection more than knowing anything about art, really."
It was on a school trip that Michael first learned about Lowry. He, his mother and siblings lived in Britain's last workhouse. "We were there for seven years," he explained, "So when you see the poorer areas that Lowry painted, it takes me back to those days that were even quite painful. There were cripples, people with no arms and no legs, and you think, what kind of picture is that of Manchester? Well, it was a true picture of the Manchester I lived in."
Once he had penned Matchstalk Men and Matchstalk Cats and Dogs he took it to the producer, Kevin Parrott, and they recorded it themselves after Parrott borrowed some money to pay for studio time at Pluto Studios in Stockport. Kevin had a very uncool name so he changed it to Brian and so the duo was born. Technically not the first time they were performers as both of them had been in a soul band called The Big Sound in the 1960s where they worked a lot in Europe. If you look at the record label after their names it has Burke and Jerk in brackets because that's what they were originally known as. They went into the studio in September 1977 to record the song and featured the Tintwistle Brass Band who are named after the small village in Derbyshire where Parrott then lived. The Children's choir on it are the St Winifred's School choir. The choir were formed in the Roman Catholic Primary School in Stockport in the late 60s and had been recording material since 1972 under the direction of Miss Olive Moore who conducted them.
The intro to song also dips into the northern heritage as it is based on William Rimmer's brass band march, Punchinello. To Brian and Michael's surprise, Matchstalk Men and Matchstalk Cats and Dogs became controversial. Instead of being delighted that Lowry was being recognised in such a populist way (which Lowry would have loved), many pundits took the opportunity to dismiss both Lowry and the song. "We had a lot of criticism in the early days. There were people who treated the song as by two guys who really didn't know anything about Lowry and his painting. Who were we to write about art?" he revealed to Louise Cohen.
Exactly two years after Lowry's death, Brian and Michael entered the chart and went to number one in March 1978 knocking off the literary work of Emily Bronte as portrayed by Kate Bush in Wuthering Heights. It stayed on the listing for 19 weeks. Two years later the St. Winifred's School Choir had the limelight to themselves when they topped the chart over Christmas with No One Quite Like Grandma.
The duo performed as Brian & Michael for some time, and when Brian left, Michael continued with a replacement. Michael also wrote Ken Dodd's 1981 minor hit, Hold My Hand and Ken himself also recorded a version of Matchstalk Men and Matchstalk Cats and Dogs. Michael has written a musical about Lowry. The painter's reputation has increased with the years, especially since the opening of the Lowry Centre at Salford Quays in 2000.
The song made headlines again in 2015 when Michael Thornton, a 51-year-old Manchester Council tenant, made his neighbours' lives hell by belting out the song whilst drunk. The Birmingham Mail reported, 'he would sing it at the top of his voice along with a selection of Irish rebel songs. He would also invite friends back to his ground floor flat after the pubs had closed for rowdy gatherings where they would shout, swear and sing into the early hours of the morning. He was sentenced at Birmingham Country Court to 20 weeks in prison after breaking an anti-social behaviour injunction under which he was required to keep the peace.