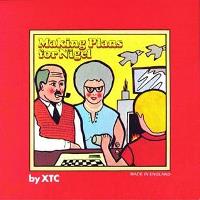 Any song with a person's name in the title makes me wonder if it's a real person or not and if so, is it autobiographical. So, is this the case in this week's suggestion?
The roots of XTC  were formed as early as 1972 by lead singer and guitarist Andy Partridge and bass player Colin Moulding who had both grown up in Swindon. They formed a glam rock band with drummer Terry Chambers eventually changing their name to XTC in 1975. Two years later they signed to Virgin Records
Their debut hit, Life Begins At The Hop, was written by Moulding, released in May 1979 and just fell short of the top 50. The follow up, also written by Moulding, gave them their breakthrough. "Andy Partridge had been perceived as the writer and I was very much a sideshow," Moulding recalled to Ian Harrison. "When Barry Andrews left the band in 1979 it seemed to set something off in me perhaps the desire to be myself. I came up with Nigel soon after Barry left and suddenly we were talking about dominating parents and family dysfunction and my dad was pretty upset that I'd forsaken my education at 16 to play in a band. Was I Nigel? I don't know. My dad did kick up a bit but he wasn't as domineering as the song makes out." He explained in a 2014 interview with Uncut magazine, "There were no Nigels at school. I wasn't bullied, but I think I had a natural empathy for people that were. 'Nigel' was my song for the bullied, I suppose."
It was hard said Moulding; "It was like what George Harrison said, John and Paul were able to get their rubbishy songs out of the way before The Beatles became famous, whereas I had to do it in the public eye," he mentioned in a Classic Rock interview. "On some of my early stuff I was aping Andy a bit too much. This was me trying to write something more 'me'."
So, what did the band initially think of the song? "It sounded like the Spinners," remembered Partridge, "When Colin brought it to us and played it on an acoustic guitar, he might as well have had a dress on and some horn-rimmed glasses like Nana Mouskouri."
The song tells the story of a young lad being hounded by his parents to go out a find a tedious and monotonous job which is very much how it was in the late 70s. His parents claiming they only want what's best for him, like they knew! The song talks about him working of British Steel? Why that company? "British Steel was in the air at the time. You couldn't get away from all the industrial disputes, the three-day weeks and all that," Moulding reflected. I just chose British Steel as it just popped into my head. It could just as easily have been British Pharmaceuticals. Once the track entered the chart, Moulding got a phone call, "One of the union leaders at British Steel rang me up and said, 'Really glad you're supporting the cause' What the cause was I don't know."
"I could never see Making Plans For Nigel being a single to be honest," Moulding said. Top of the Pops was a bit of a laugh, we were on there with Lena Martell and Peaches and Herb but it was a farce as well. We had to go along with our record company who tried to the kiss the arse of the BBC, but I preferred the Old Grey Whistle Test, all the good bands played on that. It's incredible what a bit of TV and radio airplay can do, We'd gone from the college circuit to the city halls, had bigger PA systems, bigger light show and were following bands like The Stranglers or The Clash so you had to step up.