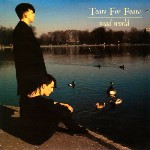 Mad World hasn't dated because it's expressive of a period I call the teenage menopause, where your hormones are going crazy as you're leaving childhood. Your fingers are on the cliff and you're about to drop off, but somehow you cling on, so reported Dave Simpson in the Guardian when Michael Andrews and Gary Jules updated Tears For Fears' Mad World in 2003.
Tears For Fears were Curt Smith and Roland Orzabel who got together in Bath (not in the bath!) in 1979 and called themselves Graduate. They released a couple of cracking singles; Ever Met a Day and Elvis Should Play Ska which were championed by both Peter Powell and Kid Jensen on Radio 1 at the time. Two years later they changed their style and name, why? Roland explained, "Gary Numan came along and shocked us out of all that. He was getting number ones wearing black eyeliner, and there we were doing knees-ups to Madness. So we split from the band. I got an asymmetrical hairstyle, Curt got plaits, and we started listening to synthesiser music."
They called themselves Tears For Fears, a name they chose after being introduced to Arthur Janov's psychology book The Primal Scream by Roland's guitar teacher. They were fascinated by his theories and beliefs that crying is a good way to allay your worries and nightmares can be good because they release tension.
Mad World was their debut hit which was written by Roland Orzabel and is about a depressed young person who feels out of place in this world. He sees life as being empty, and looks for ways to escape the pain. The lyric, 'The dreams in which I'm dying are the best I've ever had' suggests thoughts of suicide, as he just wants the pain to end. "I wrote it when I was 19 and on the dole in Bath," Orzabel revealed, "I've not told many people this, but I was listening to Radio 1 on this tinny radio and Duran Duran's Girls on Film came on. I just thought: 'I'm going to have a crack at something like that.' I did and ended up with Mad World."
For a hit, it was a pretty depressing subject, so much so, that to write like that it must have come from personal experience, Roland explained, "There was a group that started around the same time as us called Dalek I Love You. One of their lyrics went something like 'I believe the world's gone mad' which summed up my feelings of alienation from the rat race. I had suffered from depression in my childhood. My dad had been in the Second World War, had electric shock treatment, suffered from anxiety and was abusive to my mum. I kept a lid on my feelings at school but, when I was 18, dropped out of everything and couldn't even be bothered to get out of bed. I poured all this into the song. I wrote it on guitar with just me singing and it sounded pretty awful, however, we were fortunate enough to be given an opportunity by a guy called Ian Stanley to go to his very big house and muck about on his synthesiser. Ian became our keyboard player and he had a drum machine, too. All we needed was someone who knew how to work it. Eventually, we made the first demo of Mad World still with me singing. But I didn't like it. So I said to Curt 'Look, you sing it' and suddenly it sounded fabulous."
The duo had released two singles in 1981, Suffer the Children and Pale Shelter but neither made the chart first time round. "Mad World was only intended as a B-side but Polygram said it was too good, so it became our third single, Roland said, "I'd come up with this dance for it and used to do it a lot in the studio, so the record company told me I had to do it in the video, since Curt was singing and there was nothing else for me to do. So there I was, stuck by this lake doing my flying wombat impersonation, but it worked."
How did Curt feel about taking the lead vocals and possibly being identified as the depressed person? "It was easy for me to sing because I could relate to Roland's lyrics," Curt clarified. "We were both the middle of three sons and had been brought up by single mothers with absent fathers. My father always worked away, and died when I was 17, but I hated him by that point. It hit me later in life, but back then I was teenage and angry and the song was the perfect platform. It worked better with my voice because it's more melancholic, darker but we only released it as a single because we felt the music press would like it. But it was only supposed to just give us a foothold for the next two singles, which were more commercial. We didn't expect it to become a hit."
In the fade out on the repeat of the title, there is a strange word in there which is Halargian. What's that all about? Roland: "Our producer Chris Hughes had a running joke in the studio about this made-up planet and a catchphrase: 'Oh, that's so Halargian.' so I put it in the song, and it sounded right. On the Andrews & Jules version they changed the phrase to 'enlarging your world', assumedly because they couldn't understand what the original lyric was!'
The remake was arguably only a massive hit because of its inclusion in the 2001 film Donnie Darko but it wasn't the original choice. The film's director, Richard Kelly, wanted to use U2's track MLK but couldn't afford the rights, so Andrews and Jules, who were childhood friends, made a rough recording of the song to see if Kelly thought it would be suitable. Kelly was so impressed that he used that same recording on the film.
Donnie Darko was not an immediate success, but it was a film that students would discuss and in 2003, with its release on DVD, it garnered a cult following. The soundtrack album did well and the record company decided to release Mad World in time for Christmas week 2003 where it went two places better than the Tears For Fears version and went to number one. It was a surprise chart-topper because normally the festive number one is often uplifting or quirky but this was ghostly. The Darkness was at number two that week with Christmas Time (Don't Let the Bells End) but in a sense, it was the darkness that won in the end.
In 2003 Roland reflected, "That was probably the proudest moment of my career. I was in my 40s and had forgotten how I felt when I wrote all those Tears for Fears songs. I thought: "Thank God for the 19-year-old Roland Orzabal. Thank God he got depressed."