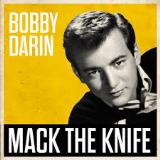 11
The BBC's rules about banning songs, or 'restricting' them, as they now call it, have always been a bit ambiguous. Any song in the forties and fifties which mentioned anything to do with religion was refused airplay, clearly foul language would not be aired (obviously there are a few exceptions where nobody noticed) and, in the early sixties, there was a wave of 'death' discs which were deemed unsuitable. As time has gone on, most of the rules have been relaxed and nowadays there are clean radio edits of most rap material, which is lucky otherwise Radio One wouldn't have much output. However, going back to 'death' songs and things that slipped through the net, Tom Jones' Delilah is one example, but more blatant, about out and out murder was the 1959 chart topper Mack the Knife.
The song was from a show originally known as Die Dreigroschenoper or The Threepenny Opera in English by Kurt Weill and Bertolt Brecht which was based on John Gay's 1728 work The Beggar's Opera. The show first opened in Berlin 200 years later in 1928 and is set in a Victorian London where an appalling man called Macheath went about his nasty business. The show starred Kurt Weill's wife Lotte Lenya as Jenny Driver and Harold Paulsen as Macheath, a gangster in the Berlin underworld.
Mack the Knife was the famous song from the show, but it wasn't supposed to be in it. Originally called Morität Von Mackie Messer (meaning The Criminal Record of Mack the Knife in English) wasn't part of the show. It was a last minute addition because, according to David Cheal in the Financial Times, only a few days before the show opened at the Theater am Schiffbauerdamm the production's egotistical star, Paulsen, insisted that he be given a grand introduction. Therefore, Brecht and Weill quickly wrote a scene-setting Morität, with barrel-organ accompaniment, bigging up the frightful deeds of Mackie Messer. The man singing that original introduction was Kurt Gerron, who therefore recorded the original version. The song makes little sense outside the musical but that did not stop it becoming a hit song and covered by numerous people including Lotte Lenya herself in 1930.
The show was a slow burner for a couple of years but by the early 1930s it was flying. As Hitler rose to power, Kurt Weill and Bertolt Brecht were forced into exile and in 1938, in the Düsseldorf exhibition; Weill was labelled a composer of 'degenerate music'.
In 1952, the show went to America and first played at the Brandeis University in Massachusetts with an orchestra conducted by Leonard Bernstein. The following year some of the lyrics were translated into English by Marc Blitzstein just before opening off-Broadway in a production which again featured Lotte Lenya. Blitzstein's translation certainly softened Mack the Knife from being an out and out serial killer to a roguish gangster. Having said that, Blitzstein's story is still intense as he refers to the blood scene as 'Scarlet billows start to spread' and the excuse about the cement bag being there just for the weight. In 1961, the show moved to Greenwich Village in New York.
In 1955, Louis Armstrong recorded his version for the jazz world and he was the one who added 'Miss Lotte Lenya' into the lyrics as an ad-lib by mistake because he was looking at a cast list of the show and thought Lotte Lenya was a character not the actress, hence this error has lived on. Louis' version was a 'friendly' version as it didn't included some of Mack's terrible crimes, one being about a woman who was raped in her sleep.
Bobby Darin, in 1958, went to a production of the The Threepenny Opera in Greenwich Village and decided to perform it in his live shows. He turned it around and did it in the swing way nobody else had and it was very well received. The following year when Bobby Darin was considering an album of standards, That's All, his friend, Buddy Greco, told him that he was going to record Mack The Knife. Darin urged the record company to get his version out quickly and beat Greco to it. Darin describes Macheath's talent with a jack-knife and his ability for disposing of the bodies in a disguised way certainly omitting the verses about rape and bomb explosions. His final 'Look out, ol' Mackie is back' was a master touch. The album was released in May 1959 just when Darin's previous hit, Dream Lover, featuring Neil Sedaka on piano, was climbing the chart. Mack the Knife was so popular in his live shows that it would be ridiculous not to release it as a single and thus, like Dream Lover, it went all the way to number one.
Darin's version of the song built in tension and this was done dramatically with five key changes in the song. It has become a standard and has been covered by the likes of Les Paul, Frank Sinatra, Peggy Lee, Sammy Davis Jr, Connie Francis, Sting, King Kurt, Nick Cave, Marianne Faithfull and Robbie Williams, but none give it the tension as much as Ella Fitzgerald and Duke Ellington who performed a searing version at the Jazz à Juan festival in 1966 where Fitzgerald manages 11 key changes.
In 1960, Buddy Greco eased into the charts with his version of The Lady Is a Tramp and he made a resolution never again to tell another singer what he was working on.
Going back to Ella Fitzgerald, the Radio 4 documentary, Ella in Berlin, recalled the time when Ella, who had only learned the words on the way to a show in Berlin, had forgot some of them halfway through performing it. So, being the professional she was, she began to improvise vivaciously in rhyme. The Queen of Jazz never hid the fact and began singing:
'Oh what's the next chorus, to this song, now, this is the one, now I don't know, but it was a swinging tune and it's a hit tune, so we tried to do Mack the Knife. Oh Bobby Darin and Louis Armstrong, they made a record, oh but they did, and now Ella, Ella, and her fellas, we're making a wreck, what a wreck of Mack the Knife.'
She probably wasn't too bothered as the majority of the German audience probably couldnt speak English anyway.
Oh, and talking of murder, the song was used in a 1980s advertising campaign for McDonald's hamburgers sung as Mac tonight but missing out the bit about the murder and then dumping the body.