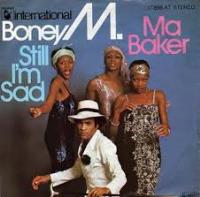 If you came along to one of my quizzes and I asked you which seventies hit was written about Kate Barker, a woman who was, shall we say, was a bit dodgy and bought up four boys who all turned out to be gangsters, would you know? No? Then read on just in case I do ask that question one day.
Well, it was Boney M who sang about her in a song written by the man who produced all and wrote the majority of their hits Frank Farian, and he called it Ma Baker.
Ma Barker was known as Kate Barker although she was born Arizona Donnie Clark in Ash Grove, Missouri on the 9th October 1873. At the age of 19, she married George Barker and together they had four sons who grew up to become notorious gangsters.
The song open with the announcement, 'Freeze I'm Ma Baker, put your hands in the air and give me all your money' – those words are actually uttered by Linda Blake although all the Billboard books claim it's Linda Pollock. Some of the story is true and some is fabricated to fit the song like the title for example. Ma Baker flowed better than Ma Barker. The picture is painted that she was the 'meanest cat from old Chicago town' but in reality, it was her sons who were the real criminals and she was there more to assist them. Focusing on a 'tough' woman clearly makes for a better story than four sons.
The four sons were called Herman (b: 1893 d: 1927), Lloyd (b: 1897 d: 1949), Arthur (b: 1899 d: 1939) and Fred (b: 1901 d: 1935)  and with their parents not at all bothered about their education they never attended school and took up crime at an early age. Her husband, George did not engage in any of his wife and son's activities, he had a number of low paid jobs. All their crimes involved robbery and murder but none of them were clever enough to avoid being caught. In 1927, Herman was involved in a bungled robbery in Wichita, Kansas which left a police officer dead when Herman shot him in the mouth at point blank range. A short while after Herman crashed his car and to avoid being prosecuted he killed himself. The following year, brothers Lloyd and Fred her jailed in Kansas and Arthur served time in a prison in Oklahoma. George and Kate were last known as a couple in 1928 but it's unclear as to whether she threw him out or he left, but the stronger evidence indicates he left after being unable to cope being surrounded by a family who indulged in a life of crime. His eldest son's death and his sibling's jail sentences was the final straw.
The sons were in prison for around three years so for that time Ma Barker lived alone in poverty with no family around her and gained herself a reputation as a loose woman according to an F.B.I. statement at the time. Fred was released from prison first in 1931, but immediately teamed up with a former prison inmate Alvin Karpis to form the Barker-Karpis gang and continue their crime spree. Following another shooting, Alvin, Fred and Ma moved to Chicago and were eventually tracked down by the police in January 1936. A week later the police surrounded the house where they were hiding but unbeknown to the police, Alvin had disappeared a few days earlier. The police asked them to surrender but Fred began a shooting match which resulted in both Barkers losing their lives. Ma with a single bullet wound, Fred with several.
One verse in the song says, 'Then came a man she liked, she thought she'd stay with him, when he informed on them, they did away with him' – this refers to a man named Arthur Dunlop whom Ma had met whilst in poverty but had travelled with them to Chicago, but he had no job and drank a lot. When he was drunk he seemingly was unable to keep his mouth shut and thus the police managed to get some information from him.
The bridge of the song is the spoken announcement, 'Here is a special bulletin, Ma Baker is the FBI's most wanted woman. Her photo is hanging on every post office wall. If you have any information about this woman, please contact the nearest police station', that announcement was the voice of Bill Swisher, an American soldier friend of Frank Farian's who had served in Germany. Bill was married to Linda Blake.
The last verse states, 'They didn't want to hang, they died with blazing guns' a true statement and the song ends with the lines 'She never could cry' and 'but she knew how to die' and that she did at the age of 61 – older than all of her sons.
Although the lyrics are original, the tune itself is based on an old Tunisian tune called Sidi Mansour which is named after a small town in Tunisia. An updated version was recorded by Mohamed Hanesh in 1975 and it was his version that Boney M's was based on.
Ma Baker did well around the world where is made the top five in 20 countries including number one in Belgium, Austria, Germany, France, Netherlands, Norway, Spain, Sweden and Switzerland. In the UK, it made number two and the b-side was a cover of the Yardbirds' 1965 hit Still, I'm Sad.
Frank Farian later went on to work with Milli Vanilli and produced their big hits but was not involved with the lip-syncing atrocities in 1988. Their 1988 album All or Nothing contains a version of Ma Baker but who is actually singing it is anyone's guess.