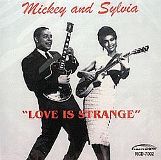 Many artists are given nicknames, usually by fans or the record companies, Elvis Presley was the King of rock 'n' roll, Michael Jackson was the King of Pop, James Brown was the Godfather of Soul and Donna Summer was the queen of disco and so on, but do you know who the mother of hip-hop was? Well it was lady who started her career way back in 1950 when she was just 14 years old and known as Little Sylvia. Her full name was Sylvia Vanderpool from New York and we'll get into the hip hop section of her career later, but her first success was an R&B number one in 1956 called Love Is Strange.
In 1954 New York-born singer Sylvia teamed up with Kentucky-born guitarist Mickey Baker who had played for people like Big Joe Turner and the Drifters and taught Sylvia how to play guitar. In 1956 they recorded a cover of a song written by Bo Diddley under his wife's name Ethel Smith because of legal disputes with the Chess record label and featured Jody Williams on guitar, but Bo's version remained unissued until 2007. Mickey was impressed with Jody's guitar playing and so copied it for his own version.
The song's subject matter is probably the most covered subject in songwriting history and that is the complexities of love and don't we all know it? It talks about how it can be addictive and lead to all manner of circumstances both good and bad, hence the title, Love is Strange. Bo's version was more of a call-and-response where he continually says 'bye bye' to his girl whereas Mickey and Sylvia made it a little more playful with the spoken conversation between Mickey saying "How do you call your loverboy?" with Sylvia responding, "Come here, Lover Boy!" Mickey enquires, "And if he doesn't answer?" Sylvia asserts, "Oh, Lover Boy!" and Mickey questions, "And if he still doesn't answer?" Sylvia replied, "I simply say…" (sung) "Baby, Oh baby…etc. These line would have been quite risqué at the time but surprisingly not banned.
The song has been covered many times over the years including Lonnie Donegan (1957), Buddy Holly (1959), Booker T & The MG's (1962), Sonny & Cher (as Caesar & Cleo 1964), Everly Brothers (1965), Peaches And Herb (1967), Wings (1971), Kenny Rogers and Dolly Parton (1991) and Everything But The Girl (1992). It's also appeared in a few movies including the 1972 soft porn film Deep Throat, Badlands the following year and most famously in Dirty Dancing in 1987 where Johnny Castle and Baby Houseman, played by Patrick Swayze and Jennifer Grey respectively, mime to each other.
In 1959 Mickey and Sylvia's partnership ended with Sylvia marrying Joe Robinson and launching a solo career as Sylvia Robbins. She released a couple of singles, but in 1966 her and Joe moved to New Jersey where they launched the All Platinum record label which they devoted to soul music and signed acts like The Moments and Whatnauts, Shirley and Company and Retta Young. During the seventies Sylvia released a handful of solo singles and had her biggest success with Pillow Talk in 1973 where it reached number 14 in the UK and number three in the States. Two years later they bought Bo Diddley's old record label, Chess, who went bankrupt.
Mickey carried on as a session guitarist until 1961 when he then moved to Toulouse in France and continued playing jazz music. He married six times, kept his personal life very private and died in November 2012.
Sylvia's success continued later in the seventies when she launched the Sugarhill record label and in-turn brought about the rise of hip hop which began with the label's debut release Rapper's Delight by the Sugarhill Gang which was produced and co-written by Sylvia. It wasn't the first rap record to be released but it was the first one to chart. Incidentally the first rap number one in America was Blondie's Rapture in 1981 and the UK's first number one with rap in was in 1983 when New Edition took Candy Girl to the top. Another act signed to the Sugarhill label was the West Street Mob whose biggest UK hit was Break Dancin' – Electric Boogie and featured Sylvia and Joe's son Joey. Many of Sylvia's songs, as a writer, have been sampled in other songs, one of the most successful being Alicia Keys' Empire State of Mind (Part II) which used the Moments' track Love On A Two Way Street.
Sylvia died of heart failure in September but her illustrious career and life is to be celebrated in a forthcoming film produced by Paula Wagner. She acquired the film rights from Sylvia's son, Joey Robinson, who will be the executive produce and consultant on the project. Paula told the Hollywood Reporter, "Sylvia Robinson's life story has all the elements of a great film. It is not only the story of female empowerment at a time when the world of music was male-dominated, but it's also a story of the origin of hip-hop and how this woman's determination, immense talent and savvy business sense fostered an entire musical movement." Joey added, "This movie is going to show how my parents were able to remain independent, keep control of their publishing and master recordings and how they later dealt with the major record labels and mob associates. Sugarhill paved the way for a new genre of music that the industry had no knowledge of back in 1979. You will see the struggles of what Sugarhill went through to keep hip-hop music alive when the industry wanted to bury it."
Paula added, "The film will cover Sylvia Robinson's four-decade career in the music business, her turbulent love life and the mark she made on popular culture at a defining moment in the evolution of hip-hop."