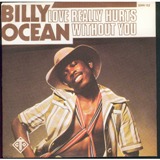 As a DJ, the question I've probably been asked the most over the years is, what is the one song that almost never fails to fill a dance floor or what do I resort to when the crowd don't seem to want to move, well the answer is the song that's been requested this week by Teddy and is Love Really Hurts Without You, the debut hit for Billy Ocean in 1976.
Billy was born Leslie Sebastian Charles in Fyzabad, Trinidad (now Trinidad and Tobago) in 1950, 12 years later the family upped-sticks and moved to Romford in Essex. After leaving school Leslie learned the tailoring trade and eventually ended up working in factory in Whitechapel. He soon realised that he wanted to follow in his father's footsteps and become a musician.
"My parents came to this country full of ambition to give us opportunities that we would never had had in Trinidad," he remembered, "My mum used to sing and I remember laying down on the bed as a little kid and singing with her."
He enjoyed singing and began working in small London clubs at night under the name Les Charles and making suits by day. He was discovered one night by the agent John Morphew who would become his manager. John secured a slot at the Pye recording studio and recorded a couple of tracks with Leslie crooning with the backing of a full orchestra, but by 1969 that style was no longer fashionable and so it remained unreleased. Later that same year he joined a band called The Shades of Midnight and began playing clubs in the East end of London.
When the singing work was plentiful he decided to leave the rag trade and concentrate on singing full time. Just before doing so he tried out a variety of stage names, Billy recalled, "I had the names Piggy Bank and then Joshua and even Sam Spade in fact I don't there is anybody who had as many names as I had."
By now the family were living in a small flat in Chicksand House on Spelman Street in London's E1 area and Billy had managed to save enough money, about £30 actually, to buy a small piano which was somehow shoehorned into the flat. "We carried the piano up to the third floor and it fitted perfectly in my little bedroom," he remembered, "and the novelty of it was coming home every lunchtime and evening and tinkling my piano until eventually I did get something out of it which was the song Love Really Hurts Without You. My left hand started playing the melody and my right hand just did some down beats and my voice just started coming out with 'you run around town like a fool and you think that it's groovy and the song just came together there and then."
When he was happy with the song he took it to a producer and also introduced his new identity after settling on the name Billy Ocean. Billy explained the name, "When I was a kid back in Trinidad we had a village team which was called Ocean 11 which, in turn, they'd got from the Dean Martin and Frank Sinatra film and just thought Billy sounded good with it."
The producer liked the track and gave it some finishing touches and was ready to record. Once recorded he secured a deal with GTO records, a label that was already home to Dana, Fox, The Walker Brothers and Donna Summer, and it reached number two on the chart behind Brotherhood of Man's Save Your Kisses for Me. It was the label's biggest hit until they had their only chart-topper the following year when Donna Summer's I Feel Love reached the summit.
Billy's hit success continued into the eighties with Caribbean Queen (No More Love On The Run), Suddenly, When The Going Gets Tough, The Tough Get Going and Get Outta My Dreams, Get Into My Car all made the top 10, but then suddenly (pardon the pun) he'd disappeared from the public eye. What happened? Billy: "The funny thing about success is you can get a little bit disillusioned. First you find out the some of your friends are not really friends and you start falling out and there's a certain amount of loneliness in it. I was touring America quite a lot and was sitting in all these hotel rooms questioning myself, 'what am I doing here etc.' so I got out and started doing some gardening and raised a family. It doesn't matter what profession you're in if you're not enjoying it at that particular time and you think you need to step back then you should."
He met his wife, Judy, whilst recording the Suddenly album in 1984. They went on to have three children, Cherie, Antony and Rachel. Antony played rugby at the 2014 Commonwealth Games for Barbados.
In 2002, he was awarded an honorary doctorate of music at the University of Westminster in London and in 2010 was presented with the Lifetime Achievement Award at the MOBO Awards. In 2012 he made a cameo appearance in the film Keith Lemon: The Film where he played Keith's father.
In 2013, Billy returned with a new album Here You Are and is back on tour. When asked recently what he feels when he hears his debut hit on the radio he said, "I still get a buzz because, you write something in your youth and it's still appreciated all these years later and there's nothing wrong with that."