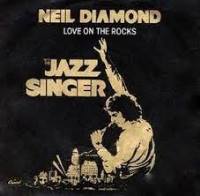 Cover versions of songs done in a very different style from the acts who made them famous can often be a nice surprise. This week's choice was made famous in a film in 1980 and if you've seen the film you'll probably remember that Love on the Rocks was performed in a punk style by Paul Nicholas and even when its writer and originator explained how it should be done but just wasn't interested. You can't beat a good ballad.
Neil Diamond co-wrote the song with the French song writer Gilbert Becaud especially for the film The Jazz Singer that Diamond also starred as a Cantor which followed in his father's footsteps. His father was played Laurence Olivier, but Diamond was also a singer/songwriter in the film and preferred that lifestyle but couldn't let his father down so, for a while, remained attached to the Synagogue. Eventually he decides to up sticks and go on tour and gives everything to his music in the hope of becoming a famous and successful pop star. Didn't someone tell him he already was?!
He meets a group of black musicians and writes some songs for them. One night, one of them got arrested and Diamond blacked himself up to cover for him at a night club gig, but all hell broke loose when one member of the audience spotted Diamond's hands which he forgot to black up. Bubba, from the group, tells Diamond that they had a gig booked in L.A. backing a popular musician called Keith Lennox (Paul Nicholas) and Diamond begin writing a song for the show which will eventually become Love on the Rocks. He gives the song to Bubba who takes it Los Angeles and before long called Diamond to tell him that Lennox loves the song and they need him there to oversee the recording session. Despite the fact both his father and wife don't want him to go, he sees his big chance and off he went.
It was Diamond's first acting role and he recalled a few years later, "Making The Jazz Singer was an extraordinary experience for me and I still haven't really absorbed all of it. It was one of the greatest learning experiences I've ever had not only in a creative way but also in a personal way. I was forced to do things I'd never done before including the discipline to work certain hours every day which is basically what the movie business is all about and learning to memorise pages and pages of dialogue and to be able to do it some kind of confidence."
He meets a girl called Molly (Lucie Arnaz) who soon becomes his manager and they eventually fall in love. The song was not written about the eventual separation from his wife, but instead about the co-writer, Becaud's, favourite tipple. "Gilbert and I were working with my band in our L.A studio," Diamond told Christopher Feldman. "Gilbert's favourite drink was scotch on the rocks so I started fooling around with a dummy lyric with that title. The song was very frivolous and so we started to play it with a reggae feel. When the verse was formed Gilbert and I felt the song had more serious possibilities and so we tried it as a straight two and four ballad. With the addition of an emotional chorus section, it became the full-fledged musical expression."
The film was not well received at the box office despite being an updated take on the classic 1927 Al Jolson version, the soundtrack, which included all songs written or co-written by Diamond, went multi-platinum.
In the U.S. it reached number two and in the UK number 17. The follow-up, Hello Again, didn't even crack the UK top 50. If the movie had been better received the latter probably would have been more successful as it's the song Diamond sings when he comes back to see Molly who he also left. To find out why, you'll have to watch the film.
The song was also recorded by Gilbert who did so in his native French for his eponymous album in 1981 and also recorded by Millie Jackson the same year, Shirley Bassey (1995), Bill Tarmey (1996), Michael Ball (1998) and Russell Watson (2007)
It's not Diamond's only movie related song; in 1982 he was invited by Burt Bacharach to the premier of the film E.T. and that inspired him to write the song Heartlight which he co-wrote with Bacharach and Carole Bayer Sager.
In January 2018, Diamond announced that he had been diagnosed with Parkinson's disease and was retiring from live performances with immediate effect but he would continue to write and record and work on developing his new projects.