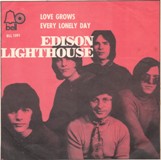 It's not so rare that a song accidentally becomes a hit, but it is rare that when that song does become a hit there is not act to perform it. That was certainly the case with the first UK number one hit of the 1970s which was Love Grows (Where My Rosemary Goes) by Edison Lighthouse. Was it intentional or accidental? Let's find out.
In 1970, in the UK, there was growing conflict between some artists and their producers. The producer, Tony Macaulay, remembered in an interview with Spencer Leigh, "We were very tired of how the artists used to treat us. People think that the producers treat the artists badly, and I can tell you it was the other way round. We were always being slagged off in the press and being told that our stuff was manufactured. What's more, the artists would turn up late or they wouldn't learn the songs properly. It got to the point where a number of us were thinking, 'It's the record that matters. We'll make a record and if it's a hit, we'll worry about who goes on the road later.' I suppose you could say I was anti-artist."
Love Grows was written by Tony Macaulay and Barry Mason, both were experienced as Tony had composed Baby Now That I Found You, Back on My Feet Again and Build Me Up Buttercup for the Foundations as well as Let The Heartaches Begin and Mexico for Long John Baldry and Barry's best known works are Here It Comes Again for the Fortunes, The Last Waltz and A Man Without Love for Engelbert Humperdinck, I'm Coming Home and Delilah for Tom Jones and the million-selling number one for Des O'Connor, I Pretend.
Tony explained in an interview with Gary James how the song came about, "I'd just signed with Bell Records for one million dollars in 1970, it was a lot of money. I was writing a ballad with Barry Mason and I said to him 'It's just a ballad, man, I haven't got the artists with this new label. We should really do something nursery rhyme like. Simple, absolutely unchallenging, so I can establish some kind of credibility with these people, so we wrote Love Grows in about an hour and a half. When I did demos then, I didn't dis around with the rhythm section, I had 26 guys in it. Just did five demos in three hours in good keys – no artists, I just wanted to prove to myself the songs worked. I kind of sang along. The guy there in the previous session, Tony Burrows, was just finishing his session up, I said, 'can you sing through your nose?' He said, 'what do you mean?' I showed him, I sounded like I came from the Bronx and we did the track in 20 minutes. The beginning I came up with while I was shaving. I have a beard most of the time these days, but I didn't then. I came up with the famous riff and we just wrote it quickly and we only did two takes of it. This is just tracks without voices and I said to him, 'my God, this is such a hit. It's so infectious.' So, we dubbed him on and a couple of girls – the two girls that worked with Joe Cocker on With A Little Help from My Friends, Sue and Sunny. They sang on virtually every hit I had. And I sang along and we did one mix of it and that was it. It went from nowhere to number one."
Tony Burrows had already been a member of The Kestrels, The Ivy League and The Flowerpot Men in the sixties, "I have been in groups all my life," he recalled, "and I had made a conscious decision to concentrate on session work. I recorded Love Grows originally as a demo but Tony [Macaulay] decided it couldn't be improved – it was the definitive version. I thought it would be a hit, but Tony was convinced it would be massive."
Now the song was recorded they needed a name for the label, They decided on Edison Lighthouse after mishearing a story about the Eddystone Lighthouse – a real lighthouse which was built by Trinity House in 1882 to mark the small and dangerous Eddystone Rocks which lie 13 miles south west of Plymouth. After it entered the charts, a group had to be found for Top of the Pops. A group called Greenfield Hammer was up for it but the lead vocalist couldn't match Burrows' performance but Tony wasn't happy about it. He said, "I told Tony [Macaulay] that I didn't want to be in a group anymore, but I agreed to do TV but no touring. I never made a secret of what I did, but the BBC banned me from Top of the Pops because I appeared three times with three different groups – I was on the White Plains' My Baby Loves Lovin', The Pipkins' Gimme Dat Ding and The Brotherhood of Man's United We Stand all in the same show. They thought audiences might feel it was a con if I was singing on half the programme." He said, "I just kept changing hats."
They are often billed or remembered as a one hit wonder, but they did actually follow it up with the number 49 hit It's Up to You Petula. They tried their luck one more time with a third single called Find Mr. Zebedee but it sprung out of sight. The song has appeared a handful of movies including the 2001 film Shallow Hal which starred Jack Black who falls for a large lady called Rosemary.
Tony Burrows did record some solo songs but failed to make the chart, he reflected on Love Grows saying, "It's stood me in good stead, I go the US and sing and they all know it's me."