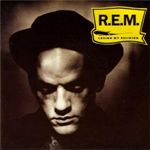 Back in 1983, many people misinterpreted The Police's massive number one hit, Every Breath You Take, as a love song. Sting explained that his biggest ever selling single is a dark song all about deep obsession. Michael Stipe was deeply inspired and wanted to write on a similar subject, and the result was Losing My Religion.
Back in 1974 drummer Bill Berry and bass player Mike Mills were both in a band called Shadowfax, a couple of years later they became The Backdoor Band. In 1978 Michael Stipe formed his first band called Bad Habits with a few friends. The following year they became Gangster and recruited guitarist Peter Buck. In 1980, those four people got together and embarked on a new project and called themselves R.E.M.
It took most of the decade for them to become commercially successful with their first UK hits, albeit minor ones, The One I Love, Finest Worksong, Stand and Orange Crush all missing the top 20. Then in March 1991 they released their seventh album, Out Of Time, and the debut single from it was Losing My Religion.
"The phrase losing my religion is a Southern American expression meaning to lose one's temper or being at the end of your tether," Michael Stipe told The New York Times. "The song was a romantic expression and is about someone who pines for someone else. It's about unrequited love. It's obsessive attraction, that stammering, self-conscious urge to reveal and yet hide feelings that you know are not shared. I compare it to Every Breath You Take; it's just a classic obsession pop song. I've always felt the best kinds of songs are the ones where anybody can listen to it, put themselves in it and say, 'Yeah, that's me.'"
Stipe explained some of his lyrics; "We've all been boxed in by our feelings ('that's me in the corner') and felt emotionally exposed by our attraction to someone ('that's me in the spotlight'). We've all wrestled with what and how much to say and hoped that our feelings would be understood before we had hung ourselves out there too far ('Oh no, I've said too much'). It can be an agonising experience. You're dropping all kinds of hints, and you think that they're responding to these hints but you're not sure, until finally, all the uncertainty and emotional risk become too much, and you can't take it anymore," Or as Stipe would say, you reach the point of losing your religion.
It's original working title was Sugar Cane and the band demoed it in July 1990 at a studio in Athens. There were rumours at the time that it was all about John Lennon's death, with the lyrics, 'What if all these fantasies come flailing around' being a reference to Lennon's last album Double Fantasy. The song was recorded at Bearsville Studio A in Woodstock, New York during September 1990. "I remember that I sang this in one go with my shirt off," Stipe remembered, "I don't think any of us had any idea it would ever be … anything," he noted in Part Lies, Part Heart, Part Truth, Part Garbage 1982-2011. Peter Buck added, "Warner Brothers didn't even want the song as a single, and everyone was surprised when it took off. It changed our world. We went from selling a few million worldwide with Green to over 10 million. It was in that area where we had never been before which isn't bad."
The song's intro and outro are instantly recognisable too. The origins of which can be traced back to when guitarist Peter Buck's was learning to play the mandolin. When he played back recordings of his first attempts, he heard the riff and thought it might make a good basis for a song. Explaining how the song came together musically, Buck told Guitar School in 1991, "I started it on mandolin and came up with the riff and chorus. The verses are the kinds of things R.E.M. uses a lot, going from one minor to another, kind of like those driver 8 chords. You can't really say anything bad about E minor, A minor, D, and G – I mean, they're just good chords. We then worked it up in the studio – it was written with electric bass, drums, and mandolin. So it had a hollow feel to it. There's absolutely no midrange on it, just low end and high end, because Mike usually stayed pretty low on the bass. This was when we decided we'd get Peter (Holsapple) to record with us, and he played live acoustic guitar on this one. It was really cool; Peter and I would be in our little booth, sweating away, and Bill and Mike would be out there in the other room going at it. It just had a really magical feel. I'm proud to say every bit of mandolin on the record was recorded live – I did no overdubbing. If you listen closely, on one of the verses there's a place where I muffled it, and I thought, well, I can't go back and punch it up, because it's supposed to be a live track. That was the whole idea." Mills' bassline was inspired by the work of Fleetwood Mac bassist John McVie, he said, "I could not come up with one for the song that was not derivative."
Following the original release of The One I Love in 1987, Michael Stipe has always been uneasy about celebratory status; "I had to grapple with a lot of contradictions back in the 80s," he said in an interview with The Guardian, frowning. "I would look out from the stage at the Reagan youth. That was when R.E.M. went beyond the freaks, the fags, the fat girls, the art students and the indie music fanatics. Suddenly we had an audience that included people who would have sooner kicked me on the street than let me walk by unperturbed. I'm exaggerating to make a point but it was certainly an audience that, in the main, did not share my political leanings or affiliations, and did not like how flamboyant I was as a performer or indeed a sexual creature. They probably held lots of my world views in great disregard, and I had to look out on that and think, well, what do I do with this?"
The band claims the song is not about religion or loss of faith, although the video is full of religious imagery. Some Catholic groups protested the video. It was, however, the first to show lead singer Michael Stipe dancing. The director, Tarsem Singh, hung out with the band to get ideas, and when he saw Stipe's crazy dance style; he thought it would look great in the video. It did and it was based in part on Gabriel Garcia Marquez' A Very Old Man with Enormous Wings. The novel tells the story about an angel who falls down from heaven and how the people who make money displaying him as a 'freak show.' Michael Stipe is a big Marquez fan and as the whole idea of obsession and unrequited love is the central theme of the author's masterpiece, Love in the Time of Cholera. The first line of the novel is, 'it was inevitable: the scent of bitter almonds always reminded him of the fate of unrequited love'. The video won a Grammy in 1991 for Best Short Form Music Video and another for Best Pop Performance by a Duo or Group with Vocal.
In 1997 Bill Berry departed leaving the remaining three to continue as a trio. They managed a further 14 hits over the next 10 years including the top 10 hits, Daysleeper, At My Most Beautiful, The Great Beyond, Imitation Of Life, Bad Day and Leaving New York, with arguably the latter ones not having the impact of their early material. By 2007 they had racked up 39 UK hit singles and sold almost 90 million albums worldwide additionally that year were inducted into the Rock and Roll Hall of Fame. In 2011, they amicably decided they'd had enough and announced their split on their website.