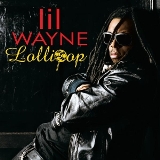 Whenever it comes to guessing what would come out on top in any poll about pop music, I would like to think I would have half a chance of guessing and if you're a music fan you probably would too, but if I was to ask you what you think the best-selling digital single of 2008 was – it was also the highest selling ringtone of the 2000s – I lay you money you would never guess. Go on, have a go. Sex on Fire? No. Viva La Vida? Nope. I'll tell you, it was Lollipop by Lil Wayne, a UK number 26 hit but a five-week number one in America.
Lil Wayne was born Dwayne Michael Carter, Jr. and grew up in New Orleans, Louisiana. His mother was a chef and had her son when she was 19 while his father, also called Dwayne, abandoned the family when Dwayne Jr. was two. He calls himself Lil Wayne rather than Lil Dwayne as he was originally named after his father but has nothing to do with him now.
He wrote his first rap song at the age of eight and then began rapping at local parties. He joined forces with the rapper B.G (short for Baby Gangsta), whose real name is Christopher Dorsey to form the hip-hop duo the B.G'z and were signed to Cash Money records when Wayne was just 11. Soon after being signed the label's co-owner, Bryan Williams decided to split them up and let them have their own solo careers.
In 1998 he was the featured rapper on Big Tymers song Millionaire Dream, a track which appeared on the album How You Luv That Vol. 2 and it was on this song that the work bling was used for the very first time.
Lollipop's official credit is Lil Wayne featuring Static Major which would imply that the former was the 'main' person, but actually Static probably should get the main credit as Lil Wayne told Rolling Stone magazine in an interview of how the song came together: "My homeboy Static, the guy who's on the song with me, it was all his idea. He brought the song to me with his vocals already on there, the beat was already done and I just laid my vocals to it. The decision to make it the single was evident right after I finished recording it. Everybody in the studio knew this was the one. We had some females in there and they were going crazy." The song was inspired by 50 Cent's Candy Shop and the Black Eyed Peas' My Humps, both of which were from 2005.
Static Major was the pseudonym of Stephen Garrett, a one-time member of the group Playa and who sadly died after he was diagnosed with a rare condition called myasthenia gravis, a disorder that causes muscle weakness and fatigue. He passed away in February 2008, just two weeks before the record was released. He had made his name as Aaliyah's main songwriter having penned her biggest hits Rock the Boat, More Than a Woman and Try Again.
There were two producers on the track, Jim Jonsin and Deezle (real name Darius Harrison), Jonsin recalled in an interview with Rhapsody, "I originally made the track in a session for Danity Kane. They passed on the record, and I went over and played it for Static. He was working at my studio with Pleasure P from Pretty Ricky. He had the melody within, like, 15 minutes. He had the melody already down and he laid it. He laid the hook. It was probably about 30 minutes, he laid the hook and then they came out with the 'juicy for you' part and then I sampled their vocals: Sh-sh-she lick me like a… I sampled the little parts in the MPC drum machine and then I sampled the call me and just made it like I was scratching and it was done. Static met up with Wayne and played it for him. We used auto-tune, but with auto-tune, you can't just sing through it. You gotta know notes. So Wayne's not just singing through some thing and it makes his voice sound perfect. He was singing all crazy with weird melodies that no one really does." Deezle, in an interview with the same publication added, "We recorded it and we were listening back to it after. I looked at Wayne and he was like, 'It's cool' I said, 'Man, I can bring this song home.' I totally re-did the drums and changed the bassline that Jim had. All my drums are harder than most people's drums. I gave it the bouncy feeling. It was more sedated before. That's why the people dance like they do when the record comes on. I brought it back to Wayne and he jumped up on the speakers and was excited and started doing the same dances he's doing in the video and was like, 'That's the next single."
It seemed that Wayne was got good at paying what he owed. Lollipop itself provoked a few lawsuits including one from Jonsin claiming that he was owed half a million dollars in unpaid royalties for his work on the track and in 2010 Deezle and music publishers at The Royalty Network filed a suit demanding $2.5 million regarding unpaid royalties on another track they recorded called Mrs. Officer. Jonsin came to an agreement with Wayne in 2010, he told Florida newspaper Broward Palm Beach New Times: "We worked out an arrangement. They're giving me some money now, and will pay the balance in the first or second quarter next year. I never had an issue with Wayne, he and I were cool. It's just there was some confusion owing to (clearance issues with) a sample from another song I made for him (I Feel Like Dying). There's never been hard feelings between me and him."
Wayne served a prison sentence in Rikers Island prison after being convicted of criminal possession of a weapon stemming from an incident in July 2007. He was released on 4th November 2010 after serving eight months of his year long sentence. Whilst inside his latest album, I Am Not a Human Being, topped the Billboard album chart.
Wayne is covered in tattoos and by the end of 2009 he claimed he had four children by four different mothers.
Lollipop did win the Grammy Award for Best Rap Song, beating out Flo Rida's Low which actually spent 10 weeks atop the Billboard Hot 100. When it won, because Static Major was the featuring artist he became the seventh performer to earn a posthumous US chart-topper, following Otis Redding ((Sittin' On) The Dock of the Bay, 1968), Janis Joplin (Me And Bobby McGee, 1971), Jim Croce (Time In A Bottle, 1973), John Lennon (Just Like) Starting Over, 1980), Notorious B.I.G. (Hypnotize and Mo Money Mo Problems, 1997) and Soulja Slim (who was the featuring artist with Juvenile) (Slow Motion, 2004).
Lil Wayne is still big Stateside where he released his 11th long player, Free Weezy Album this year and his 12th, Tha Carter V is still in the planning stages.