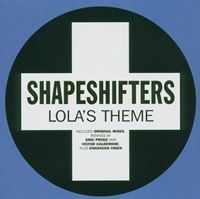 Throughout the 21st century the music press, in their antagonising fashion, have speculated that house music is dying and the clubbing days are over, then every once in a while, a tune comes along that proves them wrong. It happened with Spiller, Modjo and Room 5, among many others that didn't reach the top. The Shapeshifters' song became the summer anthem of 2004. What was it the theme to and who was Lola? Shall we find out?
The Shapeshifters are English-born Simon Marlin and Swedish-born Max Reich. Simon is a DJ and in 1995 was an A&R manager for a small independent label. "I was juggling to see what I wanted to be in the music business, " he told me. "As an A&R person, my job was to visit various clubs one of which was in Sweden and that's where I met Max when I was DJing there, Max played me his stuff and I signed him to the label straight away. Max had been DJing since he was 14 and had played alongside Carl Cox and Laurent Garnier. We've been working together ever since and in 2003, with Simon's wife, Lola, we set up the house label, Nocturnal Groove." He also runs the London nightclub of the same name. "That's where we decided to form the Shapeshifters," a name they took from a race of people known as changelings in the Star Trek spin-off series, Deep Space Nine. A Shapeshifter is someone who can change themselves into anything they want.
In the spring of 2003, Lola became the inspiration for an instrumental track they had written. "Lola's Theme was a working title due to the original string sample being taken from one of Lola's favourite records. It just stuck and gave us the inspiration to add a vocal about her," Simon revealed. How did they find the Johnnie Taylor track? Simon: "When Lola put What About My Love by Johnnie Taylor on the turntable, and that first 16 bars played, I walked over to the deck, picked up the needle to start it again, and pitched it up by +3 to +4bpm. I rang Max and said, 'We're going into the studio tomorrow, I've got an idea." It was the string sample he lifted.
With more DJing skills, "I felt I had the experience and confidence to go into the studio myself and start producing," Simon explained to DJ Mag. "Max was a great beats maker, so the symbiosis of that seemed perfect to me." So he and Lola set up their own record label. Simon and Max had made an instrumental track. They had an annual conference in Miami coming up, but before they left, "I pressed up 500 white labels — it was a simple black and white label with a phone number attached," he remembered. "That phone number was attached to an answering machine — very old school. We came back from America, and the answering machine was full of distributors, labels, record shops, friends or whatever — all clamouring for more. I pressed up another thousand, which went out straight away. Then, I purposefully left the market dry from January through to March, because I knew that Miami was coming."
They took copies to Miami where it was showcased and well received, but Simon felt that it needed some lyrics. "If house music is to survive it needs to be represented by daytime radio and a vocal track is usually better than an instrumental," he explained. The vocal sample was pinched from Rock Me Tonight by F.O.S. (Fathers Of Soul), "But we changed around the order of the lyrics to make our own line. 'I'm a different person, turn my world around' was not in the original," Simon added. They also brought in female singer, Cookie, a former member of the London Community Gospel Choir who had previously sung with Kylie Minogue, Depeche Mode and Ms Dynamite.
It was EMI's dance offshoot, Positiva, who picked it up in the end and gave it loads of promotion and it sold 52,000 on its first week in the shops and entered the chart at number one. The chart rules then stated that up to 40 minutes of music is allowed if the CD single contains only one song, so the Shapeshifters utilised that time with various mixes including one by Victor Caldrone and one by Eric Prydz who just two months later registered his first chart topper.
It's difficult to follow-up such a huge anthem and indeed the aforementioned, Spiller, Modjo and Room 5 all struggled, but as Simon said back in 2004, "We're really busy DJing at the moment and we're working on a mix compilation, but we will get round to the album soon and then we'll look to release a single from it." But where those other examples failed to further their careers, the Shapeshifters did actually have five further hit singles with Back To Basics reaching number 10 in 2005 and Incredible peaking at number 12 the following year.
Various mixes and more re-mixes have been made, but none will beat the original which is the one people still want to hear. The pair are still out there performing as Shapeshifters and, in 2019, they collaborated on two songs with Kimberly Davis, who was the lead singer with Chic which were Life is a Dancefloor and Second Chance.