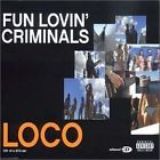 In the 1970s & 80s, there would have been a generation of people who listened to Radio Two not knowing that one of their best-loved presenters, Jimmy Young, used to be a singer, crooning his way though ballad after ballad and was rewarded with two number one hits in the 50s. In the 2010s there will be a generation of youngsters who listed to Huey Morgan's overnight show on Radio Two not knowing that he was once a member of the hip hop/rock/funk/jazz band the Fun Lovin' Criminals.
"I like to think of myself as an opportunist which is kinda like a capitalist without a plan," Huey Morgan, the Fun Lovin' Criminals' singer and guitarist once claimed. "I spent some time in jail when he was young and then joined the Marines." He also said of his treasured guitar, "this little piece of wood and metal saved my ass," "my plan is no plan, it's always been that way."
The trio were formed in 1993 and currently comprise Huey Morgan, Brian Leiser and Frank Benbini. Huey says of himself, "I was born in New York City and am half Puerto Rican and half Irish. I was raised by my mum as my dad passed away very early so I wasn't old enough to remember him. My mum gave me all the love in the world and was inspirational. She opened up new horizons, taking me to museums and art galleries, and giving me a really good education. She worked full-time as a magazine editor and was pretty hip. She knew Andy Warhol, she was that kind of lady. When he was broke, my mum would share her sandwiches with him."
In an interview with the Guardian, Huey revealed more of his past, "I started to rebel when I was about 13, by ripping things off. Like a lot of young men, I just got too smart for my own good – but not smart enough not to get caught! Things got really serious when I hit 16 and could be tried as an adult. It was a bad situation and I decided that joining the US Marine Corps seemed a better option." In 1991 he served in the Marines during the Gulf War, what did he remember of that? "It was the worst thing I've ever done in my life because at the time I believed in it. When I was 13 I had loads of fights, I was violent but not like young people these days. I only used my fists, but now kids are shooting each other and killing each other in schools."
They released their debut single, The Grave And The Constant, in 1996 which reached number 72 they followed it just two months later with Scooby Snacks (number 22) and then The Fun Lovin' Criminal (number 26) all of which were taken from the debut album Come Find Yourself which reached number seven and spent 72 weeks on the chart. Two years later came the follow-up and, so far, their highest chart album 100% Columbian which reached number three. Mimosa followed in 199 and then in 2001 came Loco of which the title track became their only top 10 hit single.
This album was a change of direction because it infused rock, pop, rap, funk and jazz all in one. It came with mixed reviews, Huey explains, "We like writing music to the words, if the words express sweetness then the music is nice and vice-versa. In the States they complimented us for the mixture on the TV, the radio criticised us for the same reason, we don't get it."
Loco was more Latin tinged with a sample that sounded like Santana but was actually a track called Happy Anniversary 'borrowed' from Australia's Little River Band, Huey explained the reason for the sound, "I was really going for that Santana tone on Loco. I've always been a big Santana fan. He's a Latino, I'm a Latino, we both play guitar and though I never really try to copy the stuff he did, on Loco I wanted to get a little of that flavour. I had to listen to Abraxas a lot. Listening to how people approach stuff can give you a better idea. Carlos Santana was the guy – he played a Les Paul through a Marshall. Actually on Loco I played a '59 Les Paul junior that I bought, which is a fat guitar and I put it through a Tech 21 going through a Fender Pro.
Their last hit came a couple of years later, but Too Hot stalled at number 61. Their final album was in 2005, it was called Livin In The City and that spent just one week on the chart at number 57. In 2010 they toured and released a live album called Fun, Live and Criminal but it too failed to connect.
They've never officially announced a split, but Huey has since moved into television and radio. In 1996 he starred in Morgan starred in Clubbing to Death with Craig Charles and in 2008 he began presenting a show on BBC 6 Music and an overnight show on Radio Two. If you like something a bit different, then Huey's show is fantastic because it really is his own personal record collection and it has every imaginable genre of music, just a shame it's on at 3am. Thank God for the catch-up feature on iPlayer.
He married his girlfriend, Rebecca, in 2008 and they have one son who is now nearly four. "I didn't know anything about being a father," he explained, "I wanted to be one but did not know what to expect. I am thankful that I didn't have a cycle to break. A lot of friends had fathers who were dicks but I didn't. I want to encourage my son to be productive and kind and compassionate, and use his head. I was talking to Keith Richards recently about family and I met his children and they were so polite and 'yes sir, no sir'. Keith told me he gets up with his kids and cooks breakfast. Basically, family is the most important thing at the beginning and the end of the day."