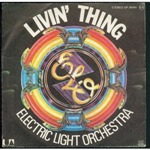 It's amazing that when people can't work out what a song is about they speculate usually in a negative way. In some cases it's probably quite justified for example Frankie Goes To Hollywood's Relax and The Shamen's Ebeneezer Goode which were seemingly about oral sex and drugs respectively and both denied by the respective acts at the time. But when Livin' Thing by the Electric Light Orchestra came out it baffled people and many speculated that it was an anti-abortion statement.
Some, who didn't think so deep, thought it was about sex and particularly about losing one's virginity with the lyrics screaming 'It's a terrible thing to lose.' Is it? The band's lead singer and prominent songwriter, Jeff Lynne said, "I was even asked once if it was about a whale, Christ knows where that came from. It was just a song about nothing more than lost love….the words just rhymed, that all."
Jeff was born in Birmingham in 1947 and got his first guitar as a kid which his dad bought for him for just £2 and he still has to this day. His first group was with some school friends which was mainly guitar based and they called themselves The Rockin' Hellcats, then The Handicaps which then evolved into The Andicaps. In 1965 he bought himself a Bang & Olufsen reel-to-reel tape recorder that had the facility to multi track between its left and right channel and, as Jeff commented, "It was a great machine and it taught me how to be a producer."
The following year he joined a band which became the Idle Race, a name his grandmother, who was anti pop music, came up with. His friend Roy Wood was having success with his band The Move and by 1968, despite having a number two with Fire Brigade and a number one with Blackberry Way, Roy was looking for a new challenge. In early 1969 he offered Jeff a place in the band which he accepted and contributed many songs to their last two albums. At the same time Roy and Jeff had the idea of wanting to fuse rock with classical music and eventually formed the Electric Light Orchestra.
They took with them drummer Bev Bevan and brought in the high quality musicians Richard Tandy on bass, Bill Hunt on keyboards, Wilf Gibson on violin and Hugh McDowell and Andy Craig on cellos and released their eponymous debut album in December 1971.
The line-up changed slightly over the next few years and they were regulars on the chart with songs like 10538 Overture (1972), Roll Over Beethoven and Showdown (1973) and Ma-Ma-Ma Belle (1974). In 1976 they began recording the album A New World Record and showcased it by releasing Livin' Thing which gave them their biggest hit to date when it reached number four.
What did Jeff think of it? "Yeah, I thought it was good," he casually said. "I wrote so many songs so quickly in that 1974-1978 period and it was like a conveyor belt really, I was just banging them out. But I'm particularly pleased with Livin' Thing because I like the chorus, it's really interesting. I think it's interesting because there is one chord change that makes the whole thing work and if I hadn't found that it would never be a song. I was looking for it for quite a while because once you're stuck in the F minor where do you go? You can either go back to C or back to G which is the obvious thing but then, suddenly, it came to me, E minor and then keep going down and then down again." The bit Jeff was referring to was the line prior to the falsetto of 'higher and higher, baby' which incidentally featured the uncredited vocals of Addie Lee as well as both, Suzi's sister, Patti Quatro and Brie Brandt from the American band Fanny.
The song has appeared in a few films, namely Boogie Nights (1997), God Save The King (2005), Chaos Theory (2007) and Hunky Dory (2011). In 2004 the Beautiful South released an album of cover versions called Golddiggas, Headnodders and Pholk Songs of which Livin' Thing was released as a single and reached number 24.
In 2006, Q magazine published a list of the top 100 'Guilty Pleasures' and Livin' Thing was voted number one narrowly beating Boston's More Than A Feeling at two, S Club 7's Don't Stop Movin' at three and 10cc's I'm Not In Love at number four.