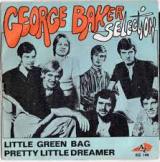 Purple Ange, who has requested this week's song, told me, "I was trying to put together a Dutch playlist for a forthcoming drive through Holland and struggling to come up with any decent tunes until I found this little gem!" Well Ange, everyone's definition of decent tunes will be different, but some suggestions, from a similar era, might be tracks by Focus, Shocking Blue, Golden Earring, Teach-In, Pussycat and, let's not forget Father Abraham and his lovely Smurfs! OK, maybe not the latter, but George Baker's Little Green Bag is not a bad place to start.
George Baker was born Johannes Bouwens in Hoorn in the Netherlands, his mother was Dutch and his father, who was a soldier, was Italian and served in the Netherlands during World War II but ended us as a prisoner of war and during an attempt to escape, he was caught and killed just a few months before his son was born. Johannes grew up listening to Elvis Presley who he adored and inspired him to become a musician. In 1967, at the age of 23, he joined a soul band called Soul Invention but before long he became the leader and decided to change the name to the George Baker Selection. He explained in an interview with Peter van Brummelen how he got the name, "I got it from a detective book. In the band bus there used to be nudie magazines on one side and on the other side detectives. When we were bringing out our first single I needed a stage name. Bingo, I thought when I saw a book about detective George Baker in the bus."
George's 'selection' were Jan Hop, Jacobus Greuter, George Thé, and Jan Visser and they recorded their debut single, Little Green Bag in 1969 funded by George with money he was earning from his day job in a lemonade factory. George explained, "I wrote the track with my bass player and we did it on a rehearsal night. Jan started with this bassline and I just started to sing over it with a melody I made up. A few weeks after that we made a demo and the guy from the studio like it so much and he went to a little record company he knew called Negram and they liked the song as well a signed us." The track was written about the American dollar bill and was supposed to be title Little Green Back, but someone at their label, misinterpreted it and thus it was printed incorrectly on the label. To make matters worse, the parent album had the same title and also had to be changed to reflect that of the single. Some radio stations thought a little green bag was a reference to marijuana but thankfully, the majority didn't think that way and the single escaped any sort of radio ban. "It was a very unique sound at the time, "George continued, "the studio was a cellar and we recorded it on four tracks because that's all we had in those days. About 15 years later I recorded it again and it just didn't sound the same."
Initially released in their home land, the single reached number nine on the Dutch top 40 and number three in neighbouring Belgium. In the States it reached number 21 but in the UK it missed the chart completely.
Their follow-up was called Dear Ann peaked at number two in the Netherlands and number 12 in New Zealand, but failed almost everywhere else. In 1973 they released Marie-Jeanne which made little impact but the follow-up to that, Baby Blue, made number two in their homeland and topped the New Zealand singles chart. It was only in 1975 when they brought in a female vocalist by the name of Lida Bond and they recorded the track Paloma Blanca, which is Spanish for White Dove, that they made their name in other countries.
By 1978, Baker had had enough and broke up the band stating, "the pressure had become too much," having sold over 15 million records around the world. He did briefly form a 'New' George Baker selection in 1985, but that had fizzled out by 1989.
In 1992, the song got a new lease of life, firstly appearing in the Quentin Tarantino film, Reservoir Dogs and following its appearance in that a Japanese advertising company decided to use it in a whiskey commercial and it went to the top of the Japanese singles chart.
In 2017, the German supermarket Lidl launched a bakery section in a number of their stores around Europe and George was asked to re-record Little Green Bag for the TV adverts. There were two versions, one retitled Lidl Brown Bag which was used to push their bread and sandwiches and the other was Lidl Green Bag used for the fruit and veg.
In 1999, on his album Reload, Tom Jones recorded the song as a duet with the Canadian band Barenaked Ladies and, according to Norman Mailer's Pulitzer Prize-winning novel The Executioner's Song, Little Green Bag was playing on the car radio as they drove the American criminal Gary Gilmore from his cell to the execution house in 1977.