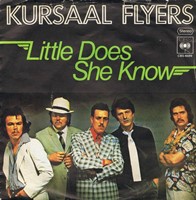 In the mid-late seventies there was a music sub-genre called pub rock, a genre you may not have heard of but the some of the artists you probably will. Nick Lowe, Ian Dury, Dr Feelgood, Ducks Deluxe and, this week's suggestion, the Kursaal Flyers were all part of that scene.
The band formed in 1974 in Canvey Island in Essex and took their name from nearby Southend's permanent frightening big dipper ride. They comprised vocalist Paul Shuttleworth, Richie Bull on banjo, lead guitarist Graeme Douglas, pedal steel guitarist Vic Collins and drummer Will Birch and together they made a melodic yet cheesy orchestrated noise which was very pleasant on the ear and ultra-radio-friendly. Why they only had one hit is a mystery.
In 1975, they were signed to Jonathan King's UK record label and released two singles, Speedway and Hit Records which did nothing. Later the same year they were the subject of a BBC documentary that followed them on tour. The following year got a better deal with CBS. "We like R&B and our drummer, Will Birch, used to write these quirky lyrics," Paul Shuttleworth explained to Kieron Tyler. "Our guitarist had a very catholic style so we ended up with a very eclectic set with lots of blues, soul and country. Rightly or wrongly we tried to increase the range of styles of the music. That's what we loved when we came across the producer and songwriter Mike Batt  (who they chose to produce the song). Every song he wrote was a pastiche of a different style and he always got it right."
Little Does She Know tells the story about an unfaithful lover. In the beginning she's not absolutely sure is her lover is cheating or not but as the first verse, which is spoken, states, 'I was outside the one stop when I saw her in the corner and I didn't like what I see' (sic). Just a suspicion at this point we suspect. In the second verse, also spoken, she'd gone to the laundrette and we learn that, 'She was sharing her spin dryer with a guy in a tie-dye. When she saw my reflection in the chrome I knew that she'd seen me 'cause she dropped her bikini the one that I got her, in Rome' (presumably she wasn't actually wearing it at the time!). But obviously she didn't seem him watching her. Just to enhance this scene, when the band performed the song on Top of the Pops their props included some washing machines and massive boxes of washing powder and because it was the BBC no advertising was allowed so they were marked as Sudso and Brand. There were even a few bubbles floating around.
With no more hits the band broke up in 1977 with Shuttleworth embarking on a solo career with no hits, Douglas joined Eddie & the Hot Rods and Will Birth became a member of The Records who released a handful of singles including the brilliant Starry Eyes. They reformed on three separate occasions albeit briefly in 1985, 1988 and finally in 2009.
In 2019, Birch released a Kindle-only book called No Sleep Till Canvey Island: The Great Pub Rock Revolution which was well received.
Shuttleworth and Collins are both currently members of The Ugly Guys a name that was taken from the title of the opening track on their third album The Great Artiste. "We do it for fun but we've gone back to our country roots." Shuttleworth said. Throughout the pandemic they were releasing a 'Cover for Covid' on line and even tackled Adele's Rolling In the Deep.