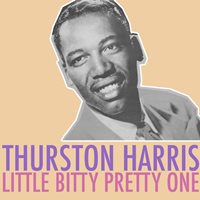 This week's request is one of those songs that few people in the UK will know the singer, but the song you may because of numerous cover versions as well as a stack of appearances in various films. The instant foot tapper's opening bar is reminiscent of Chubby Checker's Dancin' Party but then turns into a very individual song.
Little Bitty Pretty One was written by Bobby Day under his real name Robert James Byrd. Bobby is more famous on these shores for recording the original versions of Over and Over as covered by the Dave Clarke 5 and Rockin' Robin as made famous by Michael Jackson.
Thurston was born in Indianapolis in 1931 and his love of music came from being a member of a couple of different church choirs. He served in the Army in the early fifties and after being demobbed he moved to Los Angeles and joined a group called The Lamplighters, a local group that had been performing in local nightspots including Barrelhouse, a club owned by Johnny Otis. This is where he met Bobby Day who was also working in clubs in the same area. The Lamplighters evolved into the Tenderfoots and later The Sharps. The label credit on Little Bitty Pretty One credits Thurston Harris & The Sharps. After Harris left, the group renamed themselves The Rivingtons and had a U.S hit with Papa Oom Mow Mow. The Sharps also supplied some yells on various Duane Eddy hits.
It's all confusing with the same, but different group names; Bobby recorded his original version for the Class label just a couple of weeks before Harris did his cover. Day's version featured backing from The Satellites who were really Day's own backing group, The Hollywood Flames. Don't ask!
Lyrically there isn't much to the song. It beings with the Sharps humming in unison to a decent dance beat. Take a look at any lyrics sheet and you'll see it opens with 178 'm's. The first verse is simple, 'Little bitty pretty one, come on and talk-a to me, Lovey dovey lovey one, come sit down on my knee' This is followed by 29 'ah's' and then the second version comprises, 'Tell you a story, happened long time ago, A-little bitty pretty one, I've been watchin' you grow'. This is followed by 29 more 'ah's' and a repeat of the first verse and, wait for it, to finish the song, it's another 178 'm's leading into 54 more 'ah's'. That's it. So, in a nutshell two minutes and 18 seconds of two short verses and 356 'm's' and 112 'a's', what more could you want.
Harris' career never really flew; he had one further U.S R&B top 20 hit with of What You Did but its Little Bitty Pretty One he'll be remembered for. Over 60 years on, it is still being played and cover versions include Cliff Richard, The Jackson 5, Frankie Avalon and Huey Lewis & The News among many others. As for its film appearances, you'll spot it in Christine (1983), Matilda (1996), The Princess Diaries (2001 sung by Aaron Carter) and Indiana Jones and the Kingdom of the Crystal Skull (2008). Additionally some will have spotted it a various television commercials including Bird's Eye frozen vegetables and various Heinz soups.
Despite the success of 'Pretty One, Harris, effectively, remains a one hit wonder. He chopped and changed to various different record labels but without the success he quit the music business and took a job as a bus driver. He also had a job as a bus guide at Universal studios, but possibly due to the lack of success in the music industry he turned to alcohol and in 1990, suffered a heart attack and a bout of acute alcoholism left him dead at the age of 58.