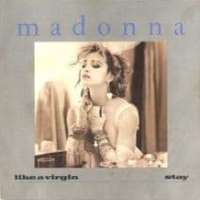 This request came in about eight weeks ago, but I thought I'd wait until now because this is my 600th Single of the Week story and it ties in nicely with this song being the 600th number one hit in American. It was the first of Madonna's 12 US chart-toppers, but what is this provocative song which, arguably, turned Madonna into a superstar, actually about? Let's find out.
Madonna's debut single, Everybody, in 1982, made little impact and is subsequently now worth a fair few quid. In early 1983, her record company, Sire, released her next single, Holiday with Everybody on the flip side also made little impact. By the end of the year, the record company gave it another go and re-issued Holiday which eventually charted in January 1984 reaching number six in the UK. Apart from her follow up, Lucky Star stalling at number 14, Madonna's next 33 singles all made the top 10. Now, there was no stopping her.
She had begun working with Nile Rodgers and together they were making her second album, Like A Virgin of which  the title track was set to be the lead single from it, but because her previous single, Borderline, was slow to take off, mainly because MTV were slow to pick up on it, the record company decided to hold back on the new material until November of 1984.
Madonna has had over 70 UK hits, most of which she wrote or co-wrote but Like A Virgin wasn't one of them.  It was written by the song writing team of Billy Steinberg and Tom Kelly who had just started out. Both those guys were in a band called I-Ten and they had written and recorded the original version of a song called Alone which did nothing until it was covered by Heart in 1987, but other songs they went on to write included True Colors and I Drove All Night (Cyndi Lauper), So Emotional (Whitney Houston), Eternal Flame (Bangles), I Touch Myself (Divinyls) and I'll Stand By You (Pretenders) among many others.
In an interview with Americansongwriter.com Steinberg revealed that the idea for the song came from his own personal experience and from a male perspective, "I was saying that I might not really be a virgin, but I've been battered romantically and emotionally like many people, but I'm starting a new relationship, and … it's healing all the wounds and making me feel like I've never done this before."
In a Songfacts interview Steinberg explained more of how it came about, "My father was a farmer. He was a grape grower in the Coachella Valley and our vineyards were in a little town called Thermal in California. I had a rock band called Billy Thermal and we were signed to Planet Records, Richard Perry's label. That band had just split up, so I was working out in the vineyards with my dad. I remember writing the lyrics to Like a Virgin while driving in a red pickup truck that I owned around our dusty desert vineyards. I had been involved in a very emotionally difficult relationship that had finally ended and I had met somebody new. I remember writing that lyric about feeling shiny and new – I made it through the wilderness, somehow I made it through – I made it through this very difficult time."
Steinberg continue, "I took that lyric to Tom, he knew what I had gone through, he read those first lyrics and he sat down at the piano and tried to write a sensitive ballad to them. He'd come up with a few interesting things, but every time we got to the chorus lyric where it said, like a virgin, it just hit a brick wall – how can you write a tender ballad called Like A Virgin? It just sounded ridiculous. Whereas it was him prodding me with True Colors to finish the lyric, with Like a Virgin I was the one prodding him, saying, 'No, no, no, let's not put this one aside because this is a very special lyric." They recorded a demo with Kelly singing in a falsetto voice imagining it be like a Motown track and Steinberg agreed because when he heard it, he said, "Yeah, that's it."
Michael Ostin, the head of Warner Brothers records was invited to Kelly's house, Ostin said, "I was mostly there to hear what Tom and Billy were up to in their own career, they played me four or five tunes which were nice and then they said, 'listen, we've got this other tune and we don't really know what to do with it, it's not right for us.' They played me, Like A Virgin and it so happened that the day I had a meeting with Madonna to discuss her next album. I just thought it would be perfect for her." So the following day, at that meeting, Ostin said, "When I played it to her, she went crazy and knew instantly it was a song for her and that she could make a great record out of it."
Madonna wanted to record it with Nile Rodgers in New York City, but when she played it to Rodgers, he wasn't keen on the lyrics but like the melody. He later told Billboard, "I couldn't get the song out of my head, and I said you know, Madonna, I really apologise because, if it's so catchy it stayed in my head for four days, it must be something. So, let's do it." Rodgers brought in his song writing partner and Chic members Bernard Edwards on bass and drummer Tony Thompson to do their thing.
Six years later, Madonna caused controversy with the video to her number one hit Like A Prayer which upset many religious people, but Like A Virgin got there first. Many Christians believed that Madonna was being disrespectful towards their beliefs because Madonna means My Lady in Italian and My Lady is another name for the Virgin Mary, and once they heard the title, they were reeling. Just to rub salt into their wounds, Madonna went on to call her first 'greatest hits' package, The Immaculate Collection. God know what they thought about that.
Like A Virgin spent six weeks at the top of the Billboard singles chart and also topped the chart in Canada and Australia, but in the UK,  it made number three and went top 10 in 11 other countries.
The parody singer Weird Al Yankovic covered this song retitling it Like A Surgeon which, according to Lily Hirsch, the author of the book Weird Al: Seriously, was Madonna's idea.
In December 2007, a number of Virgin Airlines' employees sang this song to passengers at Heathrow Airport whilst trying to raise money for the Rainbow Trust Children's Charity. It probably also helped that they were all dressed like Virgin's boss Richard Branson.