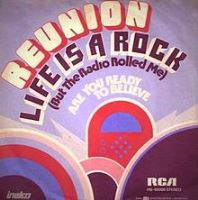 When it comes to 'list' songs there are not many that will readily spring to mind, We didn't Start The Fire, My Favourite Things and Reasons To Be Cheerful (part 3) would be three and if you want a more specific list, like record labels, have a listen to I'm In Love With A Girl On A Certain Manchester Megastore Checkout Desk by The Freshies as it lists 35 different labels. This week's suggestion lists over double that number and includes acts, producers, backing singers and record labels as well as dance crazes.
It has been suggested that given the machine gun delivery of the lyrics, it could be classed as the first ever rap record, this came out in 1974 but I would argue that Here Comes The Judge by Pigmeat Markham qualifies as the first and that came out in 1968.
Reunion was formed in New York by songwriters Norman Dolph and Paul DiFranco. The group also included Mark Bellack who co-produced their only hit. They released their first single in 1972 – a cover of Smile (Theme from Modern Times) which was credited with the misspelt Charles Chaplan but it went nowhere. Two years later, they recorded a demo of Life Is A Rock but it was a bit flat and lacking something. They called in a man who was big on the bubblegum scene having been the lead singer on Yummy Yummy Yummy by the Ohio Express as well as being a big jingle writer for television commercials, his name was Joey Levine. One of his best remember tracks in America was 'Sometimes You Feel Like A Nut' for Mounds and Almond Joy chocolate bars but he also provided musical accompaniment for various beverages; Pepsi – The Joy of Cola, Just For the Taste of It – Diet Coke and You Make the World Taste Better – Dr Pepper. "That's how I got into the business I'm in now," Levine explained, "because people told me the stuff I wrote sounded like commercials."
When Joey Levine first heard the demo of Life Is A Rock he was keen, "I loved it, thought it was great," he said, "But I told 'em that the record they cut was really missing the mark. I'd love to just spruce it up." They went into the Hit Factory studio in New York and Levine took lead vocals to praise many artists, but a chorus is key too as it praises how great radio is (or was then) with the lines, 'Life is a rock but the radio rolled me, gotta turn it up louder, so my DJ told me and FM, AM, hits are clickin' while the clock is tock-a-tickin". DiFranco said in an interview with Rolling Stone, "We're in the business to make happy, funny records, and I think right now it's important for music to stay happy."  DiFranco told Billboard magazine, "The machine-gun vocal delivery is a result of no rehearsing whatsoever. The key was to read the lines rapidly and not to memorize them at all."
Reunion were only meant to be a short-lived novelty act, but following the success of the single, which reached number eight in America but only number 33 in the UK, RCA records wanted them to record an album and tour, but Levine refused explaining that the costs involved would hinder any royalties from the single and said of it, "I figured it was just a novelty idea."
Apart from the 45 acts and 30 songs namechecked, it mentioned the record labels Kama Sutra, CBS, Warner Brothers and RCA, the dance crazes the fish and the swim and the instruments slide guitar and Fender bass and the accessory, the wah-wah pedal.
Tracey Ullman covered the track on her 1984 album, You Broke My Heart in 17 Places and four years later, the burger chain McDonalds 'borrowed' the track for their newly launched menu where instead of listing people it listed menu items.
Levine currently owns Crushing Music which he co-founded back in the 80s and with their tag line 'Through great talent, we write and produce great custom music.' Norman Dolph, although still in the music business as a Writer Member of ASCAP, turned to painting in the early 90s published a book called Stations – Paintings and Poems of Spiritual Journey.
Since the early 2000s, DiFranco has also been a music supervisor for Universal Studios and Sony Pictures and has worked on films like Wes Craven's New Nightmare, Highlander: The Final Dimension, two of the American Pie films and The Little Rascals. As a music supervisor and producer, he's worked on more than 300 feature films and 200 television episodes.