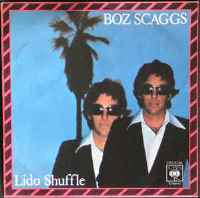 This week's song was chosen by General Blee who emailed to say, "I had forgotten how good Lido Shuffle was and how much I actually liked it. However, having tried hard to listen to the lyrics, I am still confused as to what it is all about. Can you have a look at this one for me please? Before contacting a friend of mine who has interviewed Boz Scaggs, a little research on the internet confirmed why I don't rely too much on it. It never ceases to amaze me what rubbish is written on so many websites that people make up which then gets transformed into folklore over a period of time. I read on three site that this song is about a man being released from prison in Mississippi and needed a boat to get across the water which he'd just missed and so thought about robbing a bar. What utter tosh. Let's tell the real story.
William Royce Scaggs was born in Canton, Ohio and because his father was a travelling salesman, he moved around a lot firstly to Oklahoma and then spent much of his childhood growing up in Texas. He began learning guitar at the age of 12 and when he was 15 he met Steve Miller (who was in the same school and had his own band) and Scaggs was invited to join as vocalist. He then attended a private school in Dallas where a schoolmate gave him the nickname Bosley which was later shortened to Boz. Miller and Scaggs both attended the same University and then went their separate ways with Scaggs heading to London and then to Sweden. In 1965, he released his first solo album, Boz, which bombed. Two years later he returned to the U.S and San Francisco where he was reunited with Steve Miller and played on his first two albums.
He secured a record contract and released his second album, the inventively titled Boz Scaggs that featured then-session guitarist Duane Allman. It wasn't commercially successful despite good reviews. His 1974 album, Slow Dancer, had a more soulful feel as it produced by Johnny Bristol.
In 1976, for his next album, he gathered more top session musicians including David Paich, Jim Gilstrap, Fred Tackett and Jeff Porcaro and was recorded at Hollywood Sound Studios in Los Angeles. Paich and Porcaro went on to form Toto and Tackett was a member of Little Feat. Paich also co-wrote and played keyboards on most of the tracks with Scaggs. Lowdown was the first release and made number 28 in the UK. The follow-up, What Can I Say made the top 10 and then came Lido Shuffle which went to number 13.
Scaggs in the interview said of the song, "Lido' was a song that I'd been banging around. And I kind of stole… well, I didn't steal anything. I just took the idea of the shuffle. There was a song that Fats Domino did called The Fat Man that had a kind of driving shuffle beat that I used to play on the piano, and I just started kind of singing along with it. Then I showed it to David Paich and he helped me fill it out. It ended up being Lido Shuffle. The song is about a drifter looking for a big score." He concurred in another interview with Barry Scott, "It's sort of a little throw-down, that's an impressionistic little thing about a character who is flying by the seat of his pants. That's probably as well as I can describe it."
Another track on the parent album, Silk Degrees was We're All Alone which was released as the B-side to Lido Shuffle. A&M records decided it was too good to waste as a flip and gave it to Rita Coolidge to cover who took it to number six in June 1977.
In 1996, Boz and his second wife Dominique moved to Napa Valley in California and four years later they began to produce their own wine incorporating a blend of classic southern Rhone varieties. It became known as Scaggs Vineyard. Sadly they lost their house during the Napa Valley wildfires of October 2017. Their wine business continues in Oakville, California. Scaggs said last year, "Recently we partnered up with Matt Naumann at Newfound Wines to produce our wines. We love that aspect of our lives up here and we're going to continue that."