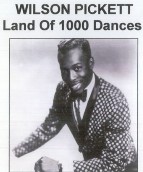 There are some songs which become completely memorable for their catchy nonsense hook. Rob Davis from Mud would probably agree as he wrote the La-la-la la-la-la-la hook from Kylie Minogue's Can't Get You Out Of My Head and it earned him a fortune, likewise so will Frankie Garcia, the man who added the incessantly catchy na-na-na-na-na na-na-na-na-na na-na-na-na-na from Land of 1000 Dances.
Chris Kenner was a New Orleans-born singer/songwriter whose first success as a writer was in 1958 when Fats Domino scored with his hits Sick and Tired and I Like It Like That. In 1962 he wrote Land of 1000 Dances which was based on an old spiritual tune called Children Go Where I Send You. He told John Broven in an interview that it was also inspired by all the different dance tunes that were going around at the time. Some copies of the song credit Fats Domino as a co-writer, but in truth, he didn't add anything, he just agreed to record the song in exchange for half of the song's royalties.
Kenner's version was an average soul track which mentioned his previous composition, I Like It Like That, in the lyrics, but notably did not include the catchy chorus. It also didn't mention the title but did mention 16 dances: the Pony, the Chicken, the Mashed Potato, the Alligator, the Watusi, the Twist, the Fly, the Jerk, the Tango, the Yo-Yo, the Sweet Pea, the Hand jive, the Slop, the Bop, the Fish, and the Popeye. It was released in the States the following year and reached a lowly number 77. Two years later a cover version by Cannibal & the Headhunters made number 30. The na na na na na hook happened by accident when Frankie 'Cannibal' Garcia, forgot the words. What's curious is that his version started with the na-na-na-na bit, so if he forgot the words immediately, why didn't they just do another take? Frankie has never been credited as a co-writer and nor did he make a song and dance about it, unlike nowadays when there will undoubtedly be a court case!
In 1966 Pickett recorded his version under the watchful eye of Atlantic producer Jerry Wexler at FAME studio in Muscle Shoals, Alabama. Pickett was one of the first acts to record in that studio, but soon after Atlantic sent more of their artists there like Sam & Dave and Aretha Franklin. Other artists who have since used it are Bob Seger, Paul Simon and Cat Stevens.
Pickett's interpretation was much grittier and faster than any previous version, but he based it on the Cannibal version by keeping the na-na-na-na hook. He screamed his way through it in that distinctive style that few other soul singers had. It was sampled most prominently in Ini Kamoze's 1995 top 10 hit Here Comes the Hotstepper. Pickett also added the distinctive count-in intro and a few grunts here and there. The musicians on the session were; Chips Moman and Jimmy Johnson (guitar), Spooner Oldham (keyboard), Roger Hawkins (drums), Junior Lowe (bass), Charlie Chalmers and Andrew Love (tenor sax), Wayne Jackson (trumpet) and Floyd Newman (baritone sax).
Pickett's first foray into the UK chart came in September 1965 with the classic In the Midnight Hour, it was followed just eight weeks later by Don't Fight It which stalled at number 29. The next hit was 634-5789 which peaked even lower. A cover of Solomon Burke's Everybody Needs Somebody to Love came next and missed the chart completely. Land of 1000 Dances bucked the trend of hid seemingly ailing career but still only reached number 22 in the UK despite being an R&B number one in America. The immensely popular Mustang Sally appeared at the end of 1966 but clearly got lost in the Christmas rush as it only reached number 28. In an attempt to halt his sliding career, Pickett began recording with Bobby Womack and the result were songs like I'm A Midnight Mover, I Found a True Love, A Man and a Half and a cover of The Beatles' Hey Jude with Duane Allman on guitar which all made the US chart. In the US-only Pickett had a further 18 hits with a majority being cover versions including Born To Be Wild, Hey Joe, You Keep Me Hanging On, Sugar Sugar and Mama Told Me Not To Come.
Land Of A 1000 Dances has been much covered by the likes of Bill Haley (1966), Ike & Tina Turner (1971), Patti Smith (1975), Ted Nugent (1981), J.Geils Band (1982) and Roy Orbison, but none with any chart success.
Pickett re-recorded the song with Stax legend Steve Cropper in 1988 to be featured in the movie The Great Outdoors. The song has also been featured in the films Soul To Soul (1971) and more famously Forrest Gump (1994) and The Full Monty (1997).
This soul legend, who in his heyday he'd earned himself the nickname The Wicked Pickett, has been inducted into the Rock And Roll Hall Of Fame as well as the Alabama Hall Of Fame and died of a heart attack in January of 2006.