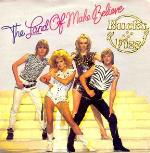 When the legendary broadcaster David Jacobs passed away just over a year ago, the replacement for his Sunday night Radio Two show was the wonderful lyricist Don Black. Don does a fantastic show full of first hand anecdotes and great features, one of them being called, 'They also wrote this' where he showcases a songwriter who had written two diversely opposite types of song. Bob Merrill is one good example as he wrote the novelty song How Much Is That Doggie in the Window and also People, as made famous by Barbra Streisand. Another is Pete Sinfield who, as a member of the prog rock band King Crimson, penned one of their best known tracks, 21st Century Schizoid Man and Bucks Fizz's 1982 hit The Land of Make Believe. How does one person write such diverse tunes?
In the late sixties, Pete wrote lyrics for the first four King Crimson albums, five Emerson, Lake and Palmer albums and also produced tracks for Roxy Music. He had a falling out with King Crimson's lead singer, Robert Fripp over musical differences. He recalled. "I'd been annoyed about this falling out with Robert – it was basically him or me and since Robert was going off and making more aggressive, black iron noises I wanted to do something more wood and sweety, so I did. In fact, I went too far perhaps in some ways; probably too paster and watercoloury but that's what happens when you try and prove a point. And I'd never done this before with the help of friends."
In late 1981, Pete teamed up with up-and-coming songwriter Andy Hill to write Bucks Fizz's fourth hit. Hill's first real success was as co-writer and producer of the group's debut hit and Eurovision winner Making your Mind Up. The lyrics to The Land Of Make Believe are based on a child's dream where ghostly voices lure the child to a world where everything is bright and happy, but the child resists. The characters Superman and Captain Kid are referenced within the lyrics, but, despite the sickly-sweet style of the song, Sinfield later claimed that the song was a subtle attack on Margaret Thatcher and her government's policy at the time.
During the recording of the single, Mike Nolan from the group expressed reservations about the song and told Hill that it would not be a hit and probably would spell the end of the band. Hill, in return, told Nolan that two other members of the band, Bobby G and Cheryl Baker, had already recorded their parts of the song and had said that they had really liked it. Nolan later admitted that his judgement was obviously wrong. Bobby G had also spent an afternoon recording harmonies for the middle eight of the song, but after he left the studio, the engineer accidentally wiped the tape and his vocal part was never re-recorded.
The closing narrative of the song features a nursery rhyme orated by an 11-year-old Abby Kimber who was the daughter of Bill Kimber, an executive of RCA Records and a member of the kiddie group The Minipops. It was an original piece, penned by Sinfield and read; 'I've got a friend who came to tea, and no-one else can see but me, he came today, but had to go, to visit you? You never know.'
The video to the single was filmed at the White City swimming baths in London. It begins in a black and white bedroom, with Cheryl Baker waking up, and in reference to the film, The Wizard of Oz, the picture changes to colour. Baker's clothes are then transformed by a Fairy Godmother in the style of Cinderella. She walks from everyday life, through a gap into a winter wonderland and has to push her way through fir trees, in reference to The Lion, The Witch and the Wardrobe. The group's other female member, Jay Aston, chose the costumes for the video shoot with the female costumes bought from Kahn & Bell on London's King's Road and the male costumes from Boy. "The outfits cost between £50 and £120 each," Jay recalled, "And were used in television appearances for the song as well as many photo-shoots." She later added, "We were 10 years ahead of Madonna with the cone boobs". My friend Mark Goodier features as an extra in the video, but he's almost impossible to spot especially when the original video is hard to track down.
Pete Sinfield was not a fan of the group. He once said in a Facebook interview, "Its (sic) no secret I can't stand them, but I am a pro and it was a quite a challenge to write a Xmas hit with no tinselled Xmas in it. Many times one cannot choose the donkeys required to get ones opinions to market. They, not one time, said thank you or invited me to one of their shows." He further added, "I do love a well crafted pop song which The Land of Make Believe is, but the band were not creators they were performers. THEY had no style of music it was all Andy's style…they did what was asked of them." He finished that interview by saying, "I've just seen a video where Kate Bush says one of her earliest influences was King Crimson and that I am very proud of."
In December 1981 the Labour Party began parading around with badges advertising the logo 'The Tories have a worse record than Bucks Fizz'. The group personally asked party leader Michael Foot to withdraw the badges. Surely any advertising is good advertising? Still, it did them no harm as the song topped the chart for weeks at the beginning of 1982.
Cover versions have seen the light of day especially foreign ones with Celine Dion doing a French version in 1983 called A Quatre Pas D'ici. A German singer called Elke Best recorded one in her native language entitled Land der Phantasie and there was even a Brazilian girl group called Harmony Cats who recorded a Portuguese version called Terra do Faz de Conta. In English, the Minipops recorded their own version in 1982 and the only other charting version was by The Allstars who, in 2002 took their version to number nine.