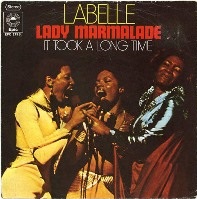 When an act writes a song and then denies that something about it isn't really what it seems, drugs references, are a good example, I questioned it. When someone covers someone else's song and claims they didn't really know what it was about or didn't fully understand the meaning, then it's a little more believable, but, being the suspicious type, I sometimes question that too. This week's suggestion, Lady Marmalade, is a cover and first a hit for Labelle and when the lead singer Patti Labelle claimed she didn't know the real meaning of the song until much later certainly raised my eyebrow. Patti said in an interview the NME, "I thought people would boo us because we'd gone too far."
The song was written in 1974 and first recorded by a group of disco studio musicians called The Eleventh Hour who were fronted by the song's co-writer Kenny Nolan. As Kenny remembered, "The song was written in bits, I had a section here and a section there, but still needed something to link it. Bob [Crewe] and I came up with the idea of 'Voulez-vous Coucher Avec Moi Ce Soir?' and that seemed to be the missing bit of the puzzle." Patti Labelle noted in her 1997 biography, Don't Block the Blessings, that the song was written about Creole prostitutes and so in a 1986 interview she explained, "That song was taboo. I mean, why sing about a hooker? Why not? I had a good friend who was a hooker, and she died. She never took the mike out of my mouth and I never took the mattress from under her. She was a friend, doing her thing. It'd be like discriminating because you're white and I'm black, or you're gay and someone's straight. I don't believe in separating people. If your job is as a hooker, more power to you."
The line Voulez-Vous Coucher Avec Moi Ce Soir is French for Do you want to sleep with me tonight?, now whether Nolan and Crewe thought saying it in French would be more acceptable on radio in the UK as it wouldn't so obviously is unclear, but some television stations, more than radio, refused to play it so the line had to be amended to 'Voulez-vous danser avec moi ce soir' meaning do you want to dance with me. Much more acceptable.
In the same NME interview, Patti said, "I swear I had no idea for a while what it meant, until I asked Bob Crewe, who recorded it, 'what's voulez-vous coucher avec moi ce soir?' He told me, 'Oh gosh', I said, 'what will my mother think?' I was afraid of change. But when we went out and did it, I said good! Three outrageous black women who wore and said anything onstage."
In 1998, All Saints recorded a version and it was released as one half of a double A-side with a cover of the Red Hot Chili Peppers' Under the Bridge. The line Voulez-Vous Coucher Avec Moi Ce Soir was included on the label of the Labelle version but not on the All Saints version, besides which, by 1998 there was no such trouble for All Saints and it was a little more apt as Mel is part-French on her mother's side.
In June 2001, Baz Luhrmann's written and directed movie Moulin Rouge was unleashed on the world and in the first 10 days, it netted $28 million. Why? Well, the hype, the stars and the humour played a big part, but it was the terrific music that paid homage to the 20th century's songbook, and frenzied energy keeps the film moving. It features some unusual covers of classic songs including; Diamond Dogs (Beck), Nature Boy (John Leguizamo), Children of The Revolution (Marius Devries), The Sound of Music (Ewan McGregor), One Day I'll Fly Away (Nicole Kidman) and Your Song (Ewan McGregor with Placido Domingo). The highlight is the teaming of up R&B/hip-hop stars Christina Aguilera with Lil Kim, Mya and Pink who together recorded Lady Marmalade which was produced by Missy Elliott and the song went to number one again exactly three years after All Saints.
In the States, although the film was just as popular, the track wasn't released as a single because Billboard were now compiling the chart by a combination of sales and airplay. But because Lady Marmalade received sufficient radio exposure that it topped the chart for five weeks as an airplay hit, and in the process, became the first airplay-only single to spend more than one week on top.
Labelle obviously wasn't the only one who didn't understand the French bit, Mya once said in an interview, "I used to sing the original version around the house when I was a kid, I never knew what the French part meant, and my mom, who spoke French, never told me." The video for the Missy Elliott version featured the singers dressed as prostitutes, which is how they performed it on the show and went on to win Video of the Year at the 2001 MTV Video Music Awards. Clearly it didn't offend anyone anymore.