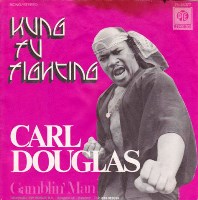 This week's suggestion is another in a long line of songs that weren't ever destined to be a hit as it started life as a B side and took just 10 minutes to write as a throwaway track. Rather than a radio DJ choosing to play the B-side and thus making it a hit, it was actually the artist who suggested and the record company listened and agreed.
The interest in the martial art, kung fu, came about through the films of Bruce Lee and then the TV series, Kung Fu, with David Carradine. Thousands of people were learning the art and as Carl Douglas observed, everybody was Kung Fu fighting.
Carl Douglas was born in Kingston, Jamaica in 1962, but he came to the UK after his grandmother died and obtained a degree in engineering. He sang soul music with The Charmers and he built up a following around the London clubs. For over 10 years, Douglas released singles from time to time and was tantalisingly close to the big break. In 1972, he sang the title song from the espionage thriller, Embassy, starring Richard Roundtree and Chuck Connors. He was also a session singer for Pye records.
Despite there being a number of kung fu-related films and TV shows, it wasn't directly any of them that inspired the song, the idea came to Carl when he saw two teenagers in London showing off some kung fu moves.
Embassy's score was written by an Asian producer Biddu, who wanted to make some disco records. In 1974, he asked Carl Douglas to record a new American song which he and Larry Weiss had written called I Want To Give You My Everything. "Kung Fu Fighting was not meant to be a hit," Biddu explained in an interview with the Metro in 2004), "Carl Douglas had recorded something for an A-side of a single and every session was three hours long. We spent two hours on the first song and then took a break and I said, 'quick guys, we need to record the B-side in two takes.'" Carl asked if he could put his own Kung Fu Fighting on the B-side. The hoo's and the ha's in the production are reminiscent of Sam Cooke's Chain Gang. Biddu  continued, "I played the A-side to the guy at Pye Records, Robin Blanchflower, and he said, 'Can I listen to the rest of the reel?' When he heard it, he said, 'This should be the A-side.'"
The song went to number one in Canada, Belgium, France, Germany, Ireland, Australia, New Zealand, the Netherlands and the UK. It also topped Billboard in the States and in doing so, Biddu became the first Asian producer to top the UK chart and in the States, Douglas became the first Jamaican-born artist to reach the Billboard summit.
Douglas had two further minor hits, the first was Dance the Kung Fu that tried to stick to a winning formula but the public lost interest and the song peaked at number 35 and three years later Run Back stalled at number 25 but did become a favourite on the Northern Soul scene. Biddu, as an artist, had a very similar chart career to Douglas; in August 1975, he recorded Summer of '42 which peaked at number 14 and his two follow up's were Rain forest (number 39) and, two years later Journey to the Moon which just missed the top 40 by one place. However, as a producer and writer, Biddu Appaiah had UK hits with Tina Charles, Jimmy James and the Vagabonds and the Real Thing.
The song has been used in a number of movies including, Wayne's World 2 (1994), Beverly Hills Ninja (1997), City of God (2002), Daddy Day Care, (2003) and Bowfinger (1999). A cover version was performed by Cee-Lo Green and Jack Black in the 2008 kid's movie Kung Fu Panda.
Douglas returned to the top 10 one more time in 1998 when the British dance act Bus Stop sampled Douglas' vocals on a new version of Kung Fu Fighting. It had added rap but kept the authentic oriental sounds. Bus Stop were Mark Hall and Graham Turner and Daz Sampson. Sampson later represented the UK in the 2006 Eurovision Song Contest with Teenage Life where it came 19th out of 24. Hall and Turner later recorded under the guise Flip & Fill where they managed eight UK hits, the highest being Shooting Star which got to number three.
Carl Douglas now lives in Hamburg, Germany and owns a production company that supplies music for films and advertisements.