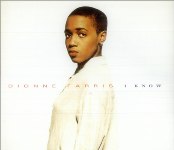 Sometimes songwriters pen something that would seen completely out of character, the best example being Pete Sinfield, a former member of the prog rock band King Crimson, who wrote the dreamy track The Land Of Make Believe for Bucks Fizz and then Have you Ever Been In Love for Leo Sayer, this week's subject song is the soul track I Know by Dionne Farris which was co-penned by the softly spoken hardcore punk singer William DuVall who, in 2007, replaced Layne Staley as the lead singer with grunge band Alice In Chains.
Farris, who was born in 1968 in New Jersey, started singing in high school, performing in her school's choir in Bordentown, and starred in a production of Annie. From there she sang on Manhattan's club circuit, both solo and with a female vocal group called Onyx, but grew frustrated in her late teens. She moved to Atlanta to live with her father in 1990 and started dating drummer Rasha Don, an early member of Arrested Development. The group was looking for a female singer, and while joining a band didn't fit Farris' plans, she had nothing better to do. Farris was never really an official member of Arrested Development, but did sing on three tracks on their debut album, 3 Years, 5 Months & 2 Days in the Life Of…, including the top 20 hit Tennessee. Speech, who is the group's lead singer and primary songwriter, says: "What I love about Dionne is she's such a small girl, but her voice has a big, black woman voice to it. I just love it. It's just a very strong presence in her voice."
She split from the group in 1993 and their record company, Chrysalis, were happy to offer her a solo deal, but Farris took a gamble and rejected it, hoping for more artistic control than Chrysalis wanted to give her. She contacted David Harris and Milton Davis, former members of funk-rock band Follow For Now, and she and guitarist Harris began to collaborate on material. Her demo made its way to Sony Music who loved what they heard and signed her. Her debut album, Wild Seed – Wild Flower, was released in the summer of 1994 and it was decided that the first single should be I Know.
The album was an unusual but interesting mixture of rock and R&B. Except for I Know and a cover of The Beatles' Blackbird, Farris wrote or co-wrote every track on the album. Her aim was to get the listener to think deeply, there was even a track on there that explored crack cocaine and drug.
I know was the first success for Duvall. His previous record companies A&R department told him that he lacked palatable songs. "I never saw what was so difficult about my music," he says. "I thought, 'I'm going to show these people!'" so he immersed himself in the craft of songwriting, studying everything from Motown and the Beatles to Edie Brickell in an attempt to make his songwriting more viable while staying true to his personality. I know paid off by reaching number four stateside and despite reasonable airplay just missed the top 40 in the UK. In October 1995, the song was featured prominently in the opening scene of The Highest Bidder which was a second season episode of the Fox television police drama series New York Undercover which gained it more airplay and thus allowed Radio & Records magazine to rank it number one most played song on mainstream Top 40 radio stations for 1995 and in-turn it was nominated for the Grammy Award for Best Female Pop Vocal Performance in 1996.
Although Wild Seed – Wild Flower impressed the critics, the album didn't impress the record buying public because it seems that her audience was as diverse as her music and promoting the album became a challenge for the label. "I was an anomaly", Farris recalled, "a situation the label was evidently unequipped to capitalise on. At the beginning, they were like, 'We don't know what to do' and they really didn't know what to do. I did a lot of touring and I did a lot of college tours and was on tour with the Dave Matthews Band. When I went to the black colleges, they were like, 'Well we can't play I Know because it's not our format but we love the 11th Hour. Can we play that? I had no jurisdiction to say yes or no. I Know was the single but I was like, 'that's cool, but you guys (the label) got to remember that I came from Arrested Development. That's a very diverse crowd'. I Know is a very pop-oriented song and what I suggested was why don't we take the 11th Hour, which is about my whole departure from Arrested Development, and service that crowd with that song? They're like, 'That's not how it works'. I had no say-so in the matter. What I said to them was, 'Well maybe we can get everybody in the same room. We might not get them through the same door; we got I Know over here, let's go and do the 11th Hour at the back door side entrance. Don't do a video, service it to black college radio … whatever it's got to be so it's not taking away from but adding to."
Her label, Columbia, didn't respond favourably to her creative marketing and replied with a flimsy "We don't do two singles" excuse. Farris further explains her frustration in working with the label, "You start feeling like, 'Why me? Am I difficult? 'No, record companies are difficult, especially if (the music) is not able to fit into the guidelines that they're playing in. You're in a bad place unless you're going to get on the R&B train. "She did start to record a second album which was to be called For Truth If Not Love but she and the label would part company before it was released.
She is currently working with Kenny Dope & Dopewax Records who have just recorded an EP called Gorilla Mode of which Dionne collaborates on a track called On & On. Additionally she has just recorded a new album with former Disposable Heroes of Hiphoprisy guitarist Charlie Hunter and is a nine-track tribute to Dionne Warwick and appropriately called DionneDionne.