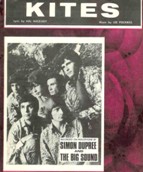 Although they are best-known for their oriental pop-psychedelic classic Kites, Simon Dupree & the Big Sound actually began as a soul and blues band, similar to the Pretty Things or the Spencer Davis Group.
Like Danny Wilson and Billy Talent, to name two, there is no one in the band with that name. Simon Dupree was made up of brothers Ray (bass), Phil (saxophone) and Derek Shulman (vocals) and included Pete O'Flaherty (guitar), Eric Hine (keyboard) and Tony Ransley (drums). They formed in 1964 in Portsmouth and originally called the Howling Wolves but within a few months that name changed to the Road Runners and their live shows usually consisted of covers of Don Covay, Otis Redding, Bo Diddley and Wilson Pickett songs.
Although well received on the club scene, their record sales weren't massive and so decided that they needed a more flashier and dynamic name, and in early 1966 Simon Dupree was settled upon after an agent they knew called John Bedford decided they needed a new name. Phil explained, "John said let's do something Pompy and suggested Brentwood's Brewery. Well the Dupree family had been directors of the brewery and that stuck. Things became a little awkward because people expected there to be someone by that name and in the end Derek became known as Simon Dupree.
They recorded around 50 tracks, but as Pete O'Flaherty remembered, "We favoured rock and roll and Motown numbers, which was a bit ironic as our one and only major UK hit was a ballad which also acquired the label psychedelic. A lot of people think Kites is the only thing that we did. Sixteen of the tracks were on our second LP which was never released in the sixties because of our failure to get another hit after Kites."
Pete continued to explain how it all started, "We started doing gigs in Portsmouth with very little gear and a dodgy Bedford van for transport. We soon gained a good following and had queues of people waiting to get into such places as the Indigo Vat and Birdcage in Portsmouth. The Shulman's brother-in-law was a guy called John King, who was a television producer for BBC Bristol and he came to see us one evening and agreed to be our manager. He didn't know too much about the pop music scene, but he did have some good contacts and knew some of the right people. John took a demo disk of a track we'd made called I See The Light, a cover of a Five Americans track, to EMI, who gave us an audition. This resulted in a five year recording contract and in October 1966 we went into studio two at Abbey Road and re-recorded I See the Light." That track and the follow-ups, the Albert Hammond penned Reservations and the Mike Hugg composed Day Time Night Time, never sold enough to trouble the chart, but it was their fourth single Kites that made an impact.
It was penned by Lee Pockriss and Hal Hackaday both of whom had written hits earlier in the 50s and 60s. Hackaday had written Shake Me I Rattle for the Kaye Sisters and Pockriss had co-written songs like Catch A Falling Star, Seven Little Girls Sitting In The Back Seat, Itsy Bitsy Teenie Weenie Yellow Polka Dot Bikini and Johnny Angel.
Kites, which was originally recorded by the Rooftop Singers as their last single earlier the same year, featured some unusual instruments including a mellotron, xylophone, gong and a wind machine. It also incorporated a spoken passage in Chinese by someone who wasn't Chinese. They asked the actress Jacqui Chan (not the actor Jackie Chan) who had been in the films East OF Java, Cleopatra and The World of Suzie Wong to recite the Chinese words. Peter explained, "Jacqui couldn't speak Chinese as she was born and raised in Trinidad. The owner of the local Fu King Chinese Restaurant was called upon to write a few lines that Jacqui then recited phonetically, it was all a bit of a farce really. They sound erotic words, but nobody seems to know what they mean. Please don't email me to ask what Jacqui is saying because I don't know and she didn't know what she was saying either!"
They recorded their debut album, Without Reservation, at Abbey Road and at the same time the Beatles were recording Sgt Pepper. The Beatles used studio two at night and Simon Dupree used it during the day. Peter added, "The Beatles never had their equipment taken out of the studio, it was packed away neatly into the corner by their roadies. What was the point of our roadies unloading gear, when perfectly good equipment was in the same studio? So apart from their guitars, we used The Beatles' equipment. Immediately after they had vacated the studio the atmosphere was really pleasant. We could float around the studio without the use of our legs. The doorman would complain to us that they were going to get busted, and he would loose (sic) his job. The poor guy was immediately given the name jobs-worth." Incidentally, this is how the mellotron sound appeared on Simon Dupree tracks, they'd 'borrowed' it from the Beatles. They followed up Kites with For Whom The Bell Tolls the following year, but it missed the top 40. During 1968 Eric Hine became ill and they brought in a temporary keyboard player called Reg Dwight. They were impressed with him and asked him to join as a permanent member but he decline. Derek remembers laughing at him when a couple of years later he announced he was going to adopt the stage name Elton John. Four more singles followed without success and by the end of 1969 they'd split.
In 1970 the brothers together with Kerry Minnear, Gary Green and Martin Smith formed the prog rock band Gentle Giant and over the next ten years they released a dozen albums and half a dozen albums. They built up a cult following but nothing made the UK chart and they split in 1980.
Ray moved into music production, Derek now runs his own 2 Plus music and entertainment agency in New York and Peter O'Flaherty lives in New Zealand.